Italian dreams, video games and the Dodgers
There may actually be too many things to look forward to this weekend — if we can even say such a thing. It's the most beautiful time of year in the city, there are plenty of holidays to celebrate with family (it's also Put An Egg on Everything Day at the Smorgasburg Sunday market), and the Dodgers are back on the field.
Depending on your priorities, you could be cooking a celebratory meal, heading out for one, or on your way to the ballpark. I will probably be checking the Dodgers score during breaks in my family's Passover Seder. Sorry, Mom.
Columnist Chris Erskine has a breakdown of the new food items at Dodger Stadium (though he still prefers the Dodger Dog). Test Kitchen Director Noelle Carter makes the case for a gelatin dessert comeback. And in place of this week's review, restaurant critic Jonathan Gold has an essay on his recent time spent in Italy. As a result, you will be more than a little jealous, and you may start looking into airline tickets to Tuscany. Whatever your plans, have fun, be safe and eat something that makes you happy.
TO BEEF!
What would Jonathan have for his last meal? He reflects on a recent trip to Tuscany, where he visited spirited butcher Dario Cecchini at his butcher shop and restaurant in Panzano. He feasted on fiorentina bones "as big as weapons," dripping slabs of skirt steak and platters of tonno del Chianti. Along with all that meat, a verse or two of Dante. Anyone else have an airline app open right now?
PLAYING GAMES
Spanish chef José Andrés owns well-regarded restaurants around the world, sometimes teaches at Harvard, helps with global disaster relief and was recently named Humanitarian of the Year by the James Beard Foundation. And yet, he finds time to play video games. The chef calls himself a gamer, and he recently signed on to design a menu for fellow gamers at the new Esports Arena in Las Vegas. I caught up with the chef at the opening of the arena to talk about what he likes to eat when he's playing his favorite games.
BATTER UP
Chris gives us a rundown of the new items on the Dodger Stadium menu, just in time for the new season. There, he finds executive chef Ryan Evans elevating the menu with spicy Mexican street corn, tortas and fried chicken sandwiches.
WHAT'S OLD IS NEW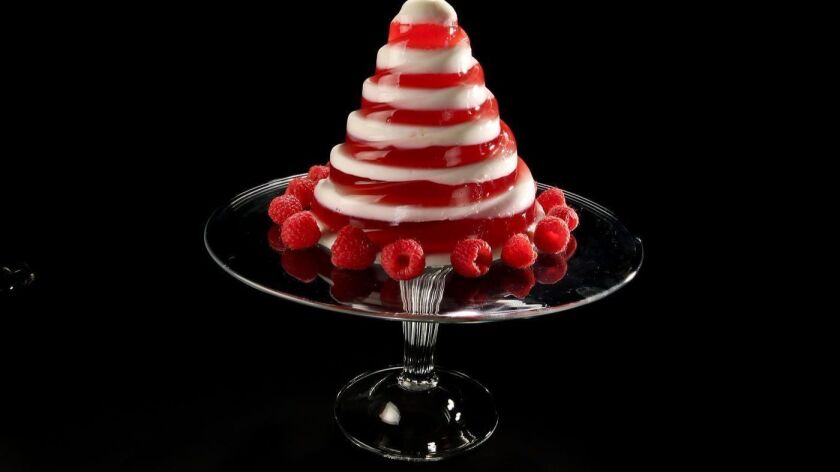 Noelle delves into the world of gelatin desserts this week and makes a good case for why you should be bringing Jell-O to your next dinner party. She checks in with Lukshon chef Sang Yoon to see what he's doing with the stuff, and has five recipes for excellent, oh so impressive gelatin desserts. Instead of a jelly shot, a blueberry gin and tonic gelatin.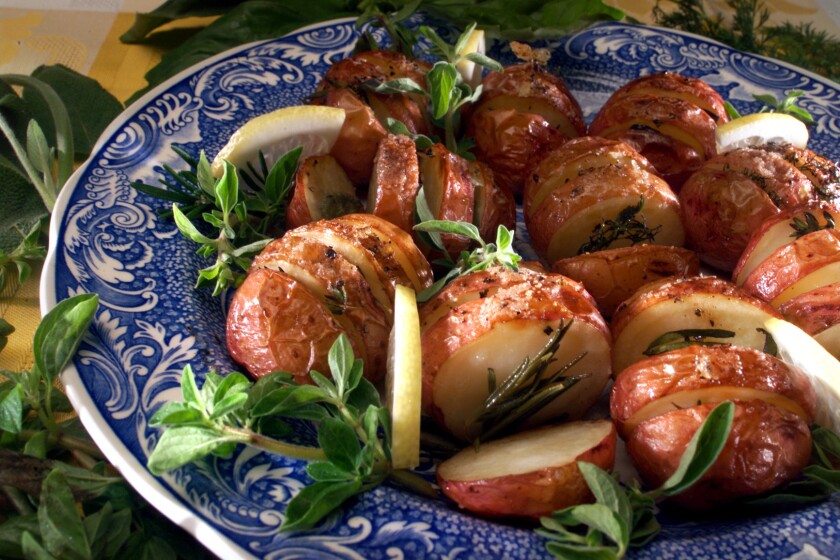 Whether you celebrate Easter, Passover or the season of Peeps, chances are you're planning a celebratory meal or two this weekend. If it's Easter brunch, Noelle has dozens of recipes for everything from roast ham to lamb and deviled eggs. If you're hosting a Passover Seder, we have recipes for haroset, Passover baklava cake and much more. Or, if you want to leave the cooking to someone else, here's our Easter dining guide, with options for brunch and dinner.
WHAT'S IN SEASON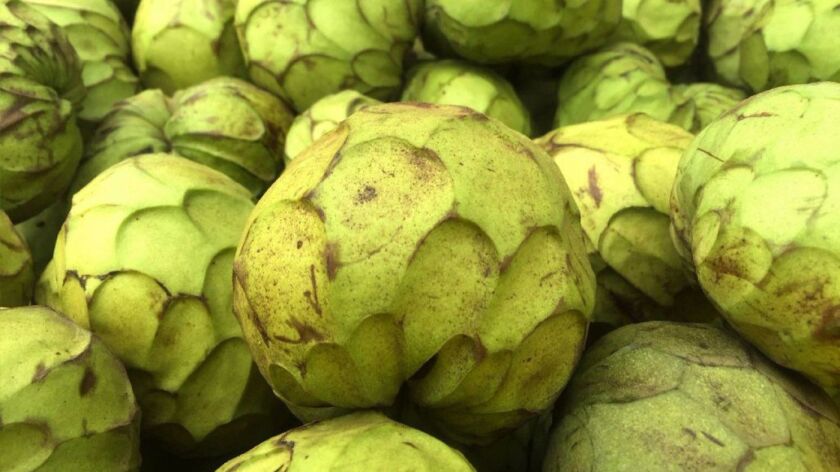 Oddly shaped and covered with a leathery green skin, Noelle thinks cherimoya look more like prehistoric eggs than tropical fruit. Known as the "custard apple," the fruit is in season now, and Noelle has some ideas for the best ways to highlight the fruit's prized velvety texture and sweet flavor. Cherimoya salad, smoothie or cocktail, anyone?
L.A. Times Food Bowl returns for a second year this May. It's 31 days of events celebrating L.A.'s food and drink scene and helping raise awareness and funds to fight food waste, hunger and food insecurity and to promote sustainability. Guest chefs include Ben Shewry (Australia), Yoshihiro Narisawa (Japan), Virgilio Martinez (Peru) and Yu Bo (China), along with Diana Kennedy (Mexico) and Fuchsia Dunlop (United Kingdom), with more to be announced. The full program will be released March 31. If you have a restaurant, bar, market or other establishment and are interested in hosting a Food Bowl event, here's how to register.
Come to our launch party at Rossoblu restaurant on April 30. Feast on Things in a Bowl from last year's Restaurant of the Year award-winner Locol, Rossoblu, Night + Market, Chengdu Taste, Shibumi, DTLA Cheese and more. We'll be announcing the 2018 Gold Award Winner and 2018 Restaurant of the Year. Get tickets here. Tickets are also now available for the Power of Food, presented by L.A. Kitchen and the Wiltern on May 1, with José Andrés (James Beard Humanitarian Award Winner), Jonathan Gold and special guests Zooey Deschanel, Ron Finley, Susan Feniger and Tim Kilcoyne.
Jonathan Gold's 101 Best Restaurants, the authoritative annual guide to local dining, is online for subscribers featuring his 2017 Best Restaurants. If you don't have a copy of the booklet, you can order one online here.
Goldbot: You can talk to Jonathan Gold any time you want — or at least the robot version of him that now lives on Facebook Messenger. You can ask Goldbot for a personal restaurant recommendation based on location, type of food or price. The bot will also deliver Jonathan Gold's latest reviews straight to your device.
Check us out on Instagram at @latimesfood.
And don't forget the thousands of recipes in our California Cookbook recipe database.
Feedback? We'd love to hear from you. Email us at food@latimes.com.
---