Happy Saturday. It's farmers market day for many of us, as the stands are loaded with berries and citrus and flowers — you know, all the stuff you might need if you're making a Mother's Day brunch tomorrow. Just a reminder. Also, the royal wedding is next Sunday, not this one. But hey, you can make scones for the seventh inning stretch too.
We're well into Food Bowl, our monthlong food festival, which means that this coming week is our Night Market, for which we have a map and a rundown of what's happening. And we have not one but two stories about Adam Perry Lang's new steakhouse APL, which opened its doors in Hollywood on Thursday. For a steakhouse that's been around for just a little bit longer, we also have a story about Lawry's The Prime Rib, where one server has been there for 39 years. (Meat is not for all of us, of course, so as part of our festival, we're having a special party for vegetable lovers on May 19.) Enjoy your weekend.
A GUIDE TO NIGHT MARKET
This week our Night Market returns for the second year, taking over downtown's Grand Park for five afternoons and evenings over May 16-20. This year, we have a map, as well as a cheat sheet to all that's going on: about 65 vendors, including two rows of food trucks, a taco alley, one section with a series of pop-ups — including a Filipino feast on opening night and a bake sale on Sunday — and another loaded with booths from some of our favorite restaurants.
STEAKS AND KNIVES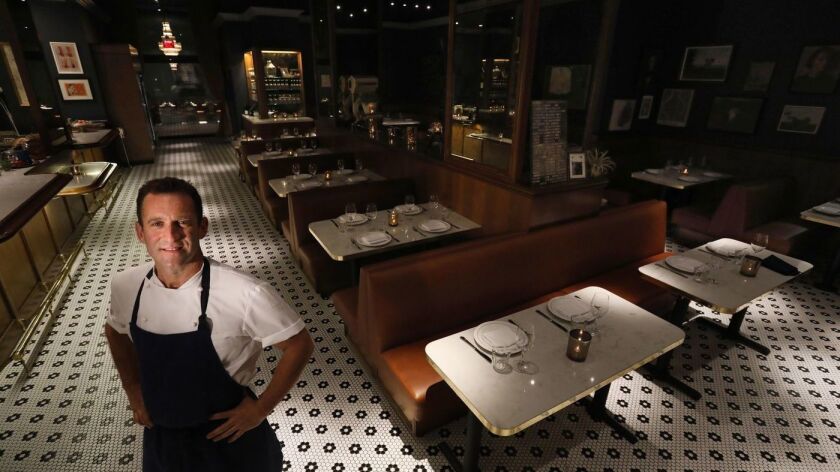 After much anticipation, chef Adam Perry Lang's swank new steakhouse APL finally opened on Thursday, so for everyone who's only had his barbecue on Jimmy Kimmel's backlot, now there's an actual restaurant. Deputy Food Editor Jenn Harris gets the specifics: There's a lot of marble and leather and mirrors to go with the steaks, as well as the impressive knives which Perry Lang makes himself.
THE SIGN FOR STEAK
And when APL's takeout component opens next month, you may see the pair who oversee it signing to each other instead of calling out orders. Food writer Zan Romanoff checks in with APL cooks Marcus Lewis and Zia Hughes; Lewis signs and Hughs is deaf, and they're both part of Perry Lang's project to create a kitchen inclusive to the deaf and hard-of-hearing community.
BERRY SEASON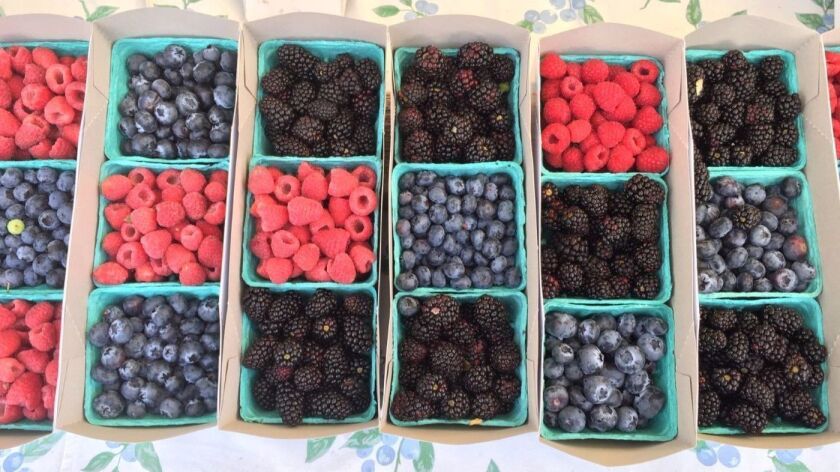 Although you can find cartons of berries year-round at most farmers markets and shops, May is peak berry season, as well as the time when the more specialized berries show up. So not just strawberries and raspberries and blueberries, but boysenberries and mulberries — which are worth both the lines and the price. Test Kitchen Director Noelle Carter also has tips and recipes.
L.A. Times Food Bowl is happening now. We hope you'll join us for our monthlong food festival, with events celebrating L.A.'s food and drink scene and helping promote sustainability and raise awareness and funds to fight food waste, hunger and food insecurity. We have guest chefs doing dinners and panel discussions, a vegetable feast supporting the advancement of young girls and the empowerment of women in the hospitality industry, the return of our Night Market and tons more. For more info and tickets, go to lafoodbowl.com.
Jonathan Gold's 101 Best Restaurants, the authoritative annual guide to local dining, is online for subscribers featuring his 2017 Best Restaurants. If you don't have a copy of the booklet, you can order one online here.
Check us out on Instagram at @latimesfood.
And don't forget the thousands of recipes in our California Cookbook recipe database.
Feedback? We'd love to hear from you. Email us at food@latimes.com.
---