A first look at APL, Adam Perry Lang's new Hollywood restaurant and meat palace
On a recent morning behind the 1920s-era Taft Building in Hollywood, 20 apron-clad men and women were each cradling 40- to 75-pound beef short loins as if the connected Porterhouses and T-bones were small children.
"Be careful with the kidney fat!" yelled Adam Perry Lang. The chef was directing his new kitchen staff as they transported the parade of 14,000 pounds of meat from his off-site dry aging room into the building. This is where on Thursday, Perry Lang will open APL, his first Los Angeles restaurant, on the ground floor of the restored 1923 high-rise at Hollywood Boulevard and Vine Street.
It's a project Perry Lang has been working on and talking about for years, since coming to Los Angeles to do a series of barbecue pop-ups in late-night talk show host Jimmy Kimmel's studio back lot in Hollywood in 2013. It's the culmination of 30 years in the restaurant business, cooking at Le Cirque, helping Daniel Boulud open Daniel in New York City, cooking at Guy Savoy in France, co-founding Barbecoa in London with Jamie Oliver, winning awards on the national barbecue circuit, writing barbecue cookbooks and opening Daisy May's BBQ in New York City.
Those 30 years have given the classically trained Perry Lang and his barbecue a sort of superhero status. David Chang has "APL-style ribs" — inspired by Perry Lang's signature Flintstones'-sized slabs of meat — on his Majordomo restaurant menu in Chinatown. Kimmel is one of many celebrity fans and acquaintances. And for the last couple of years, Perry Lang has been cooking for the music industry's elite at the Interscope Records party during the annual Coachella Valley Music and Arts Festival in Indio.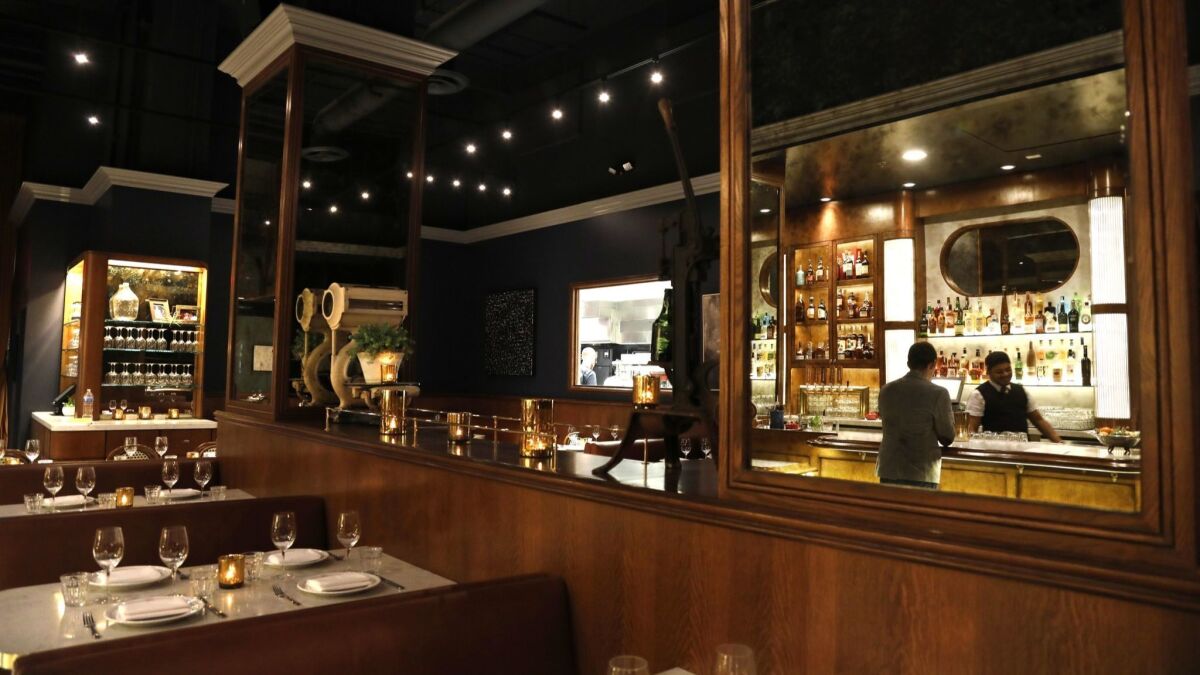 But while Perry Lang's fans may know him best for his barbecue, APL is not a barbecue restaurant.
"You can call it a steakhouse, you can call it a restaurant," he said. "I call it a neighborhood restaurant, and that's important to me. It's a brasserie — because for me, that's the ultimate style of restaurant as it relates to a social gathering place. I don't like trendy."
RELATED: APL restaurant fulfills a dream: helping bring hearing-impaired chefs into the kitchen »
Perry Lang designed the 143-seat restaurant with Sami Hayek and Kathy Delgado. The space is outfitted with antique mirrors, white marble and honey-colored leather. A custom, 20-foot piece of polished Tigerwood serves as the centerpiece for the Art Deco-style bar just off the main dining room. The walls are peppered with art curated by actress Portia de Rossi's company General Public — as well as a framed photo of Perry Lang and famed Italian butcher Dario Cecchini smelling a piece of meat. And just off the entrance is a 62-square-foot former one-chair barbershop that will serve as a lunchtime take-away area.
Perry Lang also added some personal touches to the decor, including custom wallpaper in the restrooms covered in his favorite hand written recipes, and a wall in the kitchen he's devoted to pictures drawn by the staff's children, including his own.
And APL may not be barbecue, but meat is still at the heart of the restaurant.
"I built my restaurant around the broiler," Perry Lang said of his Jade Titan infrared steakhouse broiler in the kitchen. And downstairs, the chef has built an actual meat palace, where all his dry-aging and butchering takes place. A 1,000-square-foot temperature-controlled room Perry Lang calls his "environmental chamber" houses the restaurant's thousands of pounds of meat.
"I liken it to an artisan cheese maker," Perry Lang said of the meat aging process. "What's your end result? The flavor, the profile, how am I going to coax that out of the meat? That's why I call it an environmental chamber, because the temperature and humidity may change, if I want to ripen the meat quicker or adjust the air velocity."
He has plenty of his signature APL short ribs in the room, listed simply on the menu as "APL short rib, pickle salad." There's also a bone-in New York strip, rib-eye for one, Tomahawk for two, patty melt, filet mignon, hangar steak, skirt steak and prime rib.
And what you're using to cut that steak is just as important as the meat itself.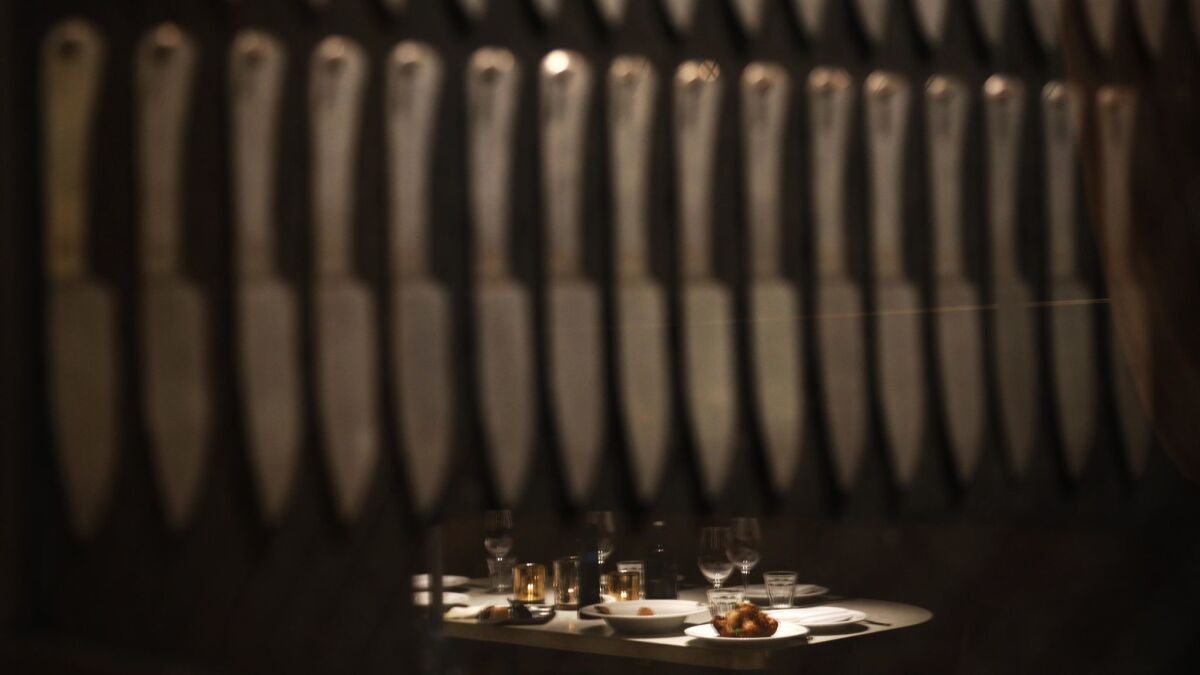 Perry Lang, who studied at the New England School of Metalwork in Auburn, Maine, has a locked glass case of 150 knives in the dining room, just above the bar. Over the last six years, he's been making his own knives at his R&D man cave in Lawndale. He crafted each one out of surgical steel from Sweden, heating and hammering metal until he created more than 300 sleek, sharper-than-hell pieces of steel.
"It's the last point of contact for the customer of this three-year process," said Perry Lang, as he opened the knife case to inspect his handiwork. "The animal is raised, brought to an abattoir, shipped and dry-aged, it goes to my cook, under the broiler, to the service window then onto the plate. And now you're going to give someone a bad knife to end the whole process?"
You can "order" one of the knives to use at the restaurant for $950. If you return the knife at the end of the meal, it's free. Why $950? "Because that's the minimum that declares a felony in California."
The knives will be transported through the dining room on high-powered Tony Stark-style magnetic boards. Even if you drop the board, the knives stay put.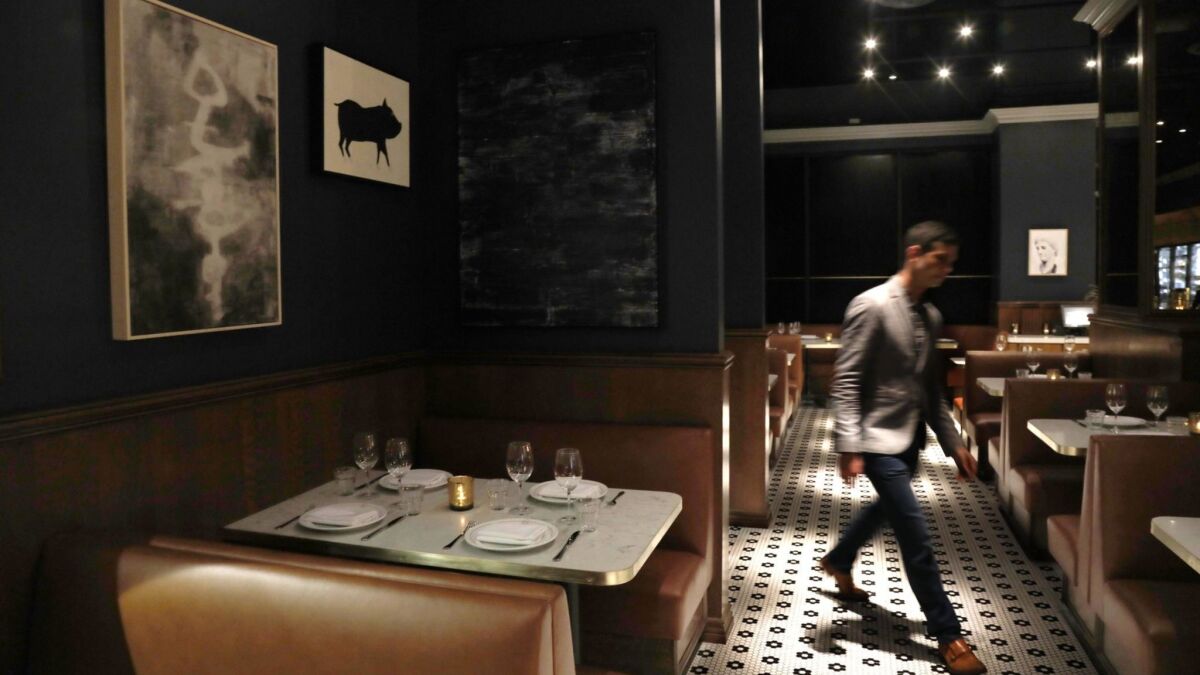 As for the rest of the menu, Perry Lang created a selection of dishes meant to be both indulgent and accessible: Lodge bread with French butter, goat cheese tartine, handkerchief pasta with Sunday gravy, shrimp cocktail and French onion soup.
Wine manager Evelyn Goreshnik champions biodynamically farmed vineyards on the wine list, while beverage director Jonathan Michael McClune pays tribute to great whiskeys and classic cocktails with his menu.
"I'm trying to create a nonexclusionary restaurant where a young couple on a date can come out for $120 and get a dry-aging experience and a nice bottle of Bordeaux," said Perry Lang.
He anticipates that his patty melt (his way for diners to experience the dry-age program on a relative budget) will be the most popular dish on the menu.
"I'm creating it in a way so that I perforate it so you crack it open and the cheese just goes ohhh," he said, eyes wide, hands slowly moving apart to animate an epic cheese pull. "It's like my Salt Bae moment. I want people go 'whoa' and be excited."
But Perry Lang doesn't want you to get too caught up in the aging process, at least not while you're eating.
"I want the steak on the plate to not be about the pretension of saying, 'We age it 100 days,'" said Perry Lang. "What does that mean? 100 days here is 100 days different than somewhere else. I cut into my meat and it smells like foie gras. It's not a competition. The steak goes on the plate. Enjoy it."
Instagram: @Jenn_Harris_
---
Get our L.A. Goes Out newsletter, with the week's best events, to help you explore and experience our city.
You may occasionally receive promotional content from the Los Angeles Times.