Newsletter: The best restaurants in the world, and in local malls
Good Saturday morning, especially if you too got up early to watch Belgium play Tunisia, or Mexico play South Korea. By the way, Guelaguetza, the beloved Oaxacan restaurant in Koreatown, opened at 6 a.m. this morning; it's a pretty great place to watch any game, particularly this one. (Get the enmoladas.) Anyway, it's been a week of World Cup games, Lakers news and, yes, things going on that do not involve sports (we do, after all, have a sports newsletter or two). The World's 50 Best Restaurants list came out, and so rather than reviewing a single restaurant, this week, Jonathan Gold considers 50 of them (100 really, plus extras).
In other news, we check in on chefs Roy Choi and Daniel Patterson — the duo behind Locol, who each have openings and closings — as well as on the mall food scene in this town. Mall food is not what it used to be, very far from it, as you'll know if you've been to Dialogue in Santa Monica, or Dominique Ansel's Los Angeles restaurant, just to name a few of the reasons why shopping is a lot more fun than it used to be.
As we come to the end of June already, we also have a full recipe box, with sangria recipes, fried chicken recipes, recipes that celebrate Juneteenth, variations on the martini, and, of course, the permanent recipe box that is our California Cookbook database. A reminder that, if you're a fan of our SOS columns, or if there's a dish you've had recently at a restaurant that you keep dreaming about making at home, let us know and we'll try to get and run the recipe. (David Chang, if you're reading this: I'd dearly love your recipe for jumeokbap. Already got the box of gloves!) Enjoy your weekend and, come to think of it, if you're watching England play Panama tomorrow, our Royal Wedding recipes could work for that too.
BEST IN SHOW
The World's 50 Best Restaurants list dropped Tuesday, with the top spot going, again, to Italian chef Massimo Bottura for his restaurant Osteria Francescana in Modena. Jonathan weighs in on this, as it's a restaurant where he's happily dined — he's been to six of the top 10 in the last few years. This year's list is notable for not a few reasons, including its omissions: Atelier Crenn was left off, as was Core, the restaurant from Clare Smyth, this year's "Best Female Chef." (Dominique Crenn got that "unlovable" title in 2016.) A lot was missing from this year's list, whether restaurants, chefs or sensibility. As Jonathan points out: "Chef is not a gendered position."
MALL FOOD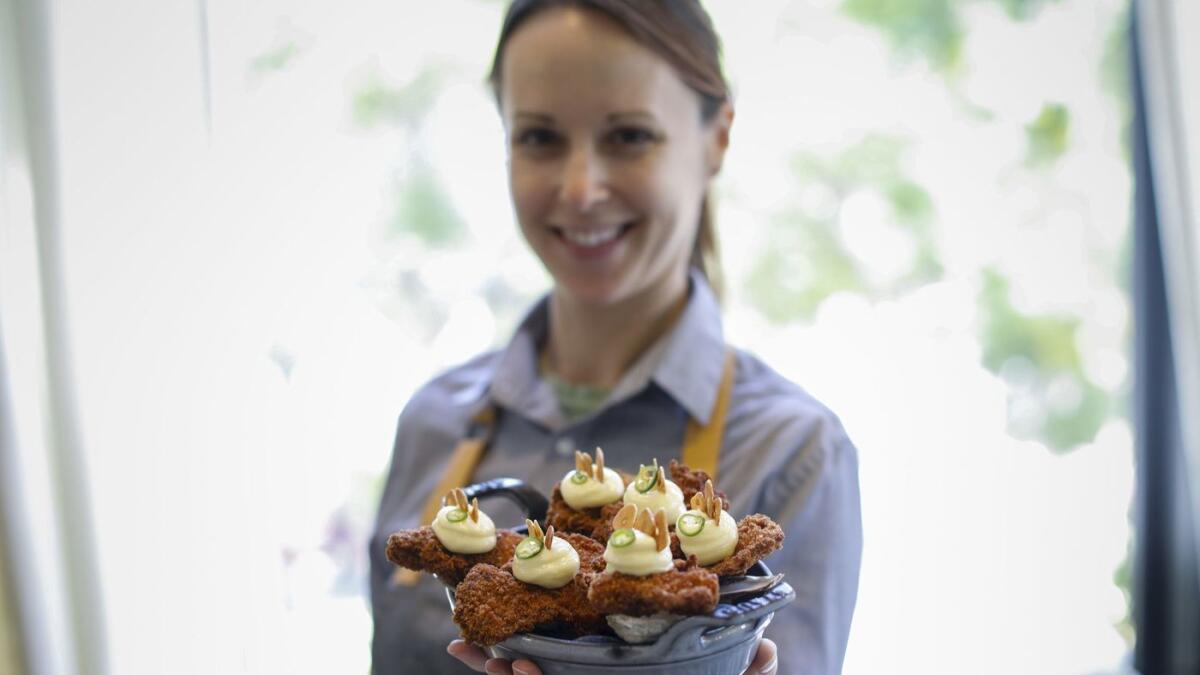 Mall dining has come a long way, especially in Los Angeles, since the days when we "snacked on a squishy hot dog or a too-sweet lemonade between bouts of shoe shopping," as Deputy Food Editor Jenn Harris describes it. Jenn takes a look at the food at four of this town's biggest shopping centers, where she finds a brave new world of food options — thanks to big-name chefs, cult-favorite restaurants — that include kouign amann from Dominique Ansel, fried chicken with cheddar waffles from Yardbird and world-class tasting menus from chef Dave Beran. And yeah, you can still go shoe shopping.
MORE SONGS ABOUT BUILDINGS AND FOOD
What's going on in our food and drink world this week? In her weekly update, Jenn gets news of chef Daniel Patterson's (Coi, Locol) newest project, a coffee and soul food restaurant in West Adams, the South L.A. neighborhood near USC. Patterson will open Alta Adams in July or August. Neil Strawder's Long Beach barbecue palace Bigmista's will close July 1. And in other closing news, chef Roy Choi is leaving his Koreatown restaurants at the Line Hotel next month. More reasons to get to Koreatown, and Long Beach, in the next few weeks, if you can.
TOMATOMANIA
In her weekly Market Report column, Test Kitchen Director Noelle Carter considers the tomato. If you grow your own, good on you. If you get yours from a local farmers market, or maybe a friend or neighbor, they may come with fun names: Celebrity, Early Girl, Mountain Magic and Sun Gold, to name a few. There are myriad things to do with the savory fruit, and we provide a few handy recipes. Simple is good too. In my house, we like to drag a halved very ripe tomato over a crisp slice of well-olive-oiled toast. A savory version of the jam-and-toast snack, if you will.
The Taste(s): Food Bowl may be over, but our events calendar is ongoing. Next up is our annual Labor Day festival, the Taste, held over the course of that holiday weekend at Paramount. And this year, we're having two Tastes, not one, with the second happening in October in Costa Mesa). For more info and early tickets, to go extras.latimes.com/taste.
Jonathan Gold's 101 Best Restaurants, the authoritative annual guide to local dining, is online for subscribers featuring his 2017 Best Restaurants. If you don't have a copy of the booklet, you can order one online here.
Check us out on Instagram at @latimesfood.
And don't forget the thousands of recipes in our California Cookbook recipe database.
Feedback? We'd love to hear from you. Email us at food@latimes.com.
Get our L.A. Goes Out newsletter, with the week's best events, to help you explore and experience our city.
You may occasionally receive promotional content from the Los Angeles Times.