Newsletter: Dumplings and serious drinks
Welcome to your weekend, which we hope will be a good one for you and yours — and the Dodgers. There's much to look forward to in the coming month as a new round of restaurants are opening or have just opened, including the much-anticipated Simone from chef Jessica Largey. We have a story for you about the cocktail program at the bar inside Simone, which channels the history of the Arts District in the glasses.
Opening in October is chef Shirley Chung's Chinese restaurant, and we have a story about her mission to redefine Chinese cooking in L.A. Also on deck next month is a new fried chicken restaurant (add it to the impressive list) from another "Top Chef" alum, who's devoting her menu to karaage, the Japanese version of the addictive stuff. As for what to order at restaurants around town, you might check out the matzo ball soup at APL.
On the cooking front, we have an SOS recipe from a Pittsburgh restaurant: an elaborate roasted carrot dish that makes good use of farmers market produce. And for more kitchen (or cocktail) inspiration, we've got a market report on jujubes, a lesser-known fruit currently loading some local stands. Have a good weekend.
1 MILLION DUMPLINGS
That's how many dumplings Shirley Chung, chef-owner of Ms. Chi Cafe, the Chinese restaurant she and her team are about to open in Culver City, have made in the last year. Food Editor Jenn Harris talks to the "Top Chef" alum, who also has a debut cookbook coming, about her plans to change the way folks think about Chinese food in Los Angeles.
DRINKING AT SIMONE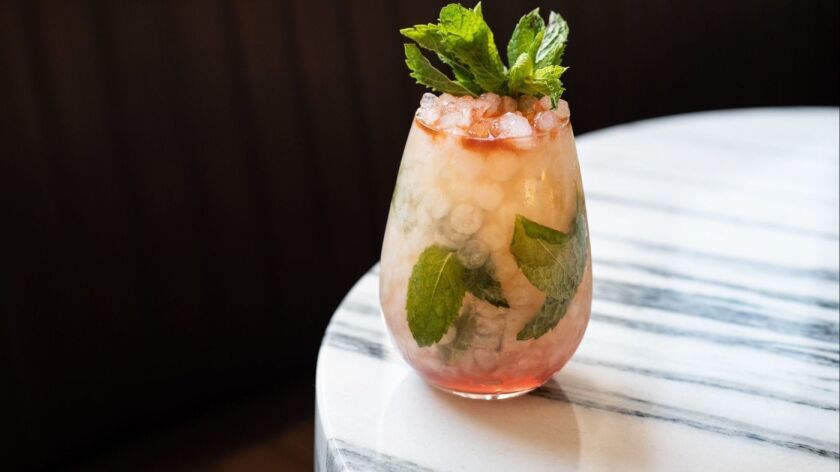 At Duello, the bar inside chef Jessica Largey's new Simone restaurant in downtown L.A., what's in the glasses has as much ambition as what's on Largey's plates, reports food writer Hillary Eaton. Bar director Iain McPherson researched the history of the nearby Arts District for inspiration (the area was once home to vineyards and citrus fields).
CHICKEN SOUP TO GO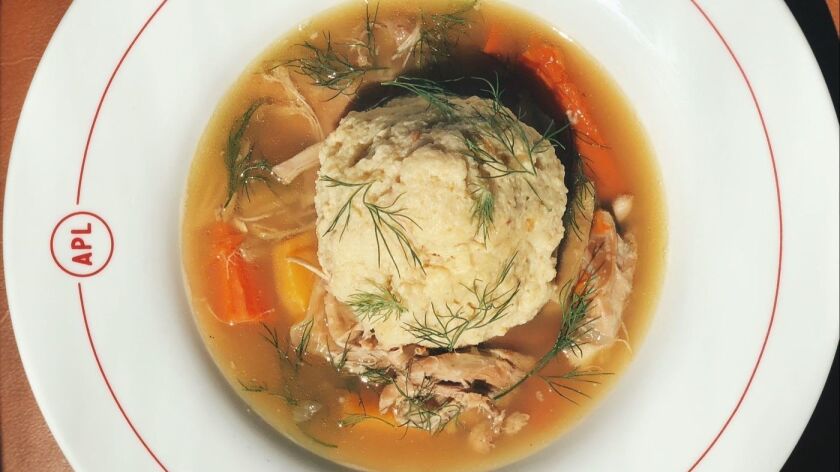 If your experience of APL, chef-owner Adam Perry Lang's swank new Hollywood steakhouse, has mostly been ordering his massive tomahawk chops and that glorious, absurd bacon-draped wedge salad, you might not think to order the chicken soup. But Perry Lang's matzo ball soup is extraordinary. It's also now available at the Hole in the Wall takeout window, and will soon be available for delivery — just in time for the next cold season.
ODE TO KARAAGE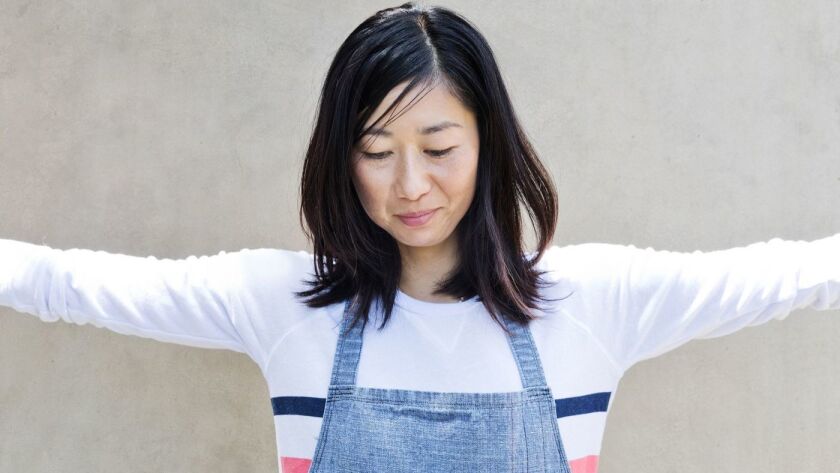 Karaage, the addictive Japanese fried chicken, is the focus of chef Kuniko Yagi's restaurant Pikunico, opening at the Row in downtown L.A. in October. As Jenn reports, Yagi, an alum of Hinoki & the Bird and the late, lamented Comme Ça, will feature the stuff in sandwiches, baskets and rice bowls. And yes, there will be craft beer to accompany all that fried chicken.
JUJUBES ARE HERE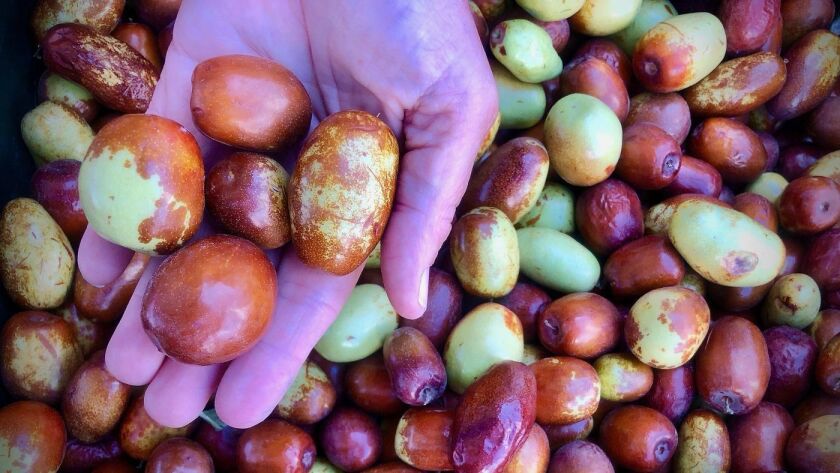 What to pick up at your local farmers markets? How about jujubes (also known as Chinese red dates), a fruit that Test Kitchen Director Noelle Carter says are hitting stands now. Jujubes start out tart but ripen into a sweet fruit not unlike dates and are great as part of cheese plates — or infused with gin and added to cocktails.
The Taste OC: For the first time, we're holding a Taste food festival in Orange County. From Oct. 19-21, we're having a food and drink party at the MET in Costa Mesa, with plenty of chefs, cooking demos and so much food and drinks. For more info and early tickets, go to extras.latimes.com/taste.
Check us out on Instagram at @latimesfood.
And don't forget the thousands of recipes in our California Cookbook recipe database.
Feedback? We'd love to hear from you. Email us at food@latimes.com.
---