Newsletter: Fried chicken, Vegas cocktails
Good morning. Next weekend, we'll all be in Costa Mesa for the Taste O.C., our first Orange County food festival, so this Saturday we're at home reading and cooking (and watching some playoff baseball), as hopefully you are too. To help with that, we've got a section loaded with stories and recipes, including a big spread about, well, a big spread. This would be a fried chicken birthday party, built around a nice conceit: Your guests bring take-out fried chicken as your gift. I'd happily bake biscuits (and jalapeño-spiked mac 'n' cheese) all morning if it meant somebody else waiting in line for boxes of Howlin' Ray's hot chicken; just saying.
If you're headed to a farmers market this weekend, you might pick up some shelling beans. And if you're wanting to try a new place to eat, Daniel Patterson's West Adams restaurant and coffee shop are both open, as well as five other new places, including a new location of Sichuan Impression (toothpick lamb!) in Westwood (yes, Westwood). On the drinks front, there's a new cocktail tasting menu bar in Malibu, a new Highland Park bar with a massive vinyl collection, and — a bit further afield — we deliver a story about the vibrant craft cocktail scene in Vegas. If you're staying home, maybe read up on Josiah Citrin's new restaurant, opening soon, and plan your next birthday party. Have a good weekend.
A FRIED CHICKEN BIRTHDAY BASH
This week, acting Food editor Jenn Harris gives us an entertaining story about her own birthday bash — a fried chicken party that you can easily duplicate at home, with a number of handy tips and recipes. Instead of presents, guests bring fried chicken, so you just make some sides, set up a buffet table, fire up a playlist, and uncork a lot of bubbly (Italian sparkling wine pairs nicely and isn't pricey). Pro tip: Use cake tiers for the chicken, and set up some busing stations to help with cleanup.
CRAFT COCKTAILS ON THE STRIP
The cocktail scene in Las Vegas isn't just "footlong slushie fratboy cocktails" anymore, nor is it pricey bottle service or even well drinks from dive bars. Lately you can find craft cocktails made with fresh ingredients and unique spirits by bartenders from trendy spots such as Milk & Honey in New York. As drinks writer Brad Japhe reports, a number of cocktail bars have opened in the last few years that showcase the kind of bar menu found more often in trendy speakeasies than casinos and nightclubs.
POST-LOCOL DINING
When Daniel Patterson and Roy Choi closed Locol, Patterson didn't head back to his own Bay Area restaurants: He was already at work on Alta Adams, his West Adams restaurant and coffee shop project, both of which have just opened. Food writer Andrea Chang writes that Patterson teamed with chef Keith Corbin, a Locol alum, on the menu of what Corbin calls "California soul." What this means is cornbread, grilled pork collar, seared oxtail, and black-eyed pea fritters — all in an area with beauty salons, churches and auto shops, but not much in the way of full-service restaurants.
BEAN COUNTING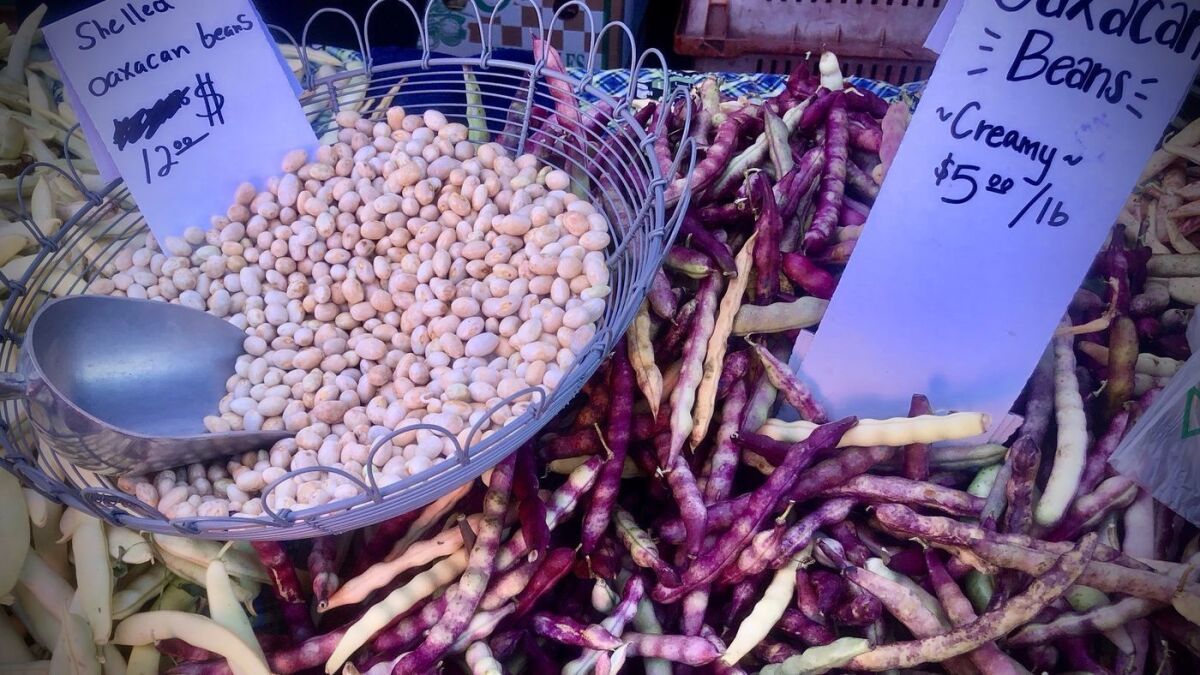 In this week's Market Report, test kitchen director Noelle Carter considers shelling beans, which are in season in local farmers markets. You might find Oaxacan beans still in their husks or cranberry beans, Christmas Limas or Scarlett Runners. Many of these beans are remarkably pretty, colorful and patterned, but farmers suggest not passing up ugly ones. And while fresh shelling beans taste about the same as dried beans, the texture can be far superior. Do we have recipes? We do: a dozen of them.
A NEW LINE
Chef Josiah Citrin and his team will be behind the line at Openaire, Citrin's upcoming restaurant at the Line Hotel in Koreatown, writes Andrea. When Roy Choi closed his restaurant Commissary over the summer, Citrin took over the space — as well as room service. Citrin, who has the fine dining restaurant Mélisse in Santa Monica and Charcoal in Venice, has created a menu that's a bit more low key than the pricey tasting menus at Melisse: Think Snake River Farms sirloin with yu choy and squash with parsnips, pumpkin seeds and manchego.
The Taste OC: For the first time, we're holding a Taste food festival in Orange County. From Oct. 19-21, we're having a food and drink party at the MET in Costa Mesa, with plenty of chefs, cooking demos and so much food and drinks. For more info and early tickets, go to extras.latimes.com/taste.
Check us out on Instagram at @latimesfood.
And don't forget the thousands of recipes in our California Cookbook recipe database.
Feedback? We'd love to hear from you. Email us at food@latimes.com.
Get our L.A. Goes Out newsletter, with the week's best events, to help you explore and experience our city.
You may occasionally receive promotional content from the Los Angeles Times.