Newsletter: Essential California: Heat and drought are destroying California's trees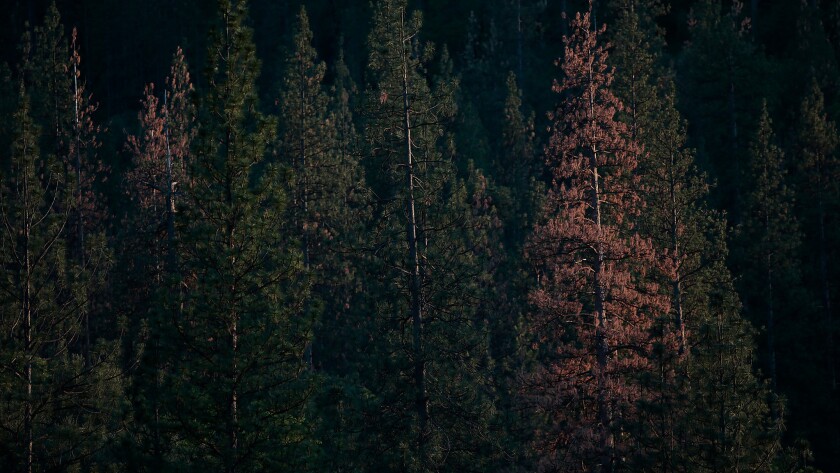 Good morning. It is Thursday, June 23. A baby eagle got its own no-fly zone in the San Gabriel Mountains. Firefighters were asked to avoid the nest as they dropped water on the Reservoir and Fish fires. Here's what else is happening in the Golden State:
TOP STORIES
Shaky ground
The land around the San Andreas fault is moving. Scientists have found that much of the Los Angeles Basin, Orange County, San Diego County and the Bakersfield area are sinking 2 to 3 millimeters a year. Santa Barbara, San Luis Obispo and San Bernardino are rising at the same rate. "Once there is a major event, all of that energy gets released," said Sam Howell, a doctoral candidate in geophysics at the University of Hawaii at Manoa and the lead author of the report. Los Angeles Times
Tree massacre
Drought, bark beetles and high temperatures helped kill 26 million trees in the Sierra Nevada in the last eight months. That estimate brings the total loss of trees since 2010 to at least 66 million. "Tree dies-offs of this magnitude are unprecedented and increase the risk of catastrophic wildfires that puts property and lives at risk," said Agriculture Secretary Tom Vilsack. Los Angeles Times
Conviction doubts
A convicted murderer should be released from prison because new evidence raises doubts about his guilt, according to the Los Angeles County district attorney's office. Prosecutors will ask a judge to release Raymond Lee Jennings, a former security guard who was sentenced in 2009 for the shooting death of an 18-year-old woman. Jennings was convicted after two previous trials ended with deadlocked juries. Los Angeles Times
DROUGHT AND CLIMATE
Off the list: A handful of restaurants in San Luis Obispo will stop serving wine from Justin Vineyards after the company bulldozed hundreds of oak trees to make room for more grapes. It's believed the vineyard violated grading regulations, though there are no restrictions on cutting down oaks. "I'm a native of this area. I grew up with oak trees, and I know how long they take to grow," said Greg Holt, owner of Big Sky Cafe. The Tribune
L.A. AT LARGE
I love you, California: As he prepares for his road trip, columnist Steve Lopez finds Californians are passionate about protecting their coast. "With California's coast, I am humbled. It's a gift, and it has to be robustly defended, protected, preserved for generations to come, and open to everyone regardless of income," he writes. Los Angeles Times
Outta here: The lone student enrolled in the MFA program at USC's Roski School of Art and Design dropped out this week by sending a letter to the university's provost — and a lot of media outlets. The move comes one year after an entire class of MFA candidates withdrew from the university in protest. "I was both socially isolated as well as pedagogically misdirected due to a lack of structure and foresight in the nonexistent studio component of this ersatz program," wrote HaeAhn Kwon. Los Angeles Times
Civic identity: When it opened nearly a decade ago, Bottega Louie was seen as key to the revitalization of downtown Los Angeles. Now a branch is opening in West Hollywood, and critics say it's the latest sign that "straight" businesses are taking over the "gay oasis and haven." WEHOville
POLITICS AND GOVERNMENT
On the floor: Three dozen members of the California congressional delegation took to the House floor — literally — Wednesday as they staged a sit-in over gun legislation. The action was initiated by civil rights icon Rep. John Lewis (D-Ga.). The C-SPAN cameras that usually broadcast from the chamber were turned off, so members used Periscope and Facebook Live to broadcast their speeches and chants of "No bill, no break." House Speaker Paul D. Ryan called the protest "nothing more than a publicity stunt." Los Angeles Times
Domestic violence: The mayor of Lake Elsinore was arrested on suspicion of attacking his wife. Sheriff's deputies were called to the couple's home about 1:30 a.m. Monday. Brian Tisdale, who did not comment on the arrest, said he would take a leave of absence from his role as mayor. Los Angeles Times
Crossing party lines: Former L.A. Mayor Richard Riordan, a Republican, endorsed Democratic Rep. Loretta Sanchez for the U.S. Senate. He said the Orange County congresswoman is "tough and not afraid to take a stand on important issues." Los Angeles Times
CRIME AND COURTS
Cheerleader arrested: An 18-year-old high school senior was charged in connection with the beating death of a homeless man in San Diego County. Hailey Suder pleaded not guilty to two felony charges of being an accessory after the fact, authorities said. Brothers Austin Mostrong, 20, and Preston Mostrong, 19, are accused of beating and torturing George Lowery, who suffered a stroke and two brain hemorrhages as a result of the attack. He died days later in a hospital. Los Angeles Times
Oakland scandal: This guide will catch you up on the sexual misconduct allegations that have overtaken the Oakland Police Department and a handful of other law enforcement agencies. As a reminder, Oakland Mayor Libby Schaaf has compared the Oakland PD to a "frat house with a 'disgusting' and 'toxic macho culture.' " Mother Jones
Through the grapevine: The trial of the century was only 20 years ago, yet Ezra Edelman's documentary "O.J.: Made in America" is a reminder of how much the flow of information has changed in that time. The New Yorker
CALIFORNIA CULTURE
Studio premiere: The Church of Scientology has a new movie studio in Los Feliz. It's reportedly the result of a five-year and $50-million renovation of the old KCET public television space. LAist
Out in the streets: This long-form article examines what we can learn from the design of Los Angeles' boulevards. "So it's no longer just a question of local L.A. smog, or sprawl, or style. All of these global issues — social, cultural, economic, environmental — must be considered when we think about the design of Los Angeles boulevards." Boom California
Family business: The story behind the success of In-N-Out is a sad one that includes drug addiction, family feuds and untimely deaths. KCET
CALIFORNIA ALMANAC
San Diego starts the day with clouds before temperatures reach a high of 74 degrees. Los Angeles will have a mix of sun and clouds with temperatures reaching 80 degrees. Riverside will be 92. There will be clear skies and a high of 71 in San Francisco. Sacramento will be sunny and hot at 93 degrees.
AND FINALLY
Today's California Memory comes from Amy Schol:
"I remembered this when the Metro Expo Line opened: I spent the summer of 1975 at USC. One weekend we decided to go to the beach. At that time there was just RTD, but somehow we got to Santa Monica. The only problem was, on the way back, nobody knew where to transfer buses. The bus driver told us to get off at a huge, desolate intersection in Crenshaw, where we stood, sandy, hot and unsure if a bus would ever appear. Nobody wanted to contemplate walking back to USC. Eventually, a bus came and took us back to campus."
If you have a memory or story about the Golden State, share it with us. Send us an email to let us know what you love or fondly remember about our state. (Please keep your story to 100 words.)
Please let us know what we can do to make this newsletter more useful to you. Send comments, complaints and ideas to Alice Walton or Shelby Grad.
---