Newsletter: Essential California: Legal marijuana arrives with a big party in stores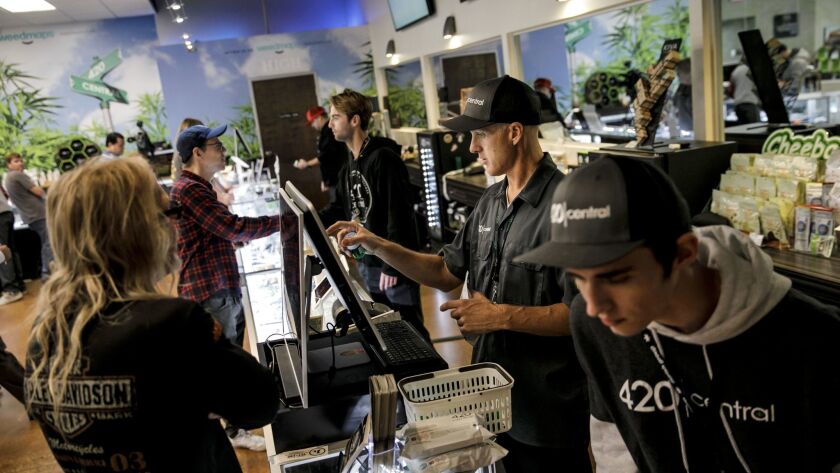 Good morning, and welcome to the Essential California newsletter. It's Tuesday, Jan. 2, and here's what's happening across California:
TOP STORIES
High times
There was a party atmosphere across California as legal sales of marijuana began Monday. Californians voted to legalize recreational pot in 2016, and the measure, Proposition 64, took effect New Year's Day — creating the largest legal pot market in the country. Hundreds of businesses have applied for temporary licenses in recent weeks, but industry officials expect a slow rollout as many cities have not yet given their approval. But there were plenty of places to get pot Monday. And there were long lines. Los Angeles Times
Plus:
-- For some, Monday was an opportunity to be a part of history. Los Angeles Times
-- In the capital of pot, little demand for the legal stuff. SF Gate
More West Coast envy
While revelers in New York City's Times Square welcomed 2018 during the city's second-coldest New Year's Eve on record — a frigid 10 degrees — Rose Parade spectators were treated to relatively balmy temperatures in the mid-50s. "We complain because we can, but we have the best weather," said Riverside resident Maria Romo, who wore a stocking cap and a heavy coat as she stoked a fire in a barbecue grill after camping overnight on Colorado Boulevard. "This is why we live on the West Coast." Los Angeles Times
Classic game: In the Rose Bowl, No. 3 Georgia advanced to its first national championship game with a 54-48 double-overtime victory over No. 2 Oklahoma on Monday. Los Angeles Times
The force is with it
It was a grim year for Hollywood box office receipts, but "Star Wars" has come to the rescue. The latest installment in Disney's intergalactic saga took in a better-than-expected $68.4 million Friday through Monday, according to estimates from measurement firm ComScore. The haul helped the film ring in the new year in full force, swooping past "Beauty and the Beast" as the highest-grossing movie of 2017, raising "The Last Jedi" total for the U.S. and Canada to $533 million and pushing its global take to more than $1 billion. Los Angeles Times
L.A. STORIES
Caring for the care providers: Hospitals are increasingly realizing that their staffs are suffering from secondary trauma, a kind of PTSD caused by caring for people in the worst moments of their lives. Los Angeles Times
Less transparency? When Los Angeles lawmakers have weighed hotly contested issues such as whether to hike the minimum wage or how to regulate street vendors, nonprofits have frequently piped up in the debates ringing through City Hall. Now L.A. could exempt many of those groups from revealing whom they lobby in local government and how much they spend to do so. Los Angeles Times
How he conducts himself: Gustavo Dudamel's face often says it all. This sequence of photos of the L.A. conductor proves it. Los Angeles Times
New Year's dip: This might be the best — or the worst — way to begin 2018. Orange County Register
GOVERNMENT AND POLITICS
GOP's California issue: As Republicans assess their prospects in 2018 and beyond, California looms as a major problem. Wall Street Journal
A moment: This is going to be a pivotal year in California politics, but one that is likely to be deep blue. The Mercury News
Plus: The House races to watch in California. Los Angeles Times
Speaking up: Complaints of sexual harassment by San Diego city workers rose noticeably in 2017 from previous years, nearly quadrupling from the year before. San Diego Union-Tribune
It's complicated: The San Francisco mayor's race is shaping up to be a complicated affair for progressives. San Francisco Chronicle
CALIFORNIA WILDFIRES
Remembrances: Looking back at the victims of the wine country fires, which killed more than 40 people. Press Democrat
And: The search for "fire cats" in wine country. New York Times
CALIFORNIA CULTURE
A reckoning: For Hollywood to get past its "me too" crisis, it must confront an ugly past. The New Yorker
End of an era? With the Fox-Disney deal, will the Murdochs fade from the Hollywood scene after three decades? New York Times
Architectural legacy: A tribute to John Portman, who created the Westin Bonaventure hotel, one of the most photographed and filmed places in L.A. Los Angeles Times
Another tower: Downtown L.A. is seeing a building boom. But the place where the skyline is truly being remade is in the South Park area around L.A. Live. Curbed Los Angeles
Straight outta Redlands: The depressive rap of Lil Xan and how those sad songs have found an audience. The New Yorker
CALIFORNIA ALMANAC
Los Angeles area: Partly cloudy and 64. San Diego: Partly cloudy and 69. San Francisco area: Mostly cloudy and 63. Sacramento: Partly cloudy and 64. More weather is here.
AND FINALLY
Today's California memory comes from Eva Fordham:
"In the 1980s, New Year's Day was a special time for my grandmother and me. We ventured to foggy San Francisco for a treasure hunt in Union Square. The streets were sprinkled with desk calendar pages from the year before, and our task was to find our birthday page, which promised good luck for the coming year. Hours passed as I nervously scoured Powell, O'Farrell and Post streets in search of the magic page. When hunger set in, Lefty O'Doul's was our final stop for hot roast beef sandwiches, warm smiles, and excitement for the year ahead."
If you have a memory or story about the Golden State, share it with us. Send us an email to let us know what you love or fondly remember about our state. (Please keep your story to 100 words.)
Please let us know what we can do to make this newsletter more useful to you. Send comments, complaints and ideas to Benjamin Oreskes and Shelby Grad. Also follow them on Twitter @boreskes and @shelbygrad.
---