Newsletter: Essential California: In these fields, only the crops are usually born in the U.S.A.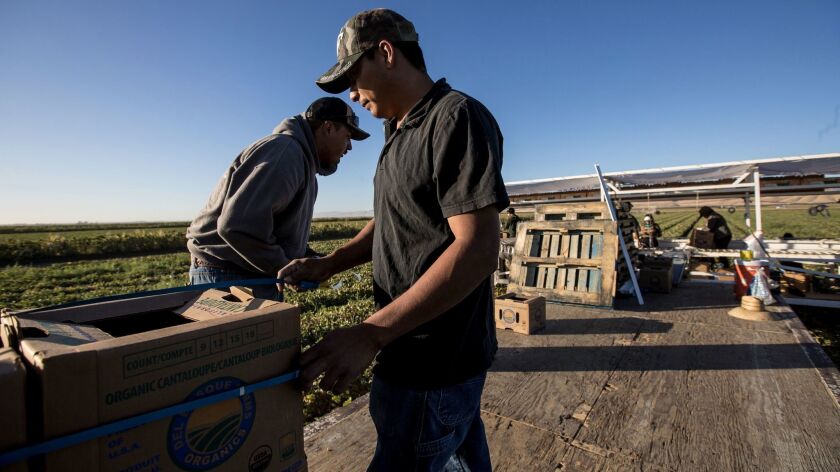 Good morning, and welcome to the Essential California newsletter. It's Thursday, Jan. 4, and here's what's happening across California:
TOP STORIES
There aren't enough farmworkers
For generations, rural Mexico has been the primary source of hired farm labor in the U.S. According to a federal survey, 9 out of 10 agricultural workers in places like California are foreign-born, and more than half are in the U.S. illegally. But farm labor from Mexico has been on the decline. And under the Trump administration, many in the agricultural industry worry that deportations — and the fear of them — could further cut the supply of workers. But try as they have to entice workers with better salaries and benefits, companies have found attracting enough U.S.-born workers to make up for a shortage from south of the border an impossible task. Los Angeles Times
See you on Wall Street
Music streaming giant Spotify has confidentially filed to go public — moving forward with an unusual plan to list its shares directly on the New York Stock Exchange — even as it faces a new $1.6-billion lawsuit alleging copyright infringement. Calabasas music publisher Wixen Music Publishing Inc. is suing Spotify, alleging that the company violated its copyright on more than 10,000 songs — including titles by Tom Petty, Neil Young and Stevie Nicks. Los Angeles Times
New to our pages
The Times' Opinion section has a new columnist: Gustavo Arellano. His first column for the paper is a robust defense of and love letter about the state he adores so much. Arellano writes: "The comfortable have never actually pushed California upward; it's always been the afflicted. California is not Hollywood and Silicon Valley and the middle class on the move. California is my mother and her sisters picking garlic in Gilroy during the 1960s and having to drop out of junior high to pack tomatoes at the old Hunt-Wesson cannery in Fullerton." Los Angeles Times
L.A. STORIES
A race against the clock: When Los Angeles two years ago approved the nation's most sweeping earthquake retrofitting regulations, officials knew they were in a race against time. The law requires the retrofitting of hundreds of brittle concrete buildings, one of the most vulnerable types of structures in California. But experts have worried that a major earthquake will hit Southern California before the deadline to fix the buildings comes. Los Angeles Times
Something stinks: "L.A.'s new recycling program has some laudable goals, but the execution doesn't look so hot in the underground parking lot of a condo building on Hazeltine Avenue in Van Nuys," writes columnist Steve Lopez. Los Angeles Times
Moving photos: Among L.A.'s homeless, a photographer finds words can leave a lasting impression. Los Angeles Daily News
On the waterfront: Workers have begun boarding up buildings in Ports O' Call Village, one of the first steps in preparing to make way for construction of the new San Pedro Public Market. Daily Breeze
IMMIGRATION AND THE BORDER
Coming soon? Taking a jab at Gov. Jerry Brown, President Trump's top immigration chief on Wednesday said he was preparing to "significantly increase" his agency's enforcement presence in California because of last year's passage of a landmark "sanctuary state" law. Los Angeles Times
South of the border: Mexico's leading presidential candidate, Andrés Manuel López Obrador, says he can end all crime in just three years. BuzzFeed
POLITICS AND GOVERNMENT
Big ask: Republican gubernatorial candidate Travis Allen on Tuesday urged President Trump and U.S. Atty. Gen. Jeff Sessions to sue California over the state's immigration policies. Los Angeles Times
Back at work: California legislative leaders announced Wednesday that the state Senate and Assembly will for the first time work together to examine how sexual harassment complaints are handled in the Capitol. Los Angeles Times
Plus: "The California Senate's human resources office knew about Sen. Tony Mendoza's alleged sexual misconduct with a female student Fellow in late September. But instead of immediately placing the lawmaker on leave, or finding a safer place for the young woman — as experts say a properly trained, experienced HR professional might have done — Senate leaders left the Fellow in Mendoza's office for another six weeks." Capital Public Radio
And: Faced with the threat of an embarrassing Senate vote to suspend him, Mendoza (D-Artesia) agreed Wednesday to take a one-month paid leave of absence. Los Angeles Times
CRIME AND COURTS
Data: California police departments receive few formal complaints of racial profiling or other bias and find even fewer of them to be true, according to newly released data from Atty. Gen. Xavier Becerra. Los Angeles Times
Heading to Kansas: A Los Angeles man arrested on suspicion of making a 911 call to police in Wichita as part of a deadly "swatting" prank told a judge Wednesday that he will not fight extradition to Kansas. Los Angeles Times
Wild chase: The driver of a stolen U-Haul truck led police on a pursuit for more than an hour Wednesday before stopping in Montebello and engaging officers in a tense standoff as a driver and passenger refused to leave the damaged vehicle. Los Angeles Times
Legally justified: A Huntington Beach police officer who shot and killed a 27-year-old man during a scuffle outside a 7-Eleven store in September will not face criminal charges, the Orange County district attorney's office announced Wednesday. Los Angeles Times
THE ENVIRONMENT
Parched: Southern California is seeing one of its driest starts to the water year in decades, the National Weather Service said Wednesday. Los Angeles Times
Plus: There's almost no snow in the Sierra, but water officials aren't panicking yet. San Francisco Chronicle
CALIFORNIA CULTURE
Where to go?! Here are Times travel writer Christopher Reynolds' 10 surprises from a year full of California adventures. Los Angeles Times
Wild story: "About once a month, on a Friday or Saturday night, the Silicon Valley Technorati gather for a drug-heavy, sex-heavy party." Vanity Fair
One to watch: Before Ella Mai turned to Instagram, she didn't think her music would ever reach anyone. Los Angeles Times
Production hell continues at Tesla: The new Model 3, crucial to the company's success, won't hit full-scale production until the end of June, Tesla said Wednesday — nearly a year after the company began manufacturing the car in small numbers. Los Angeles Times
Chill out: Here are the 26 best places to visit in Los Angeles this winter. Curbed LA
CALIFORNIA ALMANAC
Los Angeles area: partly cloudy, 72, Thursday; partly cloudy, 73, Friday. San Diego: sunny, 70, Thursday and Friday. San Francisco area: showers, 61, Thursday and Friday. Sacramento: partly cloudy, 65, Thursday; showers, 59, Friday. More weather is here.
AND FINALLY
Today's California memory comes from Steve Daly:
"I'm an almost 50-year-old native, born in Panorama City, raised in Reseda, then Chatsworth, then Thousand Oaks. I have been to the Rose Parade, the Rose Bowl and most other quintessential Southern California happenings over the years. But the one memory that I always come back to when asked about my SoCal memories are waking up on July 4 (circa 1976; America's bicentennial) and decking out my bike with streamers and flags for the pending neighborhood parade, then going into town with my grandfather to get some last-minute fireworks. My grandfather would block off the entrance to our cul-de-sac in Reseda for most of the day starting about 2 p.m. The whole street would come out and participate in the block party potluck. You have to remember that this was a time of Tupperware and 'Avon Calling,' plastic dresses and the end of go-go boots; it was a simple time for a 6-year-old who couldn't wait for his grandfather to start lighting the flowers and sparklers once it got dark. Needless to say, my family was very patriotic and I come from a long line of police and IBEW electricians. My uncle, at the time a 12-year veteran of the LAPD motor corps, would always stop by so I could show him off to my friends in all of his LAPD regalia and awesome police motorcycle. The days of wandering the neighborhood and being excited about being an American are some of my fondest memories."
If you have a memory or story about the Golden State, share it with us. Send us an email to let us know what you love or fondly remember about our state. (Please keep your story to 100 words.)
Please let us know what we can do to make this newsletter more useful to you. Send comments, complaints and ideas to Benjamin Oreskes and Shelby Grad. Also follow them on Twitter @boreskes and @shelbygrad.
---