Officer justified in fatal Huntington Beach shooting, DA's office says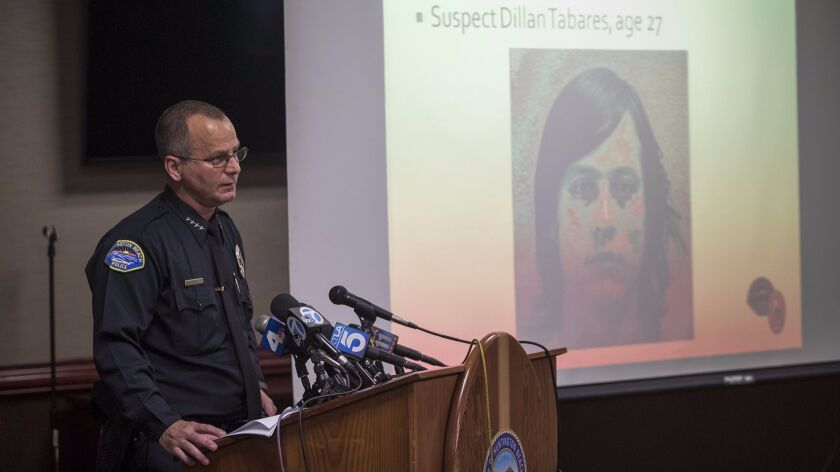 A Huntington Beach police officer who shot and killed a 27-year-old man during a scuffle outside a 7-Eleven store in September will not face criminal charges, the Orange County district attorney's office announced Wednesday.
According to Assistant Dist. Atty. Ebrahim Baytieh, officials determined that Officer Eric Esparza was legally justified when he shot Dillan Tabares, a homeless Navy veteran who had been paroled from state prison eight days earlier. The Sept. 22 shooting was captured on bystanders' videos that were widely circulated on social media.
"It is clear in this case, based on the totality of all the available evidence, Officer Esparza was justified in believing Tabares posed a significant threat of death or serious physical injury to Officer Esparza and possibly other civilians in the parking lot," Baytieh wrote in a letter to Orange County Sheriff Sandra Hutchens.
"This conclusion is based on all of the circumstances, particularly the conduct of Tabares leading up to the shooting," Baytieh added.
In October, roughly a month after the shooting, Huntington Beach police named Tabares as the suspect in the fatal beating of Richard Darland, 80, who was found outside his home three days before Tabares was shot.
Esparza was in the 7-Eleven parking lot when he approached Tabares and told him to stop, according to Baytieh's letter, but the veteran did not follow the order.
It's not clear what prompted Esparza to stop Tabares. However, he told another officer at the scene that Tabares was trying to grab his gun from his utility belt during the ensuing scuffle, according to footage from Esparza's body camera that was made public Wednesday.
A registered nurse who witnessed the altercation told investigators that Tabares "looked out of it" and she thought he might be under the influence of a drug, according to the letter. She told investigators that she heard Tabares shouting at the officer and then saw him walk directly at Esparza and swing at him.
As Tabares approached Esparza, the officer used his Taser, but it was not effective, authorities said.
A video taken just before the shooting and later posted on social media shows Tabares and the officer struggling on the ground next to a parked car. Tabares appears to pull an item off the officer's utility belt.
Baytieh said the item was the officer's flashlight. Tabares' DNA was found on the officer's flashlight holder, magazine holder and the grip of his Glock pistol, according to an analysis by the Orange County Crime Lab.
Body camera footage and another video show Esparza firing six shots, causing Tabares to convulse and stumble. After a seventh shot, Tabares collapsed on his side against the store.
Tabares' family said he had drug and mental health issues. The D.A.'s letter stated that an analysis of his blood showed the presence of ethanol and methamphetamine.
Fry writes for Times Community News
---
The stories shaping California
Get up to speed with our Essential California newsletter, sent six days a week.
You may occasionally receive promotional content from the Los Angeles Times.