L.A. 'swatting' suspect will not fight extradition to Kansas after deadly shooting
A Los Angeles man arrested on suspicion of making a 911 call to police in Wichita as part of a deadly "swatting" prank told a judge Wednesday that he will not fight extradition to Kansas.
Tyler Raj Barriss, 25, declined to fight extradition during a brief hearing in a downtown Los Angeles courtroom, and a judge said he should be handed over to authorities in Kansas no later than Feb 2. Until then, he will be held in California without bail.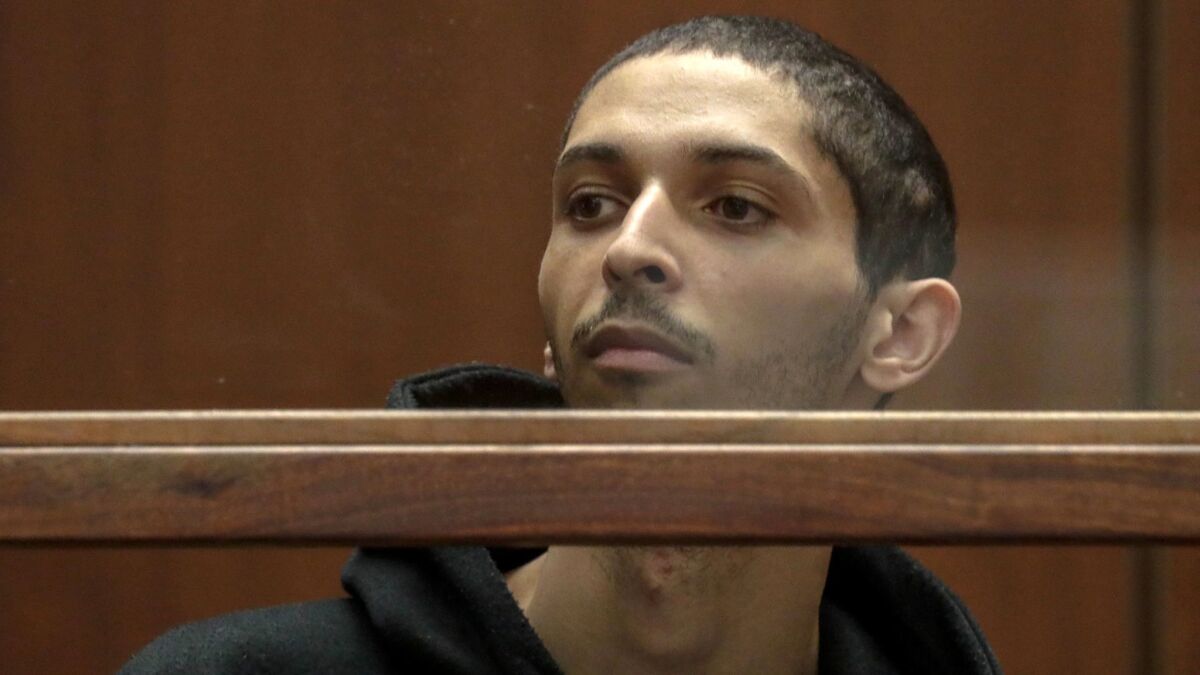 Barriss kept his head down during the hearing, only speaking to say "Yeah" or "I did" to acknowledge the judge's questions.
Barriss was arrested last week in South L.A. on an arrest warrant issued by Sedgwick County, Kan., authorities said. The warrant is related to a hoax call to Wichita police in which someone claimed he had killed his father and was holding his mother and sibling at gunpoint.
The call prompted a SWAT team to surrounded a Wichita residence and shoot an innocent man who answered the door. Wichita authorities say the man was shot when he lowered his hands toward his waistband. Family members identified the dead man as 28-year-old Andrew Finch.
Authorities identified Barriss as the caller.
This is not the first time Barriss has been accused of making false reports of an emergency. In October 2015, the Los Angeles County district attorney's office charged him with phoning in a bomb threat to KABC-TV Channel 7 in Glendale. Barriss pleaded no contest.
The term "swatting" refers to false emergency calls that prompt police departments to deploy SWAT teams to an address. Pranksters typically claim that an armed intruder is inside the home.
The FBI estimates that roughly 400 cases of swatting occur annually, with some using caller ID "spoofing" to disguise their number. Swatting cases that result in the death of a victim are less common, however.
An FBI supervisor in the Kansas City, Mo., office, which covers all of Kansas, said the agency joined in the investigation in Wichita at the request of local police.
Gaming websites and news outlets have given heavy coverage to the deadly swatting episode.
The digital security news website Krebs On Security captured some of the tweets reportedly written by the caller under the now-suspended Twitter handle @SWAuTistic. The tweets contain the address where Finch was shot and killed. The tweets also say the user didn't kill anyone because he or she didn't fire a weapon.
The YouTube channel DramaAlert, which covers the gaming community, published a 10-minute interview with a man claiming to be the person who made the swatting call. The interview suggests that a dispute between two online gamers over a $1.50 wager led to the swatting call.
In the interview, the man claims that he had also called in bomb threats to the Federal Communications Commission and an events center in Dallas. He also said he did not feel entirely responsible for Finch's death because he did not pull the trigger.
Times staff writer Jack Leonard contributed to this report.
For more breaking news in Southern California, follow us on Twitter: @JosephSerna and @JamesQueallyLAT
---
UPDATES:
10:50 a.m.: This article was updated with details on the extradition hearing.
This article was originally published at 6 a.m.
---
The stories shaping California
Get up to speed with our Essential California newsletter, sent six days a week.
You may occasionally receive promotional content from the Los Angeles Times.