Newsletter: Essential California: Was the killing of Blaze Bernstein a hate crime?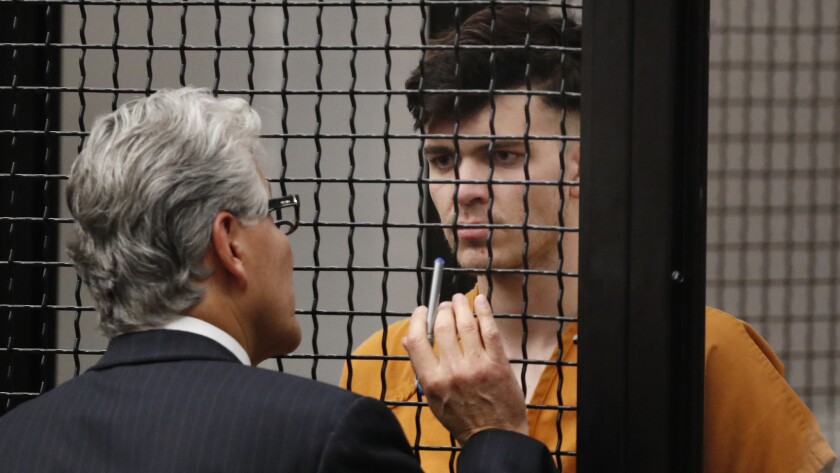 Good morning, and welcome to the Essential California newsletter. It's Thursday, Jan. 18, and here's what's happening across California:
TOP STORIES
A hate crime?
They both went to high school at the elite Orange County School of the Arts, but the classmates weren't particularly close. Blaze Bernstein, home on winter break from the University of Pennsylvania, messaged with Samuel Woodward on Snapchat. On Jan. 2, Woodward drove over and picked him up. Bernstein, an LGBTQ student, is now dead, and Woodward charged in his killing. Authorities described the slaying as an act of rage fueled by a kiss, but was it a hate crime? Los Angeles Times
Swollen creeks drove death and destruction
The San Ysidro Creek typically flows at a genteel trickle down from the mountains to the Pacific, a favorite spot of hikers who flock there for the waterfall that comes to life during winter months. But last week, the creek became a freeway of destruction. A look at how the Montecito mudslides became so deadly. Los Angeles Times
Plus: Searching for a place to dump all that mud. Los Angeles Times
And: Boulder blasting in Montecito. Los Angeles Times
Hollywood sign solutions
The Hollywood sign, a perpetual lure for tourists seeking the perfect snapshot, has become a frustration for Hollywood Hills neighbors who complain that a crush of visitors has clogged their residential streets. Exasperation over the crowds has been a simmering issue in political campaigns and even spurred battles in court. The city now has ideas for how to calm things down. Los Angeles Times
L.A. STORIES
1-up: The old-fashioned video game arcade, a staple of the 1980s, is seeing a revival in L.A. One in Pasadena was so successful that it's expanding to the San Fernando Valley. Los Angeles Daily News
Vital signs: A few doors down from an Apple store in L.A., this start-up says it's challenging Steve Jobs to create the perfect doctor's office. The New Yorker
Changes: Tracking the rapid gentrification of East Hollywood. LA Taco
Eat, drink, shop: Struggling retailers are adding food offerings to try to lure customers into stores. Los Angeles Times
Op-ed: Do we need a New Deal-type solution to solve the homeless problem? Los Angeles Times
Scary memories: What the Northridge quake, which hit 24 years ago, felt like. Los Angeles Times
GOVERNMENT AND POLITICS
Here we go again: "New California" is actually an old idea for breaking up the state and might be even more unrealistic than some other wacky concepts. Los Angeles Times
Moving on out: With home prices and rents soaring, the new trend in the Bay Area is living in the backyard. And there is a whole industry ready to build you a small unit there. The Mercury News
Coming around: The traffic circle "roundabout" was long treated with skepticism from officials. But they are now booming, and even skeptics see their value. Sacramento Bee
CRIME AND COURTS
Raids soon? There are growing grumblings in Northern California of a coming immigration sweep targeting thousands of those here illegally. Some say it's payback for the liberal region's embrace of "sanctuary cities." San Francisco Chronicle
Arrest made: A man suspected of sexually assaulting 14 women working as prostitutes in the last four years has been arrested. Los Angeles Times
Patients on lockdown: A crackdown on electronic devices and porn sparks a melee at a California mental facility. Fresno Bee
CALIFORNIA CULTURE
Measles model: After the Disneyland measles epidemic, California got serious about vaccinations and became a national leader. New York Times
Grocery list: So what are the most popular items at Trader Joe's? One perennial favorite: frozen Mandarin orange chicken. A bigger surprise: spiced apple cider. SF Gate
It's not TV: HBO's pitch to Hollywood's top talent: We will treat you better than Netflix. Wall Street Journal
Anatomy of the deal: The highest-paid actress in TV might surprise you. The Hollywood Reporter
CALIFORNIA ALMANAC
Los Angeles area: partly cloudy and 74. San Diego: partly cloudy and 69. San Francisco area: showers and 55. Sacramento: rain and 55. More weather is here.
AND FINALLY
Today's California memory comes from Dr. John A. Negrych: "After graduating from U of Washington in 1964, I found a summer job in L.A. that would fill the time until grad school started in the fall. I drove my old 1953 Chevrolet down Highway 99. It was raining and cold in Seattle and all through Oregon, and when I finally hit the Big Valley, it started getting sunny and warm. I drove straight through (20 hours) and stopped in Bakersfield at a great motel with a pool and friendly bar and restaurant. They actually brought drinks to the pool! It was heaven. I stayed three days!"
If you have a memory or story about the Golden State, share it with us. Send us an email to let us know what you love or fondly remember about our state. (Please keep your story to 100 words.)
Please let us know what we can do to make this newsletter more useful to you. Send comments, complaints and ideas to Benjamin Oreskes and Shelby Grad. Also follow them on Twitter @boreskes and @shelbygrad.
---