Newsletter: Essential California: L.A. homeless crisis grows. How do we fix it?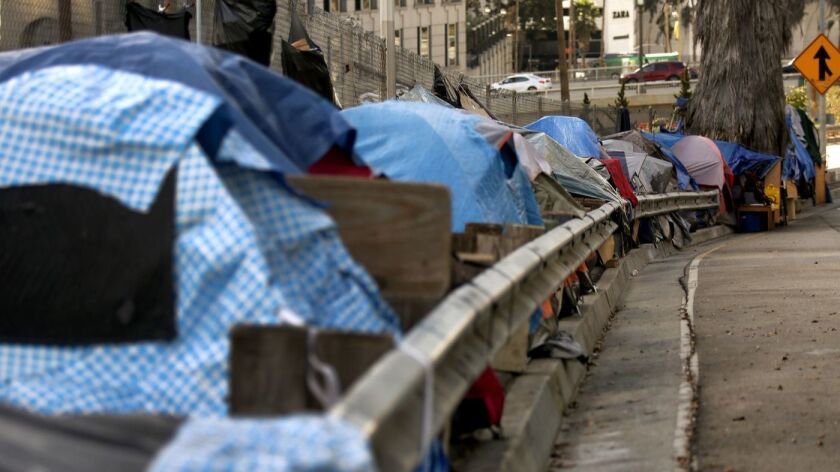 Good morning, and welcome to the Essential California newsletter. It's Monday, Jan. 29, and here's what's happening across California:
TOP STORIES
What will it take?
After millions of tax dollars and dozens of speeches and political promises later, Los Angeles' homeless crisis hasn't gotten any better. Many believe it's now worse than ever. Los Angeles, rich beyond dreams, is a refugee camp, its riverbeds and alleys draped in blue tarpaulin. Times columnist Steve Lopez asks: What will it take for L.A. to fix this? His column is the beginning of a new Times series. Los Angeles Times
Plus: After authorities determined that last month's Skirball fire in Bel-Air was caused by a cooking fire at a homeless encampment, Mayor Eric Garcetti and fire officials unveiled a plan to clear tent clusters in hillside areas. But the announcement frustrated downtown business leaders, who say that fires on or near skid row are a daily problem that City Hall has not adequately addressed. Los Angeles Times
A former USC dean's 911 call
The death of a newborn baby in Altadena last year has sparked an investigation by Los Angeles County sheriff's investigators, who say they are seeking to interview the former dean of USC's medical school, Carmen Puliafito, as a possible witness or informant. Puliafito called 911 to report the baby was not breathing. The baby died at an apartment rented by the doctor, who authorities say is not a suspect in the case. Los Angeles Times
Immigration redux
Last week the Canadian government sent an envoy to California to spread the message: Think before crossing the southern border. You might find yourself back not in the U.S. but the country you fled. How the Trump crackdown on illegal immigration is rippling its way to Canada. Los Angeles Times
Plus: A grim time for Salvadoran immigrants who face deportation. Los Angeles Times
On the homefront
In another dramatic shake-up at the Los Angeles Times, Chicago journalist Jim Kirk will be named editor in chief of the newspaper, replacing Lewis D'Vorkin, who will move to another position within The Times' parent company. Los Angeles Times
L.A. STORIES
Balancing act: Santa Monica has wrestled with street vending for years. On the one hand, the coastal city wants to curtail the activity, arguing that the sale of unregulated food can cause health risks. But officials say they share some of the worries of those in Los Angeles, which decriminalized sidewalk vending out of concern that convictions could make immigrants who ply their trade vulnerable to deportation under the Trump administration. Los Angeles Times
Staying the course: Fox Searchlight is having a huge Oscar season, even as its future is up in the air. Los Angeles Times
No easy labels: An L.A. artist's blend of the Mexican, Japanese and Modern. Los Angeles Times
Yum: How the bacon-wrapped hot dog went from the streets of L.A. to a foodie gem. L.A. Taco
Call of the wild: Orcas had quite the feast, at the expense of sea lions, off the Palos Verdes coast. Daily Breeze
POLITICS AND GOVERNMENT
Hand in hand: In L.A., protest and art have always gone together. And that's never been more true than in the Trump era. New York Times
Worrisome: A rise in HIV cases in Ventura County is generating concern among officials. Ventura County Star
Payouts: The growing cost of sexual harassment in state government. Sacramento Bee
CRIME AND COURTS
Unsolved: It's a baffling Sacramento murder mystery: Who killed a beloved nurse in 1970? KCRA
See you in court: Mothers in San Diego are taking on Pop Warner football in court over brain injuries. San Diego Union-Tribune
Hidden in plain view: It doesn't get that much attention, but one of Gov. Jerry Brown's biggest legacies will be criminal justice reform. San Diego Union-Tribune
Odd: A strange end to a Southern California mosque case, and a news release that does not tell the full story. CNN
Tweet tweet: Celebrities and others raise their social media presences using bots and fake followers. Is there criminal behavior here? New York Times
Investigation: Was a suspect in the killing of a gay college student in a neo-Nazi group? ProPublica
CALIFORNIA CULTURE
Surprise! It was supposed to be a night when political and social issues took center stage and the music industry fully embraced hip-hop. But when the 60th Grammy Awards were given out Sunday at Madison Square Garden in New York, it was a different tune. The Recording Academy gave three of its top trophies — album, record and song of the year — to R&B/pop star Bruno Mars' "24K Magic" album and hit single "That's What I Like." Los Angeles Times
Plus: All the Grammy winners and nominees. Los Angeles Times
Night shift: When this fancy restaurant in San Francisco closes, the real work begins. Profiling the unsung heroes of the dining game. San Francisco Chronicle
In charge: The new head of Yosemite grew up in the park, and his grandparents worked there. Fresno Bee
Changing times: With the #MeToo movement changing the rules of Hollywood, Woody Allen is facing a major test of his career amid three-decade-old sex abuse allegations. New York Times
This is big for San Francisco: "Mrs. Doubtfire" turns 25, and the Robin Williams comedy has slowly become a classic for the city. San Francisco Chronicle
CALIFORNIA ALMANAC
Los Angeles area: mostly sunny and 86. San Diego: sunny and 82. San Francisco area: partly cloudy and 61. Sacramento: partly cloudy and 62. More weather is here.
AND FINALLY
This week's birthdays for those who made a mark in California:
Rep. Linda Sanchez (Jan. 28, 1969).
If you have a memory or story about the Golden State, share it with us. Send us an email to let us know what you love or fondly remember about our state. (Please keep your story to 100 words.)
Please let us know what we can do to make this newsletter more useful to you. Send comments, complaints and ideas to Benjamin Oreskes and Shelby Grad. Also follow them on Twitter @boreskes and @shelbygrad.
---