Newsletter: Essential California: 'Black Panther,' already a cultural moment, is about to shatter movie business assumptions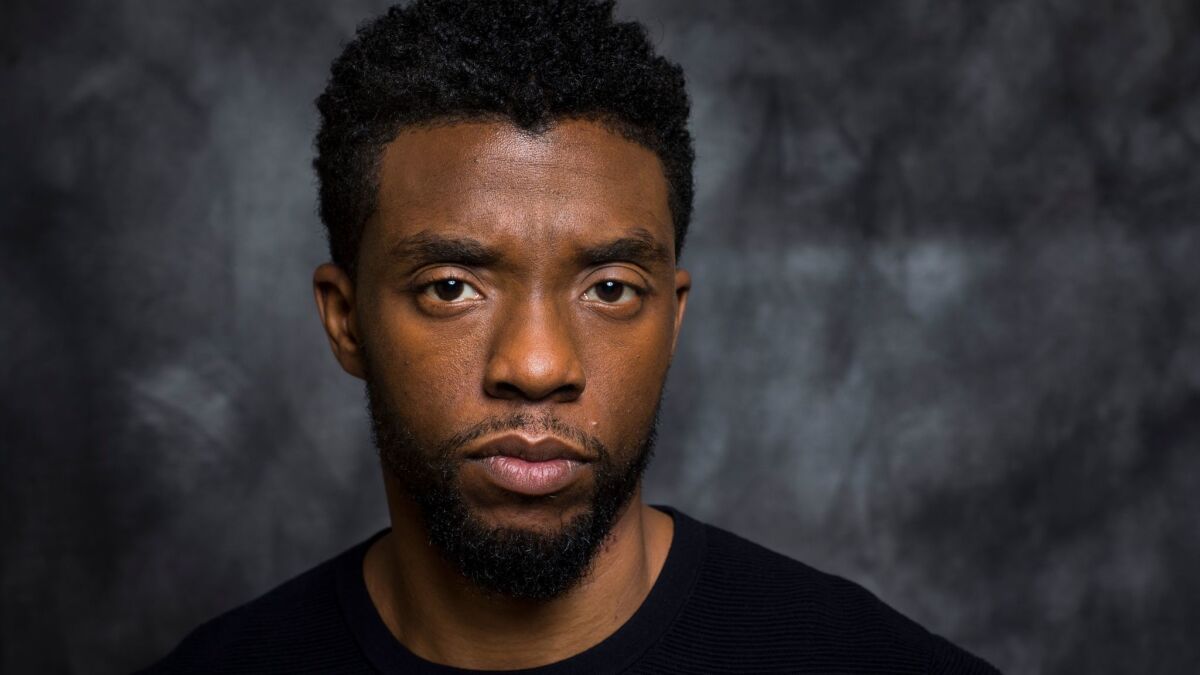 Good morning, and welcome to the Essential California newsletter. It's Thursday, Feb. 15, and here's what's happening across California:
TOP STORIES
All signs say Marvel Studios' "Black Panther," being released Thursday evening by Walt Disney Co., is having a cultural moment fueled by massive pent-up demand for what is expected to be the first global superhero blockbuster to feature a mostly black cast and an African American director. The $200-million film — directed by Ryan Coogler ("Creed") and starring Chadwick Boseman as the titular hero — is expected to gross at least $150 million in the United States and Canada through Monday, according to people who have reviewed audience surveys, putting it on track to become one of Marvel Studios' most valuable franchises. In doing so it's also poised to destroy long-held assumptions about the movie business. Los Angeles Times
Plus: Fox just lost its most prolific creator, who won't be shifting over to Burbank-based Disney. Netflix announced that it had enticed Ryan Murphy — of "Glee" and "American Horror Story" fame — to make shows for the streaming service in a five-year deal that could be worth as much as $300 million. Los Angeles Times
Immigration sweep
Federal officials are in the midst of an immigration enforcement operation in the Los Angeles area and have so far detained more than 100 people suspected of being in violation of immigration laws. The sweep, launched on Sunday, is focusing on "individuals who pose a threat to national security, public safety and border security," Immigration and Customs Enforcement spokeswoman Sarah Rodriguez said. Los Angeles Times
A judge by the riverbed
As people peeked out from ragged tents next to Angel Stadium in the early-morning darkness Wednesday, U.S. District Judge David O. Carter strode briskly through the vast homeless encampment along the Santa Ana River trail. Just after 6 a.m., he whipped out his cellphone to begin snapping pictures of the filth and the people living among it. Los Angeles Times
L.A. STORIES
Milo is back — not: Milo Yiannopoulos, the right-wing rabble-rouser whose campus appearances have sparked widespread protests, is no longer headed to UCLA this month. Less than 24 hours after putting tickets for the event on sale, the Bruin Republicans voted Wednesday to cancel his Feb. 26 talk, "10 Things I Hate About Mexico," Yiannopoulos told The Times in a series of text messages. Los Angeles Times
Tragic: One person was killed and two others, including pro golfer Bill Haas, were injured in a traffic crash involving a Ferrari in Pacific Palisades on Tuesday night, authorities said. Los Angeles Times
#DTLA: "Downtown isn't a case study in what's wrong with development in Los Angeles. It's the best model we have for what's right," writes Steven Sharp. Los Angeles Times
POLITICS AND GOVERNMENT
A new one jumps in: Amanda Renteria, a top aide to Hillary Clinton's presidential campaign, is stepping down from her post at the California attorney general's office to run for governor, according to Atty. Gen. Xavier Becerra. Los Angeles Times
The fight begins: With a little more than three weeks left before the candidate filing deadline, Democratic candidates are starting to turn on each other in California's crowded House races. Los Angeles Times
Aid in dying: "California voters passed a law two years ago that allows terminally ill people to take lethal drugs to end their lives, but controversy is growing over a newer rule that effectively bans that option in the state's eight veterans' homes." California Healthline
CRIME AND COURTS
Sad story: Her throat slashed, a dying woman tells police she was attacked by two co-worker friends. More details on a terrifying crime. Los Angeles Times
Wrongful-death claim: Bill Paxton's widow and children are suing Cedars-Sinai Medical Center and the heart surgeon who performed the operation that preceded the actor's death in February 2017. Los Angeles Times
Nuisance code violations: "Indio and other Southern California cities are now prosecuting code violators criminally and slapping homeowners like Ramona Morales with bills they can't afford to pay." NPR
From behind bars: "With just a year to go in his sentence for wiretapping and other crimes, Anthony Pellicano speaks for the first time in detail about star clients like Michael Jackson and the late studio chief Brad Grey, those who turned their backs on him and his showbiz legacy." The Hollywood Reporter
Sounds like a movie: "A marijuana dispensary owner and his roommate are abducted in the middle of the night at gunpoint from their Newport Beach home by three masked men." Here's what happened next. NBC LA
THE ENVIRONMENT
Watch: A surfer rescues a fully clothed Huntington Beach pier jumper. Orange County Register
CALIFORNIA CULTURE
"Urban Light": Everything you didn't know about L.A.'s beloved landmark. Los Angeles Times
Utley is back: The Los Angeles Dodgers have reached an agreement with infielder Chase Utley to return to the team in 2018, pending a physical. ESPN
Plus:With Yu Darvish gone, the Dodgers are still confident in their starting rotation. Los Angeles Times
$$$: Here's what $2,150 rents you in Los Angeles right now. Curbed LA
Cool! A place being billed as Eagle Rock's first arcade bar will turn on its machines this Friday. Eater LA
CALIFORNIA ALMANAC
Los Angeles area: sunny, 70, Thursday; partly cloudy, 74, Friday. San Diego: partly cloudy, 67, Thursday; partly cloudy, 71, Friday. San Francisco area: sunny, 62, Thursday; sunny, 61, Friday. Sacramento: sunny, 63, Thursday; sunny, 66, Friday. More weather is here.
AND FINALLY
Today's California memory comes from Charles McClain:
"A long time ago in the early 1960s, a friend and I left our homes in rural western Pennsylvania and drove to the World's Fair in Seattle. After spending a whole day there, we drove to Stockton, where my buddy had relatives. The first day in Stockton was the first day of maybe the most adventurous and exciting day of my life. From Stockton I ventured out to both Northern and Southern California. Everything was so different from rural Pennsylvania. I met a lot of people of a multitude of different cultures, which helped me to learn about and accept myself. Unfortunately, the Vietnam War interrupted my life, and I ended up back in Pennsylvania after serving my time. However, my heart is still in California, and every day I wonder about a lifestyle in California and what I would be doing if I would have returned. I have lost track of most of the friends I made while there but still think about them and the wonderful times we shared. One little secret is that I regret not having returned to your wonderful state. One nice thing about aging is that you can't remember what you had for lunch but can remember the past like it was yesterday."
If you have a memory or story about the Golden State, share it with us. Send us an email to let us know what you love or fondly remember about our state. (Please keep your story to 100 words.)
Please let us know what we can do to make this newsletter more useful to you. Send comments, complaints and ideas to Benjamin Oreskes and Shelby Grad. Also follow them on Twitter @boreskes and @shelbygrad.
---