In raiding prolific TV producer Ryan Murphy, Netflix rains on the Disney-Fox parade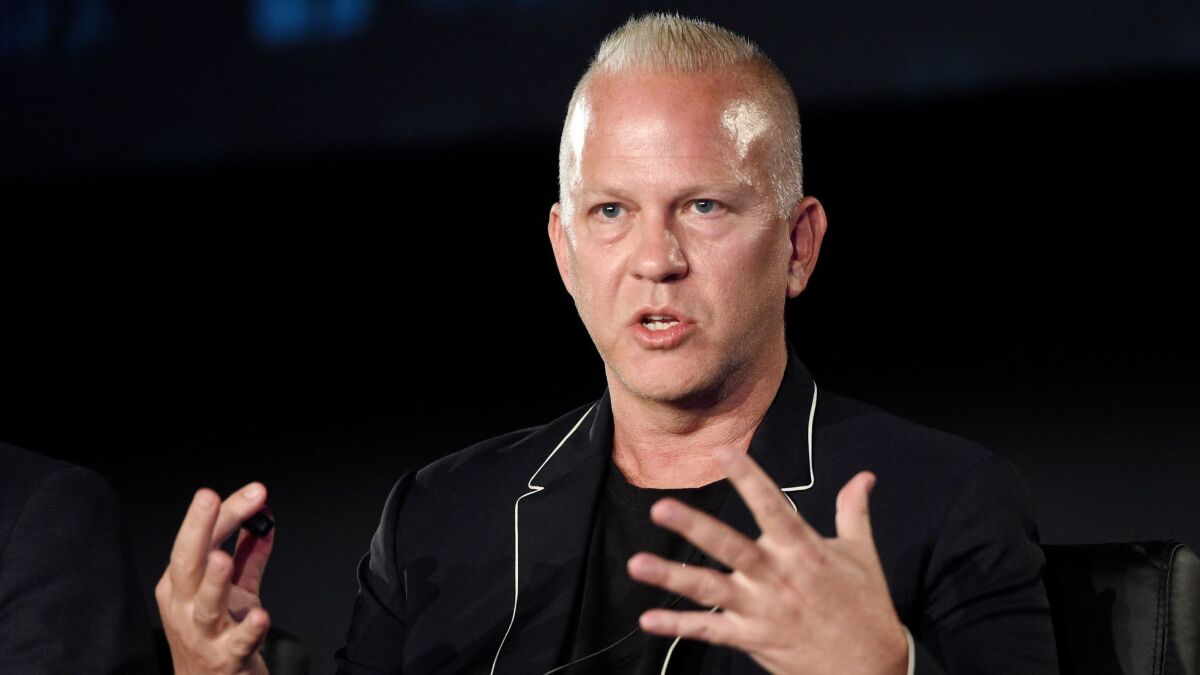 One of the first calls Walt Disney Co. Chief Executive Robert Iger placed after clinching a $52.4-billion deal to buy much of 21st Century Fox was to television producer Ryan Murphy.
Murphy has been key to the Fox television studio's success. For more than a decade, he has churned out culture-defining hits such as "Glee," "9-1-1," "American Horror Story," "Nip/Tuck" and "The People vs. O.J. Simpson."
"Am I going to have to put Mickey Mouse in 'American Horror Story?'" Murphy recalled asking Iger in the December conversation, which Murphy shared last month during an appearance at the Television Critics Assn. conference in Pasadena.
Iger — who called a handful of TV writers after the deal was announced — instead stressed that "Disney was interested in buying Fox [because] they believed in the assets and the executives and their creators," Murphy said.
But Fox just lost its most prolific creator, who won't be shifting over to Disney, based in Burbank. Netflix late Tuesday announced that it had enticed Murphy to make shows for the streaming service in a five-year deal that could be worth as much as $300 million, according to two people who were not authorized to discuss the matter publicly.
The uncertainty surrounding the Disney deal — along with the creative opportunities at the streaming company — factored into Ryan's decision to jump to Netflix, according to one of the people.
The move underscores the high stakes in television as deep-pocketed streaming services look to muscle into Hollywood's turf and steal top talent from legacy media companies.
"I'd be very concerned if I were on the traditional media side," said Ashwin Navin, CEO of Samba TV, a data and analytics company for the TV industry. "It's a really scary landscape for a traditional media company."
Murphy's defection comes six months after Disney's ABC lost its No. 1 television producer, Shonda Rhimes, to Netflix, based in Los Gatos, Calif., in a deal that is valued at more than $100 million. Rhimes was the force behind such mainstream hits as "Grey's Anatomy," "Scandal" and "Private Practice."
Netflix plans to spend as much as $8 billion this year on programming — significantly more than any other producer — highlighting the challenges that Disney, Fox, NBC, CBS and Sony Pictures Entertainment face as they struggle to maintain their position amid the digital disruption.
"The landscape is changing so fast," said Michael Pressman, a veteran television director who recently directed episodes of "Law & Order: Special Victims Unit" and "Chicago Med." He noted that network executives should be asking themselves, "How do we deal with this?"
A big part of Disney's rationale for agreeing to spend $52.4 billion to buy the Fox assets was to better compete against Netflix. Disney recognized that it must ramp up its television production to remain relevant in a world in which young adults and teenagers don't watch TV the way their parents do.
"We certainly are intent on creating a larger, more unified television production studio," Iger said during a call with analysts in December to discuss the Fox transaction. "That'll probably be the priority."
Disney and Fox declined to comment Wednesday.
Disney's plans include rolling out a branded streaming service in 2019 with its movies and family-centric shows. Should it win regulatory approval for the Fox deal, Disney also intends to take over the Hulu streaming service and run more adult programs from ABC, Freeform and Fox channels, including FX.
Iger has touted the importance of FX to the deal. He said FX has "great production capabilities" and an "edgy or adult brand, one that could easily feed the direct-to-consumer business quite successfully."
In addition to producing shows for the Fox broadcast network, including Fox's new hit "9-1-1," Murphy has been integral to the success of FX, whose credibility he helped establish with the early success of "Nip/Tuck," which debuted in 2003. Since then he's gone on to executive produce the "American Horror Story" and "American Crime Story" anthologies for the channel, among others.
Only producers Greg Berlanti ("The Flash," "Riverdale,") Rhimes and Steven Moffatt ("Sherlock," "Doctor Who") are responsible for more hours of scripted dramas than Murphy, according to a Guggenheim Securities report. But Murphy's shows have been instrumental in turning Fox's FX channel into a destination for provocative programming.
"Talented show-runners are among the most-scarce resources in Hollywood," Guggenheim Securities media analyst Michael Morris wrote Wednesday in a report. He noted that capable television producers become "increasingly important as the number of produced series continues to grow."
Murphy's deal with Netflix, which begins in July, will not affect the shows he currently produces for FX.
But traditional media companies must come up with ways to create competitive advantages, according to Peter Csathy, founder of the advisory firm Creatv Media, so they don't continue to bleed talent.
"They need to ask themselves what they can do better than Netflix, Amazon and others?" Csathy said. "News and live sports — those are the obvious answers. The hard question is: what else?"
For Fox, that means reducing its reliance on scripted programming. That was a key driver in Rupert Murdoch's decision to sell so much of his New York-based entertainment company to Disney. The 86-year-old mogul has said it would become increasingly difficult for Fox to compete against deep-pocketed technology companies such as Netflix, Amazon and Apple.
"Rupert realized that Fox wouldn't be big enough," said Jeffrey Cole, director of the Center for the Digital Future at USC Annenberg School for Communication and Journalism. "Before our very eyes Fox went from being a big producer to a medium-sized one because of the programming investments being made by Netflix, Amazon and the others."
Apple, for example, has said it plans to spend more than $1 billion this year to build its programming reserves, which means more competition for the traditional networks.
"CBS, NBC and Fox are becoming less relevant because of what Netflix, Amazon and Bob Iger is doing at Disney," Cole said. "And what is bringing the broadcast networks down is their burden of having to create 22 hours of original programming each week. Netflix doesn't have to do that."
Moving forward, the FX brand will have to survive without Murphy's considerable talents for crafting hits.
In a statement, FX Networks CEO John Landgraf downplayed the effect of Murphy's deal with Netflix, noting his four existing shows will remain at Fox.
"With more than 20 scripted original series on our schedule or upcoming, FX has a very successful track record of identifying and developing talented writers who have produced award-winning hit shows and it will continue to do so," Landgraf said in a statement.
The talent drain from Hollywood isn't just among show producers. Last week, NBC Entertainment lost its president, Jen Salke, who is moving to Amazon to run its Santa Monica-based Amazon Studios. And last summer, Sony Pictures Television lost its top executives who are now building Apple's television pipeline.
The move to bolster television comes as the traditional movie business is being battered by a steep fall-off in home entertainment revenue.
That shift is putting more pressure on television, at a time when Netflix and Amazon are making gains with their streaming services.
The television arms race — what Landgraf calls "peak TV" — has worried some investors who fear that traditional media companies will be left behind.
"While investors have expressed concern about the risk of the rising cost of show production overall … the greater challenge lies in attracting and retaining the most connected, creative and operationally talented writers and producers," Guggenheim's Morris said.
Inside the business of entertainment
The Wide Shot brings you news, analysis and insights on everything from streaming wars to production — and what it all means for the future.
You may occasionally receive promotional content from the Los Angeles Times.