Newsletter: Essential California: Spoiling for an immigration fight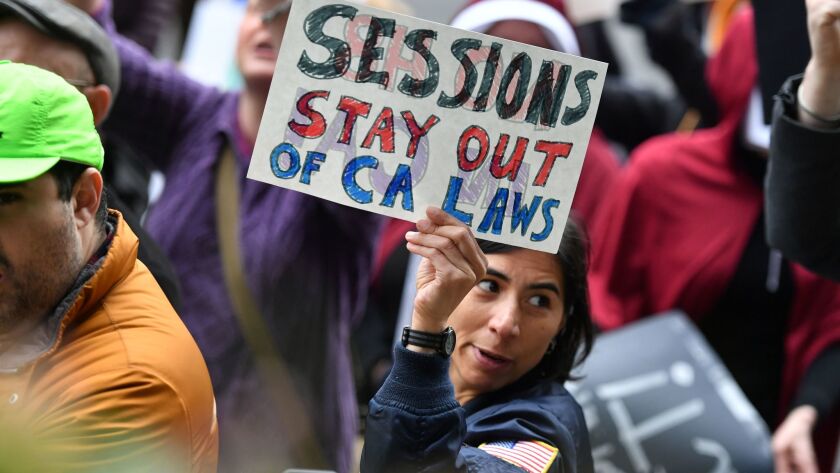 Good morning, and welcome to the Essential California newsletter. It's Thursday, March 8, and here's what's happening across California:
TOP STORIES
California found itself back at the front of the Trump resistance, this time again on the issue of illegal immigration. U.S. Atty. Gen. Jeff Sessions came to Sacramento to give a fiery speech slamming the "sanctuary" movement, calling out liberal politicians and formally announcing a lawsuit over California laws to shield immigrants living in the state illegally. California officials fired back, and seem eager for a courtroom showdown. Los Angeles Times
— Law professors who read the the lawsuit filed by Sessions generally described it as a credible challenge that presents complex legal questions that might wind up before the U.S. Supreme Court. Los Angeles Times
— Has Sessions just done California a big favor? Los Angeles Times
— MS13. The border wall. ICE sweeps. "Sanctuary" showdowns. Presidential threats and investigations. How Trump's immigration war with California reached a fever pitch. Los Angeles Times
— President Trump will finally visit California next week, to see his beloved border wall prototypes and attend a fundraiser. Los Angeles Times
— With immigration raids, tense times in the Bay Area. Los Angeles Times
The coast isn't all clear
Silicon Valley billionaire Vinod Khosla is trying to take the Martins Beach dispute over public access to the U.S. Supreme Court. If granted review by the nation's highest court, the case could dismantle the fundamental values of the California Coastal Act and the way development projects are permitted. Los Angeles Times
L.A. STORIES
So how much will a hot dog cost? The best seat at Los Angeles' newest stadium will come with a licensing bill of $100,000 for Rams season-ticket holders and $75,000 for Chargers season-ticket holders, the teams announced as they prepare to sell premium seats for the Inglewood stadium project. Roughly 25 percent of the stadium's seats are classified as "premium." Los Angeles Times
Jobs, jobs, jobs: Inland regions of California, such as the Inland Empire and Central Valley, are leading in job creation, a shift from the days when the tech coast was doing all the hiring. Press Enterprise
Great grains: "I can remember a time when L.A. was the heart of darkness, the no-carb central," says one chef, in a story about how L.A. has gone from being a bread desert to a bounty of bread. New York Times
New ride: As Southern California continues to embrace 'dockless' bike sharing, a new player in the app-based mobility market has picked up considerable momentum — electric scooters. But there are growing safety concerns. San Diego Union-Tribune
Game-changers: Mapping the development boom hitting South L.A. Curbed Los Angeles
On leave: A Golden West College professor and counselor identified in a viral video telling a Long Beach couple to "go back to your home country" will be on leave the next two weeks, including from her online classes, as the Coast Community College District reviews how to proceed. Los Angeles Times
CRIME AND COURTS
Arena dispute: The owners of the Forum alleged in a lawsuit filed Monday that Inglewood Mayor James T. Butts Jr. orchestrated a "fraudulent scheme" to clear the way for a proposed arena near the iconic sports and entertainment venue. Los Angeles Times
Turpin case: One of the 13 siblings found living captive in a Perris home in January had posted a video of herself on social media days before she and her siblings were rescued. Los Angeles Times
Be aware: Disneyland isn't immune from by stroller thefts. Leaving that $1,500 stroller in front of Space Mountain can be a problem, some say. Orange County Register
Plus: Some people are enjoying Disneyland without stepping foot in Anaheim. Sacramento Bee
POLITICS AND GOVERNMENT
Heating up: Star power — both political and Hollywood — could shake up what is normally a quiet congressional race in South L.A. Los Angeles Times
Allow him to explain: Trump's most famous California supporter, Peter Thiel, explains the crazy year and what he sees ahead. New York Times
Not risking it: Is that plan to complete the 710 Freeway as a tunnel really dead? South Pasadena isn't taking any chances. San Gabriel Valley Tribune
On guns: "I think about guns all the time. While driving on the freeway to Los Angeles, I see people battling with their vehicles, glaring at each other from windows, glaring at me, and I think of how people shoot from cars with numbing regularity, at other drivers who've cut them off or made a rude gesture, at people stopped on the shoulder, at people chosen at random, while moving at rapid speed." — Writer Susan Straight on the gun control debate. The New Yorker
CALIFORNIA CULTURE
Not just a cheerleader: "He was initially viewed as little more than the NBA's richest mascot, a lovable, lumbering, fist-pumping fan who led cheers from the baseline and signed the checks from afar. But this season, his inherited team dissolving, his comfortable world changing, something has stirred in Steve Ballmer." — Bill Plaschke on the owner of the Clippers. Los Angeles Times
Nice problem to have: It's going to be Disney versus Disney at the box office this weekend. The studio's long-awaited adaptation of the children's fantasy "A Wrinkle in Time" opens Friday in an attempt to take the baton from "Black Panther," the superhero juggernaut produced by Disney's Marvel unit. Los Angeles Times
Last picture show: Cupertino might have Apple's new headquarters and a lot of tech wealth. But its movie theaters are rapidly disappearing. Mercury News
CALIFORNIA ALMANAC
Los Angeles area: partly cloudy and 74. San Diego: mostly cloudy and 69. San Francisco area: partly cloudy and 63. Sacramento: partly cloudy and 67. More weather is here.
AND FINALLY
Today's California memory comes from Sue Woodhouse:
"In March 1972, I moved to Huntington Beach from Michigan. In January 1973, I met a handsome Marine from Camp Pendleton. On our first date, we stopped at his apartment in Carlsbad so that I could meet his roommates. Out of the blue, he said that we needed to leave. We hurried to the ocean — and the most BEAUTIFUL sunset ever! We now live in Wisconsin and have been married for more than four decades, have raised three wonderful children and have two grandchildren. Whenever possible we visit that same sunset, and the magic remains."
If you have a memory or story about the Golden State, share it with us. Send us an email to let us know what you love or fondly remember about our state. (Please keep your story to 100 words.)
Please let us know what we can do to make this newsletter more useful to you. Send comments, complaints and ideas to Benjamin Oreskes and Shelby Grad. Also follow them on Twitter @boreskes and @shelbygrad.
---