Newsletter: Essential California: A fight with the EPA over fuel economy looms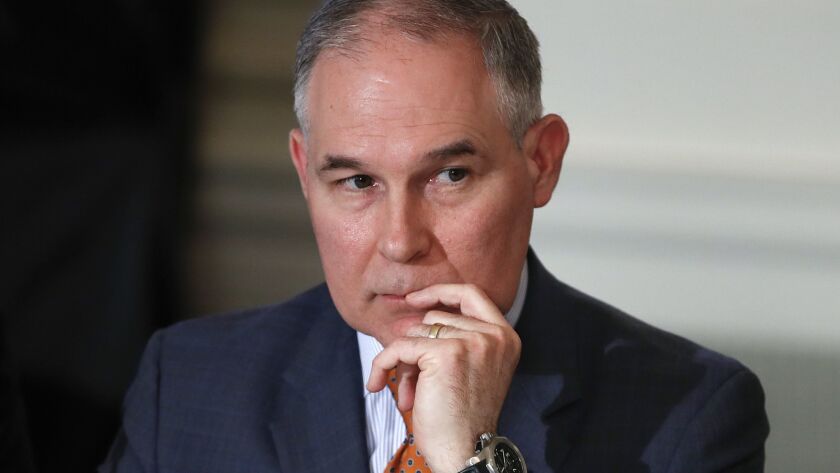 Good morning, and welcome to the Essential California newsletter. It's Friday, March, 30 and here's what's happening across California:
TOP STORIES
The Trump administration is poised to scrap America's pioneering fuel economy targets for cars and SUVs, a move that would undermine one of the world's most aggressive programs to confront climate change and invite another major confrontation with California. The Environmental Protection Agency is expected to announce in the coming days that it will roll back mileage targets the Obama administration drafted in tandem with California that aim to boost average fuel economy for passenger cars and SUVs to 55 miles per gallon by 2025, according to people familiar with the plans. Los Angeles Times
Mourning and anger in Sacramento
Stephon Clark has become a social media hashtag, the latest inspiration for a national movement and the subject of numerous protests that have shut down freeways and interrupted NBA games. The image of the 22-year-old African American man, wearing a broad smile next to his young sons and their mother in a formal family photo, has become a rallying cry for justice. But in the two weeks since 20 shots were fired at Clark in the backyard of his grandmother's house by Sacramento police searching for a burglary suspect, only fragments of Clark's life have surfaced. Los Angeles Times
Plus: Clark's brother's grief was palpable at his funeral Thursday. As the service was underway, an animated Stevante Clark moved throughout the church, hugging and kissing friends and family. Los Angeles Times
And: The Sacramento Kings basketball team says it is partnering with Black Lives Matter and is creating an education fund for Clark's children. Associated Press
Back at the ballpark
The beauty of baseball opening day is that the whole season is front of you — and hope springs eternal. Thursday was no exception for Dodgers fans who packed Chavez Ravine for a matchup with their rivals, the San Francisco Giants. The weather was beautiful and the churros were sweet. Here are the sights and sounds of Game 1 of 162. Los Angeles Times
Plus: The boys in blue watched Kirk Gibson throw out the first pitch, but the game ended with a whimper. Los Angeles Times
And: Things didn't go any better for the Angels. Los Angeles Times
Video: Dodgers beat writer Andy McCullough and columnist Bill Plaschke weigh in on Dodgers opening day and the 2018 season. Los Angeles Times
New at Dodger Stadium: Spicy Mexican street corn, a decent lobster roll and quinoa salad (what would Babe Ruth say?) Los Angeles Times
L.A. STORIES
"Liberal lion" dies: Judge Stephen Reinhardt, the liberal face of the 9th U.S. Circuit Court of Appeals, died Thursday afternoon, a court spokesman said. He was 87. The spokesman said Reinhardt died of a heart attack during a visit to a dermatologist in Los Angeles. Los Angeles Times
Mistrial: A Los Angeles jury deadlocked on nearly all the counts in the case of three suspected Mara Salvatrucha gang members charged in the 2001 rape, kidnapping and killing of a teenage runaway from Whittier. Los Angeles Times
It came from California: Why so many Mexicans revile the Colonial Californiano architectural hybrid that spread from Southern California. Los Angeles Times
At the pump: "It shouldn't surprise us that Southern California's gas prices have hit their highest level since the summer of 2015. But it still stings." San Gabriel Valley Tribune
IMMIGRATION AND THE BORDER
At the border: For deportees at a migrant shelter on the Mexican border, an agonizing choice: Turn back or try crossing again. Los Angeles Times
The American Dream? Farm work is still the only way to the California dream for many Mexican immigrants. Capital Public Radio
POLITICS AND GOVERNMENT
It's spreading: The pushback against California's "sanctuary state" law may soon move from Orange County to San Diego County, where the Board of Supervisors and Escondido City Council will decide soon whether to join the backlash. Los Angeles Times
LAUSD update: An L.A. school task force calls for more accountability — starting with school report cards. Los Angeles Times
Midterms season: California Republican Devin Nunes has been front and center during the Russia probe. To longtime associates, that's hardly surprising. Wall Street Journal
Plus: A Democratic candidate challenging Nunes took in more than $1 million in the first quarter of 2018. CNN
A big-tent strategy: San Diego unveils an unorthodox homelessness solution: big tents. The Guardian
CRIME AND COURTS
New development: Just days before an SUV carrying a family of eight plummeted from a cliff in Northern California, child welfare authorities in Washington state had attempted to contact the children's parents about allegations of abuse. Los Angeles Times
Now that's a coffee klatsch! Starbucks and other coffee purveyors probably will have to use warning labels on coffee after a Los Angeles judge ruled that they failed to prove they should be exempt from a California law on carcinogens and toxic chemicals. Los Angeles Times
Road-rage allegations: "The head brewer and co-owner of Fieldwork Brewing Co., the celebrated craft operation that started in Berkeley and has opened taprooms around the Bay Area, faces a felony assault charge related to an alleged road rage incident, records show." San Francisco Chronicle
THE ENVIRONMENT
The photos! "Volkswagen AG has paid more than $7.4 billion to buy back about 350,000 U.S. diesel vehicles through mid-February — including a sun-bleached desert graveyard near Victorville." Reuters
Gearing up: "California billionaire Tom Steyer's quixotic effort to unseat Trump could lay the groundwork for his own White House run, operatives say." Daily Beast
CALIFORNIA CULTURE
In Mexico City: Actor Diego Luna was a Hollywood golden boy. So why did he go back to Mexico? Los Angeles Times
Tune in: "Radio Pulgarcito is a radio show created by three Salvadoran artists in Los Angeles who combined their love for vinyl and Salvadoran music." L.A. Taco
Yum: "These dog-friendly Southern California restaurants offer food for you and your pet." Los Angeles Daily News
Pricey: "A unit of LVMH Moët Hennessy Louis Vuitton paid $110 million, or around $17,750 a square foot, for a store on Los Angeles's ritzy Rodeo Drive, in a sign that values of property in the country's most fashionable shopping districts haven't succumbed to the malaise hitting retail real estate." Wall Street Journal
CALIFORNIA ALMANAC
Los Angeles area: sunny, 80, Friday; partly cloudy, 77, Saturday. San Diego: mostly sunny, 72, Friday; partly cloudy, 72, Saturday. San Francisco area: partly cloudy, 70, Friday; partly cloudy, 62, Saturday. Sacramento: partly cloudy, 81, Friday; partly cloudy, 82, Saturday. More weather is here.
AND FINALLY
Today's California memory comes from Wendy Deaton-Carsel:
"I was born in New York City, but every summer we crossed the country to the land of our dreams, specifically Los Angeles. One of my most treasured memories is of Fairfax Avenue: Canter's Deli full of bagels, pastrami, eclairs and other delicious foods; Farmers Market, where kids could buy cowgirl hats, penny candy, and bags of nuts and oranges; the Broadway store, full of fine items we could admire but never afford to buy; and the Lanz dress shop, where my Mom would map designs in her head to later be copied for our wardrobes. The best year was 1954, when we 'immigrated' to the 'country' of sun, air, small buildings and streets where kids could safely ride bikes till the sun went down. California is my home, and I would not trade it for any place in the world."
If you have a memory or story about the Golden State, share it with us. Send us an email to let us know what you love or fondly remember about our state. (Please keep your story to 100 words.)
Please let us know what we can do to make this newsletter more useful to you. Send comments, complaints and ideas to Benjamin Oreskes and Shelby Grad. Also follow them on Twitter @boreskes and @shelbygrad.
---