Newsletter: Essential California: The new joints in town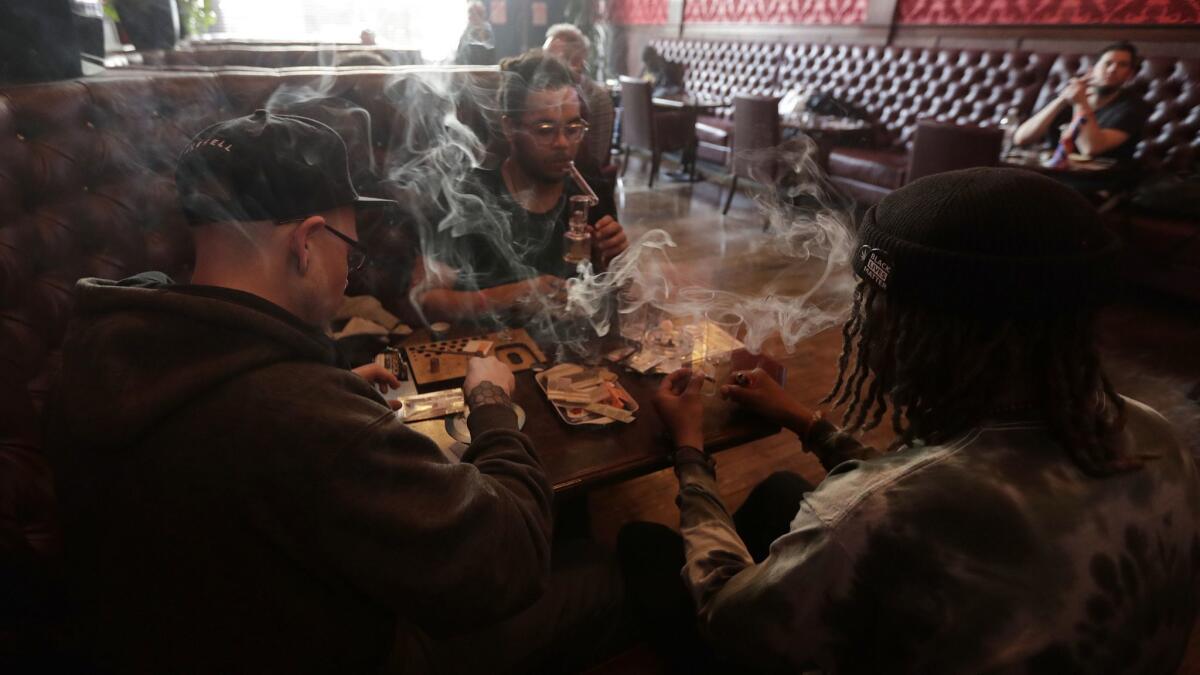 Good morning, and welcome to the Essential California newsletter. It's Friday, April 20, and here's what's happening across California:
TOP STORIES
West Hollywood is poised to allow cannabis lounges where people can consume the once-taboo product in a social setting. The city will join San Francisco, Oakland and South Lake Tahoe, which became some of the first cities in California to open the consumption lounges modeled after those in Amsterdam this year. Communities in the Coachella Valley are also joining the ranks. The idea for theses lounges has also ignited some of the same debates that marked the vote to legalize cannabis: Critics worry lounges and other expansions of cannabis culture could be dangerous, citing impaired driving in states where recreational use was previously legalized, and the difficulties of assessing a marijuana DUI. Los Angeles Times
Plus: A proposal to create special banks to handle billions of dollars generated by the legal marijuana market passed its first legislative hurdle. Los Angeles Times
Big picture: The great California cannabis experiment lurches forward. Los Angeles Times
And: Revisiting the L.A. Locations from Cheech and Chong's "Up in Smoke" 40 years later. Los Angeles Magazine
What's in the water?
As California chooses a new governor — one of just a handful in the last 40 years not named Jerry Brown — the state seems to be enjoying something unusual in these tumultuous political times: a feeling of relative contentment. In more than 100 random interviews conducted over the length and breadth of the state — from Redding in the north to Santee in the south, from the Pacific coastline to the edge of the Sierra Nevada — most people said things are looking up, at least so far as California's direction is concerned. Los Angeles Times
Come again?
The Trump administration is embracing a curious — and some would say dated — argument as it builds its case to weaken federal rules championed by California that require cars and SUVs to average 55 miles per gallon by 2025. It is warning that the fuel-efficiency targets, seen by most as key to meeting climate and air quality goals in California and nationwide, could actually end up killing people. Los Angeles Times
L.A. STORIES
Mo' money, mo' problems: Los Angeles Mayor Eric Garcetti's budget includes an increase in funds to ramp up efforts to fix buckled sidewalks, rebuild the city's most damaged roads and reduce the number of traffic deaths. Los Angeles Times
A tragedy: The stabbing of a popular student has devastated South El Monte High School. Another teen romantically tied to the victim is suspected in the killing. Los Angeles Times
Who's the boss? The search for a new Los Angeles schools superintendent is proceeding behind closed doors, and is really heating up. Los Angeles Times
Electronic scooters: They're great as long as the human riding them isn't an idiot. Washington Post
Get the Essential California newsletter »
IMMIGRATION AND THE BORDER
Along the border: "The U.S. Department of Homeland Security secretary came to California on Wednesday to promote border safety, but her visit ended amid commotion on the south side of the country's border with Mexico." Desert Sun
POLITICS AND GOVERNMENT
Hmm: The awkward dance between Gov. Jerry Brown and the federal government over the National Guard lurched back toward discord Thursday, when President Trump said he would refuse to pay for a new deployment of troops — just hours after his administration said otherwise. And a few hours later, California officials said they had received written confirmation from the Pentagon that the mission would indeed be funded. Los Angeles Times
Big change: The California Assembly voted Thursday to add gay "conversion therapy" to the state's list of deceptive business practices. Los Angeles Times
Rising influence: In California, Asian Americans are finding growing political power. NBC
In the desert: With its city manager fired, who's in charge of Riverside? Press-Enterprise
CRIME AND COURTS
Another police shooting: Anger is growing over the police killing of a black man in a Walmart parking lot in Barstow. Los Angeles Times
The travesty! Someone stole a trailer full of 8,000 Disney California Adventure tickets. Los Angeles Times
Under review: Merced police said Wednesday they have launched an internal affairs investigation into an incident that left a man with a bleeding, swollen face and other injuries. Merced Sun-Star
THE ENVIRONMENT
Exciting: The Sacramento Zoo announced Thursday that its snow leopard, Misha, is pregnant. Sacramento Bee
CALIFORNIA CULTURE
A very thoughtful interview: Amy Schumer faces her critics with a message of self-love and confidence: "The fear is gone." Los Angeles Times
Dropping the mic: When producer and former studio executive Bill Mechanic resigned from his position on the motion picture academy's 54-member board of governors last week, he didn't exactly go quietly. Los Angeles Times
At the port: SpaceX has gotten approval to develop its BFR rocket and spaceship at the Port of Los Angeles. Los Angeles Times
Good news: "Boosted by a surge in feature film activity, total on-location filming in greater Los Angeles increased an impressive 2.4% in the first quarter." Variety
Bad news: Qualcomm is slashing 1,500 jobs in California. Bloomberg
A quiz: Wine lovers, how well do you know Napa Valley? San Francisco Chronicle
CALIFORNIA ALMANAC
Los Angeles area: Sunny, 72, Friday. Partly cloudy, 79, Saturday. San Diego: Sunny, 68, Friday. Partly cloudy, 72, Saturday. San Francisco area: Sunny, 64, Friday. Sunny, 67, Saturday. Sacramento: Sunny, 80, Friday. Sunny, 83, Saturday. More weather is here.
AND FINALLY
Today's California Memory comes from Jim Garcia:
"I grew up in the quiet suburb of South Pasadena. We lived across the street from Garfield Park and spent many hours playing there. What I remember most was that at the time in the early '70s the park had a full-time caretaker. I don't recall his name, but he was a friendly guy who took care of the entire park by himself. He mowed the grass, kept the playground and tennis courts spotlessly clean, and, he kept the park safe and secure for the neighborhood. My parents never worried about us going to the park to play because of him. I remember how devastated we all were when in 1978, after Prop. 13 passed, the city cut the budget for the parks and our beloved caretaker was laid off. My dad was happy because the property tax was now reasonable, but it came at a high cost to our neighborhood. South Pasadena has changed over the years but, by and large, still has much of the charm it's always had. I live in Phoenix now but visit California often — and I always manage to get to South Pasadena for an ice cream sundae at Fair Oaks Pharmacy."
If you have a memory or story about the Golden State, share it with us. Send us an email to let us know what you love or fondly remember about our state. (Please keep your story to 100 words.)
Please let us know what we can do to make this newsletter more useful to you. Send comments, complaints and ideas to Benjamin Oreskes and Shelby Grad. Also follow them on Twitter @boreskes and @shelbygrad.