Newsletter: Essential California: Bay Area falls behind on quake safety
Good morning, and welcome to the Essential California newsletter. It's Monday, April 23, and here's what's happening across California:
TOP STORIES
Property values are soaring to stratospheric levels. The tech economy is booming, fueling fast-paced development and spending on home renovations that ranks among the nation's highest. But at a time of unparalleled prosperity in the Bay Area, there is growing concern that the region is not using more of its largesse to prepare for its greatest natural threat: a major earthquake. Los Angeles Times
That trade war
You would think the tariff war between President Trump and China would have California farmers freaked. But no, many are standing by the president and his policies. California grows more than 200 crops, which is what differentiates the state's $45-billion agriculture industry from frustrated farmers in the Midwest, who heavily depend on a soy crop that faces tariffs of 25%. Los Angeles Times
Vegas, baby!
Alex Meruelo, a low-profile investor and entrepreneur in Los Angeles, has just made his biggest and highest-profile bet yet — on a historic but faltering casino on the Las Vegas Strip. Part of his hope is that he can get a sizable portion of the Latino community to make the trek to Sin City. Among Las Vegas visitors from Southern California in 2016, the most recent year for which statistics are available from the city's Convention and Visitors Authority, about 26% were Latino — though they account for more like 45% of Southern California's population. Los Angeles Times
L.A. STORIES
Checking in: Months after California legalized the marijuana business, pot growers and manufacturers lament that they are still locked out of the legalized industry in Los Angeles. Los Angeles Times
Representing: Pulitzer Prize-winning novelist Junot Díaz's unapologetic style inspired the crowd on the second and final day of the Los Angeles Times Festival of Books. Los Angeles Times
Wowzer: How much has once-dreary Hollywood changed? Try $6,600 a month for a two-bedroom apartment. Los Angeles Times
Exciting: Fans are stoked about Zlatan Ibrahimovic's arrival on the MLS scene. Los Angeles Times
FTW: El Camino Real Charter High School in Woodland Hills has won the 2018 U.S. Academic Decathlon. Los Angeles Times
Get the Essential California newsletter »
IMMIGRATION AND THE BORDER
Who's doing the patrolling? President Trump has called for hiring 5,000 more Border Patrol agents as part of his war on illegal immigration. If that happens, a visit to the agency's academy in El Centro last month offered a snapshot of many of those likely to apply: Latinos. Los Angeles Times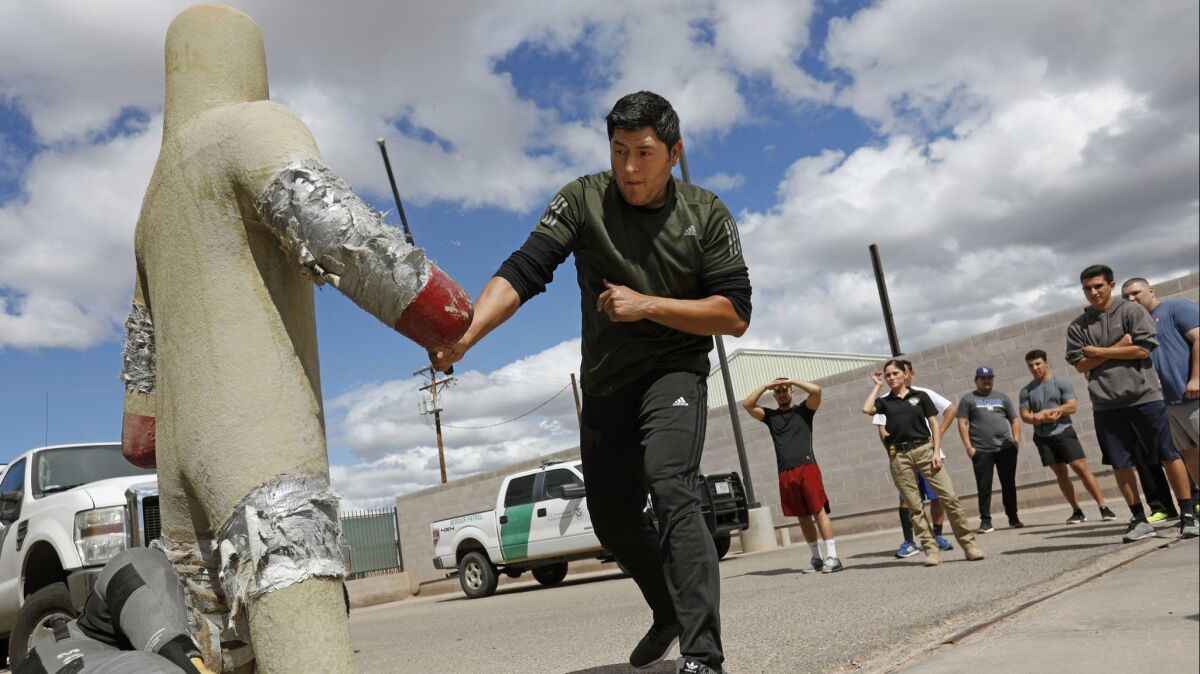 Laid to rest: This deported Marine veteran was buried with military honors in a cemetery Friday beside his younger brother, another fallen Marine. Fresno Bee
POLITICS AND GOVERNMENT
In Sacramento: California lawmakers say they'll keep releasing sexual misconduct records. And yet a bill to guarantee that is about to be killed. Los Angeles Times
Another revelation: "California Assemblywoman Cristina Garcia, the prominent #MeToo activist now under investigation for groping and sexual harassment of former legislative staffers, was reprimanded by former Assembly Speaker John Perez in 2014 for making racially insensitive comments against Asians." Politico
The big picture: In California, "national Democrats have lunged into an impatient new phase of the 2018 primary season — one in which they are clashing more openly with candidates and local political chieftains in their drive to assemble a slate of recruits for the midterms." New York Times
On the horizon: California's public employee pension system is in crisis, and it's only going to get worse. CalMatters
CRIME AND COURTS
A long road: His convictions were overturned; he's in failing health. Will Bobby Joe Maxwell gain freedom in a 1970s serial killer case? Los Angeles Times
Update: Two brothers who were found dead in an abandoned car in Burbank were shot and killed, coroner's officials determined Saturday. Los Angeles Times
In Ventura: The mother of a Ventura man who was randomly stabbed to death while dining at a beachside restaurant with his daughter on his lap said her family is upset the police didn't do more to prevent the attack. Los Angeles Times
Fire starter: A Ventura County judge recommended all Thomas Fire and Montecito mudslide lawsuits against Southern California Edison be coordinated and sent to Los Angeles County for pretrial purposes. Ventura County Star
THE ENVIRONMENT
Eye-opening photos: California's trees are dying at a catastrophic rate. BuzzFeed
CALIFORNIA CULTURE
Part deux: This is what happened at the rest of Coachella while Beyoncé performed. Los Angeles Times
RIP: Verne Troyer, the actor who delighted legions of fans with his comically wicked portrayals of Mini-Me, a foil to comedian Mike Myers in the "Austin Powers" spy movie sendups, died Saturday. He was 49. Los Angeles Times
On the road: Before Robert Louis Stevenson was famous, he was captivated by California. What better place for a scandalous liaison? Los Angeles Times
Cash flow: CB1 Gallery, which began life in a storefront space at the downtown L.A. intersection of 5th and Spring streets in 2010 and now inhabits a more polished Arts District space on Santa Fe Avenue, will shut its doors next month. Los Angeles Times
CALIFORNIA ALMANAC
Los Angeles area: Sunny, 78, Monday. Partly cloudy, 77, Tuesday. San Diego: Partly cloudy, 72, Monday. Partly cloudy, 69, Tuesday. San Francisco area: Partly cloudy, 67, Monday. Partly cloudy, 63, Tuesday. Sacramento: Partly cloudy, 86, Monday and Tuesday. More weather is here.
AND FINALLY
This week's birthdays for those who made a mark in California: Rep. Norma Torres (April, 23 1965), chef Alice Waters (April 28, 1944) and comedian Jay Leno (April 28, 1950).
If you have a memory or story about the Golden State, share it with us. Send us an email to let us know what you love or fondly remember about our state. (Please keep your story to 100 words.)
Please let us know what we can do to make this newsletter more useful to you. Send comments, complaints and ideas to Benjamin Oreskes and Shelby Grad. Also follow them on Twitter @boreskes and @shelbygrad.
---