Newsletter: Essential California: A state budget bonanza
Good morning, and welcome to the Essential California newsletter. It is Saturday, May 12. Here's what you don't want to miss this weekend:
TOP STORIES
Even after previous tax windfalls, Gov. Jerry Brown's announcement on Friday was breathtaking: The state has collected an unexpected $8 billion in tax revenue in recent months, even more additional cash than reported in January. The money is the latest installment in a fiscal winning streak of historic proportions in California. Brown's most significant proposal for spending the cash may be a $359-million boost to ease the state's burgeoning homelessness crisis. Los Angeles Times
Plus: Brown also proposed Friday to create five teams in the state attorney general's office to investigate California's black market for marijuana after firms that received state licenses complained they are being undercut by the illicit growers and sellers. Los Angeles Times
The overwhelmed courts
Nowhere is the crackdown on illegal border crossings more noticeable than in California. In the southern federal district in San Diego, 1,275 cases were filed in the first three months of this year. Prosecutors now plan to boost criminal immigration filings to about 1,000 per month, according to district data and attorneys at the Federal Defenders of San Diego, who have been notified of increasing prosecution levels by the U.S. attorney's office. At that pace, prosecutions could top 9,000 for the year, triple last year's total and the most since at least since 2000, according to district data. Los Angeles Times
Plus: Confusion, calculation and fear are keeping DACA recipients from renewing their status while they still can. Los Angeles Times
The tunnel is coming
Billionaire entrepreneur Elon Musk unveiled a zippy video Thursday night that showed significant progress on a blocks-long tunnel his company is digging beneath the South Bay, a milestone in the company's effort to find a new mode of transportation that will help commuters escape Southern California's infamous traffic. Los Angeles Times
AROUND CALIFORNIA
School shooting in Palmdale: A shooting that left one student wounded sparked panic and drew a massive law enforcement response to a Palmdale high school early Friday morning. Los Angeles Times
GSK update: "Decades before he killed at least 12 people and sexually assaulted 51 others in a prolific crime spree that terrorized the state of California, the man suspected of being the Golden State Killer watched two men rape his younger sister on an Air Force base in Germany, family members said." BuzzFeed News
Shrinking glaciers, bigger fires and hotter nights: How climate change is altering California. Los Angeles Times
Where will the conventions go? In the convention center arms race, Los Angeles plans to go big to take on Las Vegas and others. Los Angeles Times
Blast-off: SpaceX's upgraded Falcon 9 rocket made its debut Friday afternoon, and the rocket's first-stage stuck the landing after a previous launch attempt ended in a scrub. Los Angeles Times
Wow: "A brand-new, $1.3-million paving machine meant to fix the broken streets of Los Angeles is so rarely used that a homeless man is living underneath it." CBS
Great story: "A local financial planner did more than most when he found a homeless man sleeping on the lawn of his Los Angeles office building." ABC 7
"Solo" premiere: How the mysterious "Star Wars" spinoff played to its first audience. Vanity Fair
Hate me cuz you ain't me: Why people love to hate Californians. San Francisco Chronicle
Get the Essential California newsletter »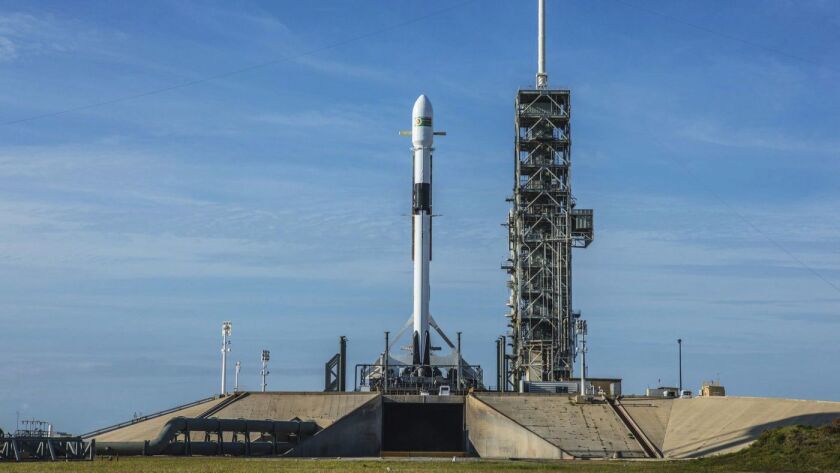 THIS WEEK'S MOST POPULAR STORIES IN ESSENTIAL CALIFORNIA
1. Why did the East Area Rapist stop raping and killing? Or did he? Sacramento Bee
2. An increase in sightings of tailless whales has scientists concerned. National Geographic
3. An L.A. triple-murder suspect was tried in China, and his case could open the door for similar prosecutions. Los Angeles Times
4. Precipitation whiplash and climate change threaten California's fresh water. Washington Post
5. Two skyscrapers are planned at 11th and Olive, adding to DTLA's growing skyline. Curbed LA
ICYMI, HERE ARE THIS WEEK'S GREAT READS
How the other half lives: "The Cannes Film Festival has always celebrated excess — women dripping in diamonds, buckets of rosé, multimillion-dollar yachts. But extravagance in the south of France reached a whole new level on Thursday, when Magnum announced it was launching a new product during the two-week event: an $895 leather-covered cooler bag," writes Amy Kaufman. Los Angeles Times
Endorsing Antonio Villaraigosa: A behind-the-scenes look at how The Times Editorial Board made its pick. It involved inviting all 27 candidates for an interview. One even called in from Africa. Los Angeles Times
LOL: In Carpinteria, residents are complaining about the smell of all that pot. It stinks, they say. Associated Press
The Trump era: "Southern California is home to the largest Korean population outside of Asia, and Sylvia Kim is one of many Korean-Americans here feeling a whipsaw of emotions over the administration's actions in recent days. While the president has infuriated some with his policies and rhetoric on immigration, others are hopeful that his approach to foreign affairs could help bring peace to a long-divided region where the vast majority of Korean-Americans still have relatives." New York Times
Meet the candidates: Take a ride with the LAPD's Robert Arcos — a third-generation Mexican American who was raised in the 1970s just blocks from the L.A. River. He also could be the department's next police chief. L.A. Taco
A history lesson: "On this date 138 years ago, an angry group of American farmers protesting inequity and injustice gathered at the California railroad village of Hanford in the Central Valley." Read how it resonantes with those fighting Gov. Brown's push to build a high-speed railway through the Central Valley. RealClearPolitics
Please let us know what we can do to make this newsletter more useful to you. Send comments, complaints and ideas to Benjamin Oreskes and Shelby Grad. Also follow them on Twitter @boreskes and @shelbygrad.
---