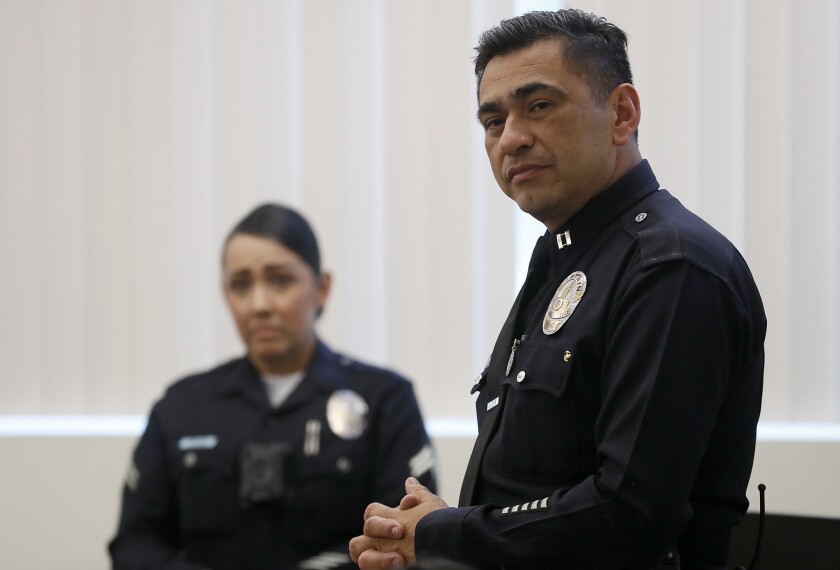 Good morning, and welcome to the Essential California newsletter. It's Thursday, May 17, and here's what's happening across California:
TOP STORIES
Today, the Los Angeles Police Department has a police force that almost perfectly matches the demographics of Los Angeles. About 15% of its officers are foreign-born. Connecting with those living in the country illegally has emerged as a major goal for the LAPD in the era of President Trump, whose vow to ramp up deportations has stoked fear in immigrant communities. Los Angeles Times
More USC revelations
The USC community is grappling with the news that Dr. George Tyndall, the campus clinic's only full-time gynecologist for nearly 30 years, was accused of serial misconduct before he resigned last year. The Times spoke to more than a dozen alumnae who describe disturbing encounters with Tyndall. He denies wrongdoing. Los Angeles Times
Plus: "Who is protecting our young women?" asks columnist Robin Abcarian. Los Angeles Times
Mountain lion problems
Unable to surmount the near-impenetrable barriers of Southern California's freeway system, mountain lions and other wildlife are left to mate with their own offspring. That inbreeding can lead to sterility and other physical ailments that threaten the species' continued survival in Southern California. But there's a potential solution. Los Angeles Times
Get the Essential California newsletter »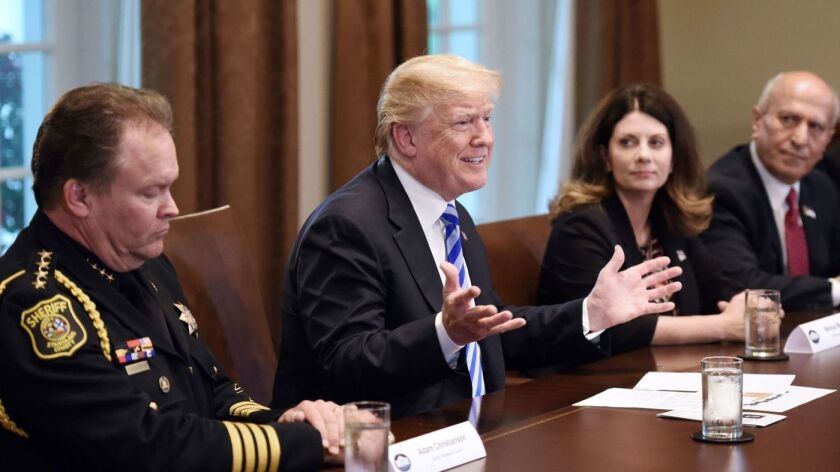 L.A. STORIES
Charges? A special task force of Los Angeles County prosecutors is determining whether to file various sexual abuse charges against at least half a dozen Hollywood celebrities, including producer Harvey Weinstein and actors Ed Westwick and Steven Seagal. Los Angeles Times
An interesting fight: Can "chipsters" and barrio activists find common ground? Los Angeles Times
Great video: In Mid-City, neighbors hold their recyclables for Doña Julia. L.A. Taco
IMMIGRATION AND THE BORDER
In D.C.: President Trump recommended an obstruction-of-justice investigation into Oakland Mayor Libby Schaaf for impeding a federal roundup and criticized Mexico for doing "nothing" to help on its border with the United States as he expressed his sentiments about illegal immigration to a like-minded group of Californians on Wednesday. Los Angeles Times
Not helping? The L.A. County public defender's office is underserving the immigrant community, an ACLU report says. Los Angeles Times
Checking in: California state auditors will soon begin a detailed examination of city and county jails that have formal partnerships with federal immigration agents — including how much local agencies are paid and whether holding immigrants has forced the early release of other inmates. Los Angeles Times
POLITICS AND GOVERNMENT
Midterm time: How California's primary could stop Democrats from retaking the House. Los Angeles Times
Plus: Your guide to the five propositions on the primary ballot. Los Angeles Times
New ad: Democratic gubernatorial candidate Delaine Eastin released a television ad on Tuesday that features clips of most of her rivals in the race agreeing with her during a series of debates. Los Angeles Times
They're running! These candidates are spending millions in hopes of becoming lieutenant governor — a job that gets no respect. San Francisco Chronicle
CRIME AND COURTS
What happened? An explosion that ripped through an Aliso Viejo day spa Tuesday, killing the business owner and injuring two customers, does not appear to have been an accident, authorities said. Los Angeles Times
Arrested: A Beverly Hills real estate developer was arrested Wednesday on a felony charge alleging that he paid bribes to a Los Angeles County employee who handled leases and other real estate matters, federal law enforcement officials said. Los Angeles Times
Graphic allegations: Additional counts of felony child abuse have been filed against a Fairfield mother, nine of whose 10 children are suspected to have been tortured, according to authorities. Los Angeles Times
New bills: "California lawmakers are proposing two bills to address the backlog of untested sexual assault kits in the state." Capital Public Radio
THE ENVIRONMENT
Tragic: "A 29-year-old man died on a solo climb of California's Mount Whitney, according to officials at Sequoia National Park." San Francisco Chronicle
CALIFORNIA CULTURE
CBS drama: In a day of high drama even for the media industry's most combative family, Shari Redstone spent Wednesday furiously trying to outmaneuver CBS in a boardroom brawl for control of America's most storied media companies. The Redstone family risks losing control of CBS, which has been part of its media empire for nearly two decades and owns America's most-watched network. Los Angeles Times
Plus: The legal battle with the Redstones kept CBS chief Leslie Moonves away from network's upfront breakfast. Los Angeles Times
Preparing for the royal wedding: Here's a guide to Meghan Markle's family. Buzzfeed
Nice house! An eclectic California ranch inspired by nature. Architectural Digest
CALIFORNIA ALMANAC
Los Angeles area: sunny, 70, Thursday; partly cloudy, 69, Friday. San Diego: partly cloudy, 65, Thursday; partly cloudy, 66, Friday. San Francisco area: cloudy, 60, Thursday; partly cloudy, Friday. Sacramento: partly cloudy, 78, Thursday; sunny, 81, Friday. More weather is here.
AND FINALLY
Today's California memory comes from Spencer LeGate:
"I was born and grew up in East Sacramento, home of Joan Didion and Greta Gerwig, who made it the setting of her film "Lady Bird." More recently, East Sac has made international news for the arrest of the Golden State Killer suspect (here, named the East Area Rapist) who terrorized the community. I began my film appreciation at the famous and sorely missed Alhambra theater a half-block from my home. East Sac consisted of a series of overlapping communities shading from modest homes on mostly numbered streets starting about 30th and into the Fabulous Forties of expensive homes and local swells. One distinct memory was crossing a mostly empty-of-cars Alhambra Boulevard, summer Saturday barefoot, touched by the sweet Delta breeze, to put a nickel in the Coke machine that would deliver my morning Delaware Punch."
If you have a memory or story about the Golden State, share it with us. Send us an email to let us know what you love or fondly remember about our state. (Please keep your story to 100 words.)
Please let us know what we can do to make this newsletter more useful to you. Send comments, complaints and ideas to Benjamin Oreskes and Shelby Grad. Also follow them on Twitter @boreskes and @shelbygrad.
---