Good morning, and welcome to the Essential California newsletter. It's Monday, May 28, Memorial Day, and here's what's happening across California:
TOP STORIES
An unprecedented amount of money from wealthy donors, unions and corporations is flowing into the California governor's race, giving independent groups — unrestricted by contribution limits — a greater say in picking the state's chief executive than ever before, a Times analysis of data shows. The groups have already spent more than $26 million, the most ever spent by noncandidate committees in a gubernatorial primary. Los Angeles Times
-- Remember when they said this would be "the Year of the Woman" in California politics? Maybe not. Los Angeles Times
Turnaround plan
Stockton Mayor Michael Tubbs says that for way too long, his city has been known for headlines about bankruptcy, violent crime and the housing collapse. He has some radical ideas for how to turn the troubled city around, but other forces might get in the way. Los Angeles Times
Volunteers to the rescue
The booming popularity of Joshua Tree National Park has led to more visitors getting lost and needing to be rescued. When someone goes missing, officials often call on a trained group of volunteers to comb the park — many of them retirees. Los Angeles Times
Get the Essential California newsletter »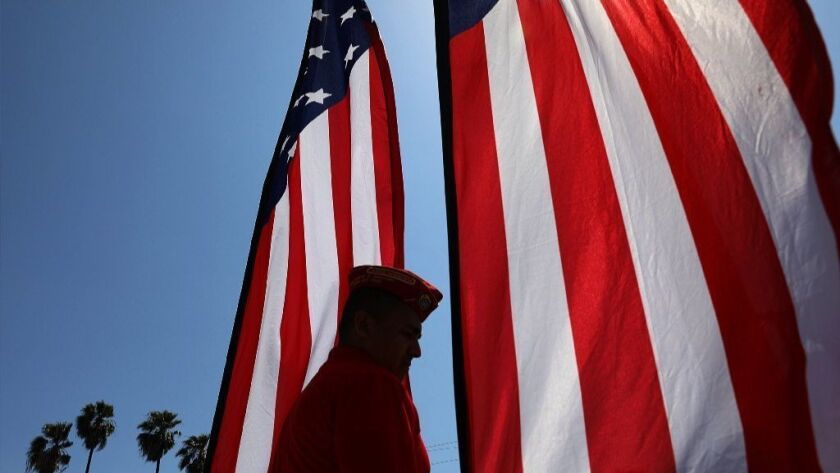 L.A. STORIES
Memorial Day: In Boyle Heights, volunteers held a 24-hour vigil, a traditional tribute to the fallen with a focus on Mexican Americans who served. Los Angeles Times
Milestone coming up: Any day now, Mike Scioscia will achieve his 1,600th managerial win for the Angels, one more than his mentor Tommy Lasorda. Los Angeles Times
Man on the street: The life and times of a street vendor in South L.A. It's a hard life but a gratifying one. L.A. Taco
Stepping up: A dance contest that will warm your heart. Los Angeles Times
How they made it: These L.A. women built a West Hollywood firm that plans and orchestrates events, from small private soirees to multimillion-dollar weekend-long gigs. Their immigrant backstory could be a movie in itself. Los Angeles Times
On the move: The northeast San Fernando Valley might finally get its own big-ticket mass transit line. Los Angeles Daily News
CRIME AND COURTS
"Your life matters": A story of the criminal justice system, pain and redemption. Los Angeles Times
Who did it? The "second gunman" theory in the Robert F. Kennedy assassination emerges again, with a new surprising supporter. Washington Post
Plus: In 1988, a Times reporter broke down, and dismissed, the conspiracy. Los Angeles Times
POLITICS AND GOVERNMENT
Evangelizing: Pastor Franklin Graham's plan for Christians to change California politics. New York Times
Priced out: As California rushes to build fancy apartments next to transit lines, it is pushing out the people who cannot afford cars and depend on mass transit. San Diego Union-Tribune
Lawmaker's story: For him, the fight against gay conversion therapy is very personal. Mercury News
CALIFORNIA CULTURE
Power shift: As China overtakes the U.S. in box-office revenues, the studios are getting more frustrated. Wall Street Journal
On the prowl: Coyotes across California are getting friendlier toward humans, or at least less afraid of them. Alta
Dinah's! In the "hot chicken" craze sweeping L.A., this stalwart of old-school fried chicken still reigns after 50 years. Los Angeles Times
History lesson: A push to preserve the history of lesbian activism in the Bay Area. San Francisco Chronicle
Hidden gem? Is this the most affordable city in California? SFGate
In Silicon Valley: Is Google's love of cats killing owls? New York Times
"White space": Why the Starbucks debate goes beyond what goes on inside the coffeehouse. The New Yorker
CALIFORNIA ALMANAC
Los Angeles area: Partly cloudy, 74, Monday and Tuesday. San Diego: Partly cloudy, 68, Monday and Tuesday. San Francisco area: Sunny, 70, Monday. Sunny, 66, Tuesday. Sacramento: Sunny, 96, Monday and Tuesday. More weather is here.
AND FINALLY
This week's birthdays for those who made a mark in California:
Actor-director and former Carmel mayor Clint Eastwood (May 31, 1930), Cal State Long Beach President Jane Close Conoley (May 31, 1947) and former L.A. County supervisor Gloria Molina (May 31, 1948).
If you have a memory or story about the Golden State, share it with us. Send us an email to let us know what you love or fondly remember about our state. (Please keep your story to 100 words.)
Please let us know what we can do to make this newsletter more useful to you. Send comments, complaints and ideas to Benjamin Oreskes and Shelby Grad. Also follow them on Twitter @boreskes and @shelbygrad.
---