At Joshua Tree, a visitor boom into deadly terrain has meant more rescues. Volunteers often take the call
Reporting from Joshua Tree National Park, Calif. —
David Sewell lay against a pile of granite rocks, struggling even to shift his hips slightly beneath him. He told himself that if he was going to die, he should write a note to his children.
Three days earlier, on a Saturday afternoon in April, the legally blind 76-year-old with a history of heart problems had collapsed of exhaustion on a secluded hillside while on a day hike in Joshua Tree National Park.
On Sunday, with temperatures in the 90s, Sewell had one ounce of water left. On Monday, he heard rescue helicopters nearby, only to hear them quickly fade away. On Tuesday, he woke up believing he wouldn't survive the day.
In the last five years, Joshua Tree National Park has experienced a visitor boom unlike anything it has seen before, driven in part by music festivals such as Coachella and the growing popularity of national parks around the country. This year, the park expects 3.1 million visitors, more than double the 1.4 million it drew in 2013.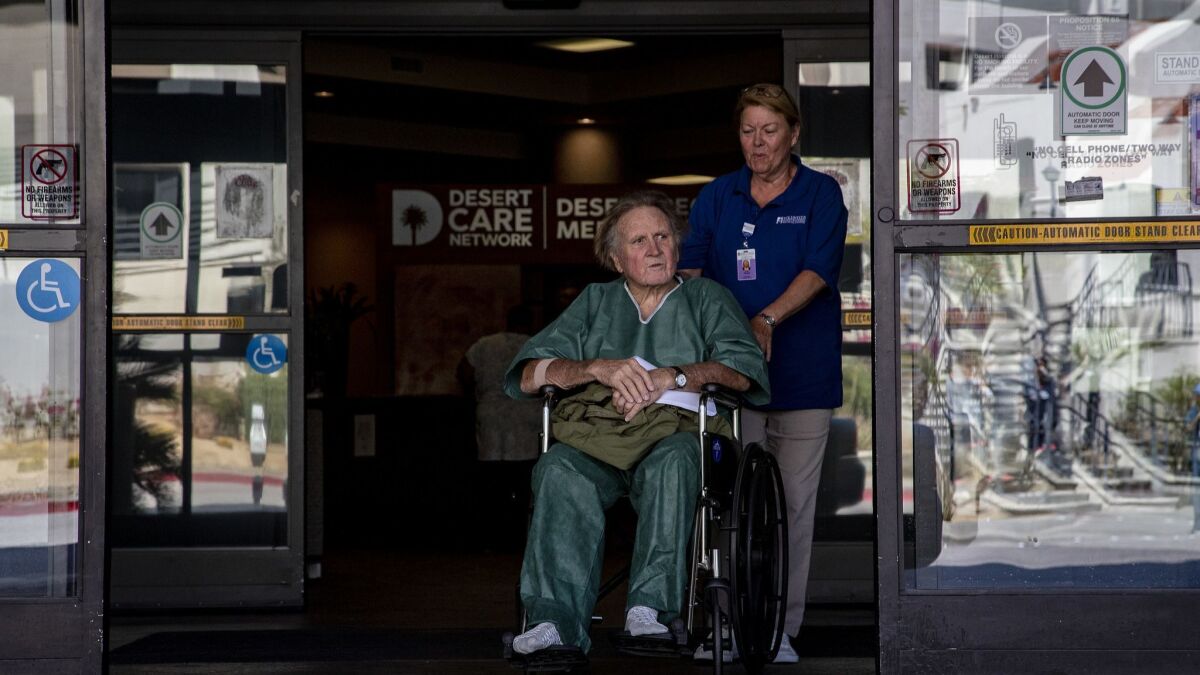 There are days when cars line up a mile long at the entrance and tens of thousands of visitors vie for 3,000 parking spots. In December, park officials concerned about being overrun asked people to consider visiting Death Valley National Park or the Mojave National Preserve.
Beyond the inconveniences, the park's boom has also raised the chances that something will go seriously wrong in this deceptively inviting landscape, where even experienced hikers can wander off trails or underestimate how quickly the weather goes from cool to intolerably hot.
In March 2017, a 25-year old rock climber died after a fall, the same day another climber fell and had to be rescued in a separate incident. In October, the bodies of Rachel Nguyen and Joseph Orbeso were found with gunshot wounds after they had been missing for three months. Friends and family members have said they believe Nguyen was injured while hiking with Orbeso and he shot her in an act of mercy before turning the gun on himself.
In March, a 54-year-old attorney who drank his urine and ate cacti to survive was missing for five days before he was rescued. And then there is Sewell, who on a Tuesday in April found himself searching his backpack for paper so he could write a few final words to his children as searchers combed the desert for any sign of him.
The rise in incidents of people needing help takes a heavy toll on the park's resources, particularly its volunteer search-and-rescue workers.
"Visitors to the park have to assume a certain level of personal responsibility," said Supt. David Smith. "We just do not have the staff available to respond to everything that's out there."
For a park that handles millions of visitors a year, Joshua Tree has a relatively small paid staff of about 110 — a number that has stayed about the same even as the park has grown in popularity, Smith said.
So when someone goes missing or gets in trouble, officials often call on the volunteers of Joshua Tree National Park Search and Rescue, or JOSAR. They are trained to track shoe prints, climb rocks and counsel the families of the missing — a handful have trained their dogs as trackers. Most of these volunteers are retirees; the oldest are in their 80s.
Five years ago, the volunteer rescuers got maybe three calls a month for help. Now, they might get three a week during the busy season, said John Lauretig, 56, a rescue volunteer.
Last year, when Nguyen and Orbeso went missing after setting out on a hiking trip to celebrate Nguyen's 20th birthday, hundreds of people from various groups initially searched for them.
As the months went by, the JOSAR team kept looking. One volunteer searched for 19 days straight — starting at 4 a.m., then breaking to go to work, and returning after work to search until midnight. Nearly three months after the pair disappeared, volunteers finally found their bodies in a remote, steep canyon, locked in an embrace.
On a Sunday morning in late May, about two dozen rescue team volunteers gathered at a parking lot near Cottonwood Spring to search for Ali Sandoval, 40, of El Monte. His family had reported him missing the night before.
Sandoval's SUV had been found in the lot, where visitors might park for a short walk to the shade of a small cluster of palm trees, or set out on a long excursion through rugged parts of the park.
The volunteers who assembled to locate Sandoval wore colored T-shirts, red for trainees and yellow for experienced searchers. Shortly after 7 a.m., they set out in teams of two, following a series of meandering washes that extend out from the main trail.
When hikers set out in the afternoon and the light starts to dim, they often confuse the dry stream beds with the trail and end up lost, said Bill Bulkley, a volunteer who helped coordinate the search. Over the radio, one volunteer alerted searchers to look for the tracks of a Merrell-brand hiking boot, probably 13½ inches long.
Not only do search-and-rescue workers get more calls now that the park is increasingly popular, said Bulkley, missing or injured visitors often need more help than they used to.
"They feel more comfortable with GPS. They go further out. They take more risks," he said.
Shelby Baran, 73, woke up at 3 a.m. and drove about 90 miles from her home in Canyon Lake, with Chaos and DiDi, the Belgian Malinois dogs she has trained to track scents.
She used gauze to capture Sandoval's scent from his steering wheel and grabbed a hat from his passenger seat before setting out on the main trail with Chaos.
Baran has volunteered with the rescue group for 20 years, but still finds the nearly 800,000-acre park unwieldy.
"If I got off trail a quarter of a mile, I'd be sunk," she said. "Everything looks the same."
The team sometimes struggles to gather enough people to effectively respond to calls, she said. The Sandoval search happened on a Sunday, so there were plenty of volunteers. On a weekday, the group would probably be much smaller, she said.
The problem, said Lauretig, a volunteer for more than seven years, is that most volunteers come from the tiny communities around the park.
"We're drawing from a pretty small pool of folks out here that have the time to train," he said.
About 9 a.m., Sandoval's family arrived and approached the search team. His mother was in tears and a volunteer gently wrapped her arms around her shoulders: "We've got lots of people that are looking for your baby," the volunteer told her. A California Highway Patrol helicopter could soon be seen circling overhead.
About 1:30 p.m., the helicopter crew spotted Sandoval about a mile north of the trail, waving at them. He had spent the night in the park and looked exhausted. But after a helicopter evacuated him, he was able to walk to his SUV on his own.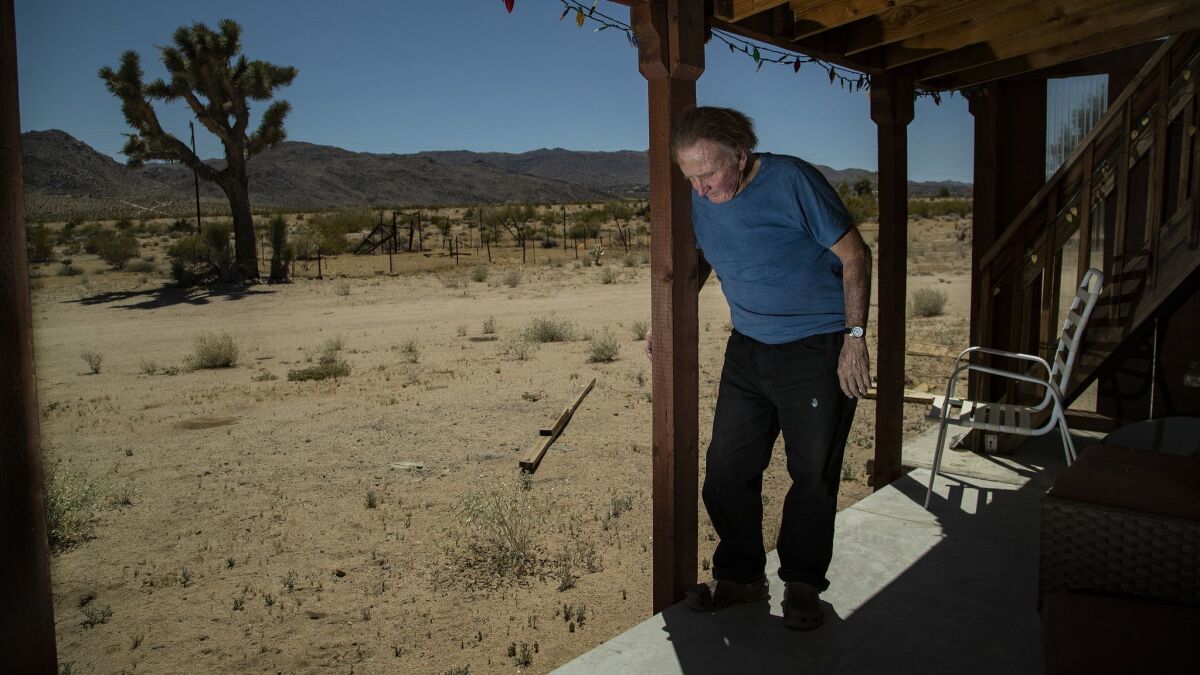 Sewell, who has been hiking in Joshua Tree for years, had set out with two small bottles of water and a sandwich, feeling confident in his ability to navigate the park.
Though he has suffered from macular degeneration since he was young, he says it hasn't limited him much. He lives alone, can drive and has been an avid outdoorsman for much of his life.
After Sewell collapsed of exhaustion, he was able to make a fire the first two nights. He found a plateau where he believed a helicopter could land and used white rocks to make an "H" for help in the ground. But when no one came, he started to feel he was running out of time.
Rescue team volunteers had been looking for him since he was reported missing, but it was Tiowa Reynolds, a 26-year-old rock climbing instructor who decided to follow the volunteers, who eventually found Sewell.
Reynolds is not a trained searcher, but he felt compelled to help, he said. He approached the team, but was told they weren't taking untrained volunteers because doing so can be dangerous.
Reynolds decided to follow anyway.
"I had this strange intuition that my chances of finding him were pretty high," he said.
When Reynolds saw a vulture circling over a valley, he followed it, calling out Sewell's name until he heard a faint call for help.
He found Sewell curled against a rock, his mouth and eyes covered in dirt. Sewell told him that he was dying. He was airlifted and eventually taken to a hospital in Palm Springs, where he stayed for several days as he recovered.
Back home later that week, Sewell reflected on how, despite decades of experience hiking in the park, he came so close to death.
"I just got lost … my physical strength fell away and I just got lost. It's kind of simple in a way. This is what happens out in the desert," he said. "I'm not so proud that I refuse to admit it happened to me."
He said he was deeply grateful that people had given their time to search for him.
He grabbed a wine glass filled with ice water and took a sip.
Twitter: @palomaesquivel
The stories shaping California
Get up to speed with our Essential California newsletter, sent six days a week.
You may occasionally receive promotional content from the Los Angeles Times.