Newsletter: Essential California: Is sleeping on the streets a crime?
Good morning, and welcome to the Essential California newsletter. It is Saturday, June 23. Here's what you don't want to miss this weekend:
TOP STORIES
Eleven years ago, Los Angeles officials agreed to stop arresting people for bedding down for the night on streets and sidewalks until the city had built more homeless housing. The deal ended a legal battle with skid row residents and their advocates, who argued that the law trampled on the rights of homeless people who had nowhere else to go. Now Mayor Eric Garcetti says enough housing has been built to meet the settlement requirements, clearing the way to enforce the law again. But if L.A. starts ticketing people under the contested code, it is likely to kick off a new battle with homeless advocates. Los Angeles Times
Murkiness at the border
Lawyers described a murky, fluid process to the reunifications of families separated along the southern border, as a Trump administration official on Friday confirmed that more than 500 out of 2,300 children had been reunited with their parents. Federal agencies planned to set up a centralized process to reunite families at the Port Isabel Detention Center, near the southern tip of Texas, the official confirmed, but a number of just how many children remained in the custody of federal agencies — and which agencies — was unclear. Los Angeles Times
-- Trump ended separating families. But what's next? Los Angeles Times
-- An immigrant detained at a federal prison in California has been diagnosed with chickenpox, raising concerns among the prison staff. CNN
An L.A. leader passes
Civic leader John Mack, one of Los Angeles' most powerful voices on police reform, has died. He was 81. Mack, a former president of the Los Angeles Urban League who served on the city's Police Commission from 2005 to 2013, succumbed at Cedars-Sinai Medical Center on Thursday night after a long battle with cancer, according to family and friends. Los Angeles Times
AROUND CALIFORNIA
In Compton: The general manager of a small public agency under fire for delivering brown, smelly water to parts of Compton and Willowbrook has been placed on administrative leave effective immediately, the water district board's attorney announced Thursday night. Maria Rachelle Garza's suspension comes days after The Times reported allegations that the embattled Sativa Los Angeles County Water District hired people to pose as supporters and attend a congresswoman's town hall regarding complaints of dirty water. Los Angeles Times
Jinx or coincidence? Why is L.A. City Hall a graveyard for gubernatorial ambitions? Los Angeles Times
Ouch: The Southern California median home price surged 8.2% in May from a year earlier, hitting a new all-time high of $530,000, according to a report Thursday from CoreLogic. Los Angeles Times
Summer movie season: The state of the big-screen summer comedy is no laughing matter. Can the genre get its mojo back? Los Angeles Times
On the bench: Who is Dolly Gee? A look at the judge deciding the fate of Trump's family detention policy. New York Times
A wonderful remembrance: What it's like to be interviewed for a job by Koko the gorilla: "She had a lot to say." Los Angeles Times
The boys in blue: The Dodgers are in position to acquire some roster help before the trade deadline. Los Angeles Times
Troubling stat: "Between 2005 and 2016, 41% of people who died while in custody or in the process of arrest by the Riverside County Sheriff's Department died from a 'justified homicide' by officers, a greater portion than every other large sheriff's office in the state." Desert Sun
For sale: Actor Rob Lowe and his wife, jewelry designer Sheryl Lowe, are listing their East Coast-style estate in the affluent enclave of Montecito, Calif., for $47 million. Wall Street Journal
Hollywoodland: Gov. Jerry Brown is likely to sign legislation that would extend lucrative film and TV incentives to 2025. The Hollywood Reporter
Tough stuff: "Electric car maker Tesla Inc.'s move last week to cut 9% of its workforce will sharply downsize the residential solar business it bought two years ago in a controversial $2.6 billion deal." Reuters
Cool book! A reissued photobook charts the history of California's bizarre roadside architecture. Homes & Property
Get the Essential California newsletter »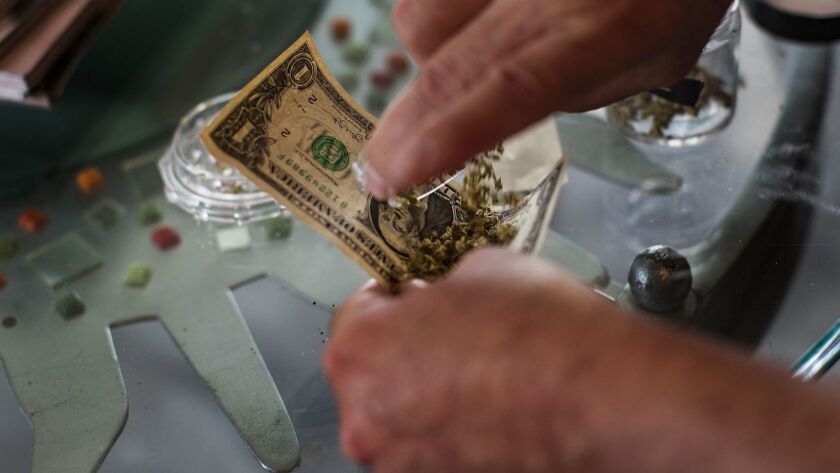 THIS WEEK'S MOST POPULAR STORIES IN ESSENTIAL CALIFORNIA
1. Fake out of Compton? Brown, smelly water sparks concerns and allegations of a political ruse. Los Angeles Times
2. Artificial turf fields are failing across Southern California, costing millions. Orange County Register
3. It's last call at Ports O'Call. L.A. Taco
4. Beyoncé and Jay-Z: The state of the union is strong. New York Times
5. Patrick Soon-Shiong — immigrant, doctor, billionaire — starts a new era at the L.A. Times. Los Angeles Times
ICYMI, HERE ARE THIS WEEK'S GREAT READS
Check in and smoke up: Like the rest of California, the hospitality industry in the state has moved slowly and tentatively to embrace the use of cannabis on a widespread basis. Desert Hot Springs Inn is one of only a handful of hotels in the Golden State to openly welcome smoking, vaping and otherwise enjoying pot on their properties. Los Angeles Times
Where will they go? The U.S. Navy is preparing plans to construct sprawling detention centers for tens of thousands of immigrants on remote bases in California, Alabama and Arizona, escalating the military's task in implementing President Trump's "zero tolerance" policy for people caught crossing the Southern border. Time
Throwing it back: Take a tour of the late, great German author Thomas Mann's home in the Pacific Palisades neighborhood of Los Angeles. The New Yorker
History lesson: "How decades of pain and perseverance finally led to vindication for the San Francisco LGBT community." San Francisco Chronicle
Inside Elon's head: Tesla founder Elon Musk has always been at war with the media. BuzzFeed
Watch: Inside family detention, "Trump's big solution." Marshall Project
"Going through hell" at the border: Parents split from their children tell stories of anguish. The Guardian
Please let us know what we can do to make this newsletter more useful to you. Send comments, complaints and ideas to Benjamin Oreskes and Shelby Grad. Also follow them on Twitter @boreskes and @shelbygrad.
---