Newsletter: Essential California: A first round of reuniting families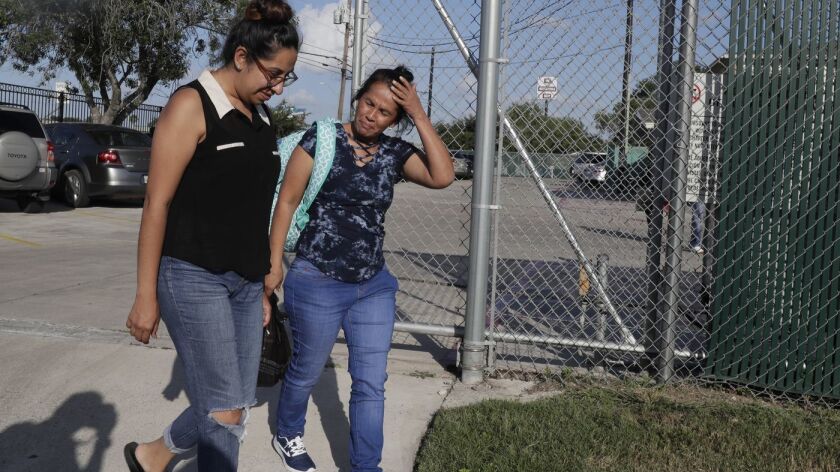 Good morning, and welcome to the Essential California newsletter. It's Wednesday, July 11, and here's what's happening across California:
TOP STORIES
The federal government on Tuesday began its first major wave of reuniting migrant children with their parents amid continued chaos, confusion and legal wrangling over when and how the rest of the thousands of families separated on the border would be brought back together. The Trump administration said only 38 of 102 children younger than 5 had been reunited with their parents by the Tuesday deadline set by a federal judge in San Diego. The same judge has ordered that thousands of older children should be reunited by July 26. Los Angeles Times
Plus: A separate fast-track court designed to quickly process the steady stream of misdemeanor border-crossing cases under the Trump administration's "zero tolerance" policy rolled out Monday in San Diego in a hearing that was punctuated by moments of confusion, tension and passionate objection. Los Angeles Times
And: "What if I lose her forever?" In Guatemala, a couple fears for their child still in detention in the U.S. Los Angeles Times
Tesla in China?
On Tuesday, Tesla and the municipal government of Shanghai signed a "cooperative agreement" to eventually build a Tesla automobile manufacturing plant in the city's ultra-modern Pudong district, according to a news release from Shanghai's municipal government. Ultimately, the plant would turn out 500,000 vehicles a year, primarily for the China market. The question now is: Will it ever be built? Los Angeles Times
Worrying trend
Hate crimes increased across California for the third straight year in 2017, an uptick experts have blamed on President Trump's vitriolic rhetoric toward minorities and the resurgence of hate groups in the state. There were 1,093 reported hate crimes in California in 2017, a 17.4% increase, according to a report released Monday by the California attorney general's office. Hate crimes have increased annually since 2014, jumping roughly 44% in that three-year span, records show. Los Angeles Times
Get the Essential California newsletter »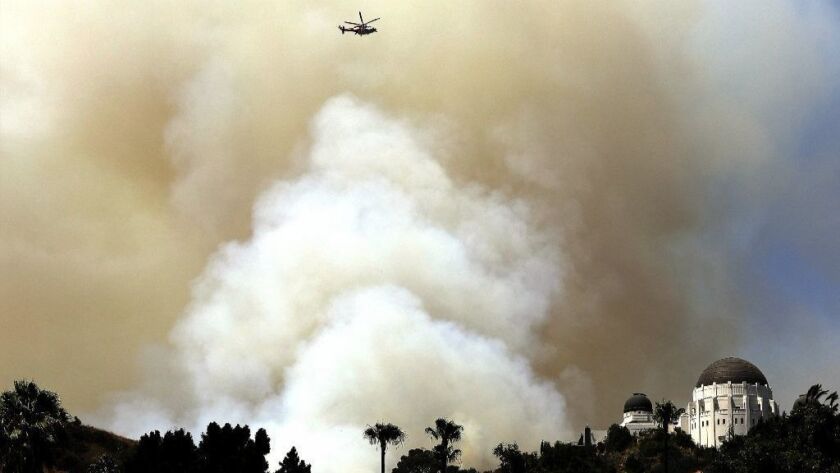 L.A. STORIES
All that smoke! A brush fire broke out Tuesday afternoon at Griffith Park, sending a plume of smoke climbing into the sky and sparking concerns about nearby structures. Los Angeles Times
$$$$: The Los Angeles County Board of Supervisors approved two settlement payouts Tuesday totaling $3.5 million over incidents involving law enforcement agencies. Los Angeles Times
Before you get on the road: What's the most dangerous freeway in L.A.? Crosstown Traffic
IMMIGRATION AND THE BORDER
South of the border: Once denounced as a political threat, President-elect Andres Manuel Lopez Obrador is now the darling of Mexico. Los Angeles Times
Ominous: "A number of California malls appear to be feeding data back to a national license-plate reader network." But where is that information going? The Verge
POLITICS AND GOVERNMENT
No thank you: A proposal to forestall the Los Angeles Unified School District's looming fiscal problems by asking voters to approve a new parcel tax failed to win enough support Tuesday to make it onto the November ballot. Los Angeles Times
Banding together: "A coalition of states, cities and businesses determined to fight climate change announced a campaign Tuesday to buy more zero-emission vehicles for their own fleets and persuade others to do the same." San Francisco Chronicle
Interesting: "A political strategist who helped lead a controversial Brexit campaign was hired to work on a ballot measure that would split California into three states." Sacramento Bee
Scooter wars: "Something funny happened while San Francisco was in the throes of its 'scooter wars': the city became a sidenote." The Verge
CRIME AND COURTS
Shooting update: A man fatally shot by police after allegedly stabbing a Cal Poly Pomona security officer to death also worked on campus, as a custodian, authorities said. Los Angeles Times
A saga ends: The dispute between USC and Steve Sarkisian over the football coach's abrupt firing in 2015 ended last week when the school prevailed in an arbitration hearing. Los Angeles Times
In court: A state judge rejected a request Tuesday by the Los Angeles Times and seven other news organizations that he unseal a lawsuit a former Playboy model filed against one of President Trump's top fundraisers. Los Angeles Times
THE ENVIRONMENT
Lost in the desert: The search for a Virginia woman who went missing near Amboy Crater in the Mojave Desert is being hampered by the rugged terrain and triple-digit ground temperatures that are too hot for search dogs. Los Angeles Times
CALIFORNIA CULTURE
Looking back: How the then-homophobic L.A. Times handled Tab Hunter's secret gay life in Hollywood. Los Angeles Times
Silicon Valley talk: "City officials have green-lighted the construction of a million-square-foot office complex that could accommodate 5,000 workers in sleek, new buildings rising near Google's planned downtown transit village." Mercury News
Fun story: "This iconic California license plate Has a very creative history." LAist
Sad story: A Fresno mother photographs her son, who is addicted to drugs. "My heart is broken in so many ways." Fresno Bee
Cartoon alley: A funny view on seasons in California. The New Yorker
CALIFORNIA ALMANAC
Los Angeles area: sunny, 88, Wednesday; partly cloudy, 87, Thursday. San Diego: partly cloudy, 79, Wednesday; sunny, 79, Thursday. San Francisco area: partly cloudy, 69, Wednesday; partly cloudy, 67, Thursday. Sacramento: sunny, 98, Wednesday; partly cloudy, 97, Thursday. More weather is here.
AND FINALLY
Today's California memory comes from James M. Gulley:
"I was conceived in Goleta, but born in Cleveland. Perhaps that's when my life went awry? Twenty-three years later I received my orders as a freshly minted 2nd Lieutenant to report for duty to Oakland Army Base NLT 05 January 1969. This was to be my first duty assignment prior to what I correctly assumed would be eventual orders to Vietnam. The movie "Bullitt" with Steve McQueen had been released, and seeing it only heightened my desire to go west, young man. I left the East Coast and traveled hard for five days, foolishly bypassing the Grand Canyon among other stops I should have made. Going through Needles into California was a huge letdown from my imagination. But as I came down out of the Oakland hills on a crystal-clear, spectacular New Year's Eve afternoon, San Francisco literally sparkled in the sunlight across the bay. Never had I seen a city so clean and white. Thus began an 11-year love affair."
If you have a memory or story about the Golden State, share it with us. Send us an email to let us know what you love or fondly remember about our state. (Please keep your story to 100 words.)
Please let us know what we can do to make this newsletter more useful to you. Send comments, complaints and ideas to Benjamin Oreskes and Shelby Grad. Also follow them on Twitter @boreskes and @shelbygrad.
---