Hate crimes rise in California for third straight year, state report says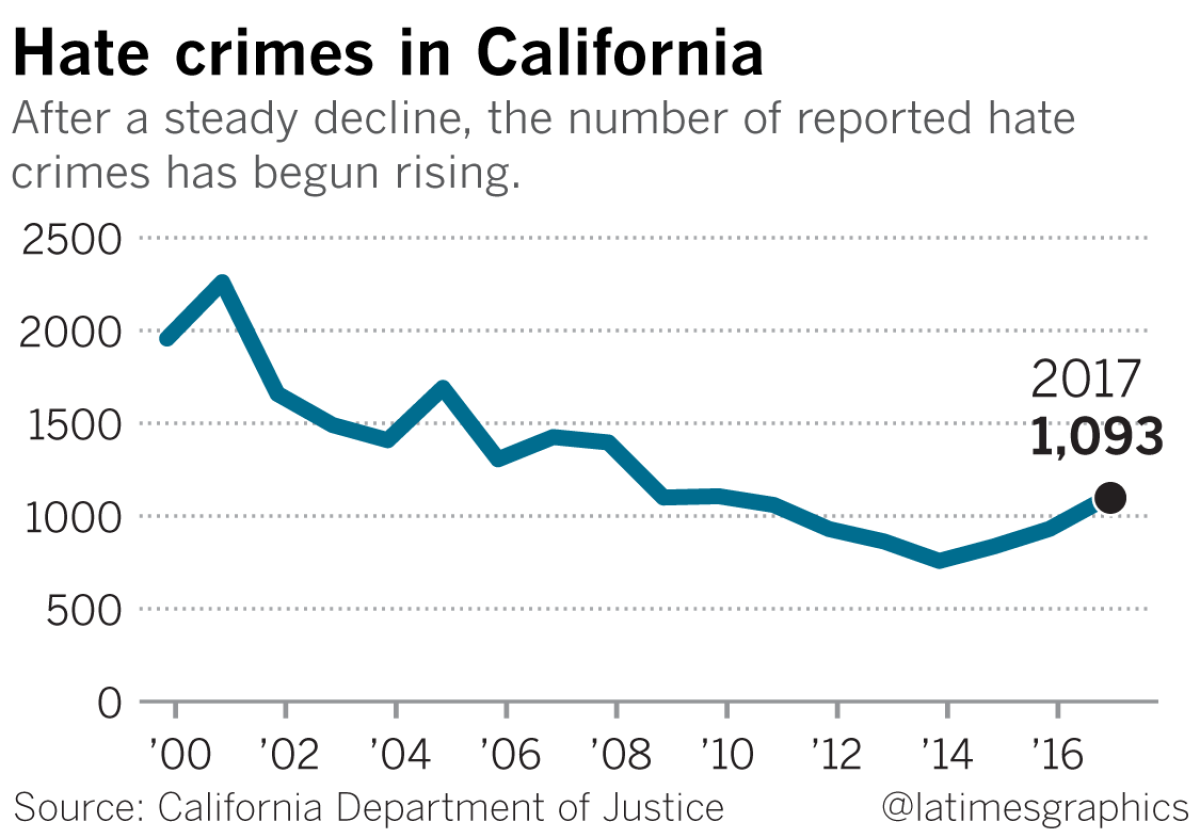 Hate crimes increased across California for the third straight year in 2017, an uptick experts have blamed on President Trump's vitriolic rhetoric toward minorities and the resurgence of hate groups in the state.
There were 1,093 reported hate crimes in California in 2017, a 17.4% increase, according to a report released Monday by the California attorney general's office. Hate crimes have increased annually since 2014, jumping roughly 44% in that three-year span, records show.
More than half of the hate crimes reported in California last year involved racial bias, and about 27% involved animus toward black people, the report shows. Hate crimes targeting victims based on race, sexual orientation and religion all increased sharply.
Brian Levin, director of the Center for the Study of Hate and Extremism at Cal State San Bernardino, said changing demographics in California and the increased presence of organized hate groups in the state have combined to drive up hate crimes in the state in recent years.
"I think people, particularly with bigots, they are now more emboldened and we are seeing this across a spectrum of data points," Levin said. "If you look at bigoted social media posts, if you look at the number of white nationalist rallies across the nation and in California."
Hate crimes had been trending downward in California for years, records show. Reported hate crimes in the state decreased every year from 2007 to 2014, reaching a low of 758 alleged incidents in California, according to the attorney general's report.
The report, which relies on reporting from local police departments, may not even capture the entire increase. Earlier this year, a state audit found several large law enforcement agencies in California — including the Los Angeles Police and Orange County Sheriff's departments — were not properly tracking hate crimes.
The report did not indicate a large increase in any particular part of the state. Hate crimes in Los Angeles jumped slightly, from 227 reported incidents in 2016 to 263 last year. San Jose saw the number of reported hate crimes in the city more than double, from 19 in 2016 to 45 last year.
Levin said increased attention to the issue of hate crimes may have also played a role in the increase, as both victims and police departments are more cognizant of bias attacks than they may have been in past years.
Public demonstrations held by documented hate groups such as the Ku Klux Klan in California in 2016 as well as a violent white nationalist rally in Charlottesville, Va., last year, could have also motivated individuals to feel more comfortable to act on long-held bigoted beliefs, experts said.
"Our society is experiencing a rising climate of incivility, the emboldening of bigots and widening divisions," said Joanna Mendelson, a senior investigative researcher for the Anti-Defamation League's Center on Extremism in Los Angeles. "These numbers offer not only a gauge of those who choose to act on their hatred, but how much work there is still for us all to do in order to become a more inclusive society."
The surge comes at a time when hate crimes are also on the rise nationally. From 2015 to 2016, hate crimes reported in the U.S. increased by 4.6%, according to the FBI's Uniform Crime Report.
Follow @JamesQueallyLAT for crime and police news in California.
---
The stories shaping California
Get up to speed with our Essential California newsletter, sent six days a week.
You may occasionally receive promotional content from the Los Angeles Times.