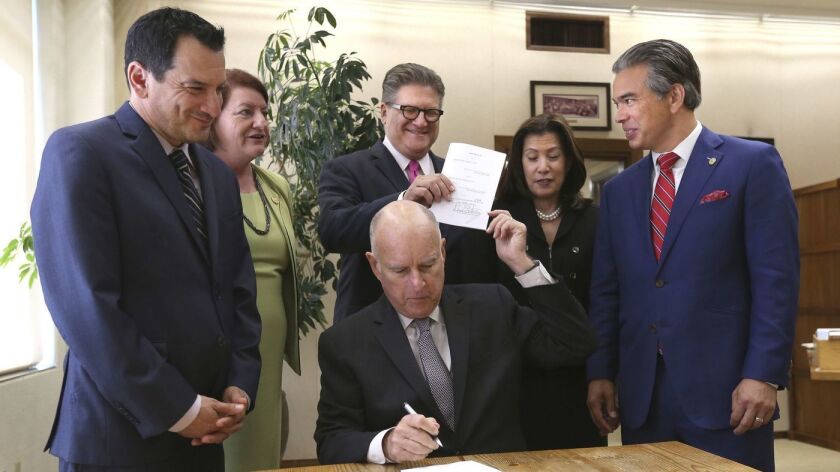 Good morning, and welcome to the Essential California newsletter. It's Wednesday, Aug. 29, and here's what's happening across California:
TOP STORIES
Gov. Jerry Brown has championed legislation and ballot measures downgrading drug crimes, expanding chances of early release for prisoners and easing punishment for juvenile offenders. On Tuesday, he ushered in one of the most sweeping criminal justice reforms of his administration, signing a bill abolishing the state's current money bail system, and replacing it with one that grants judges greater power to decide who should remain incarcerated ahead of trial. Los Angeles Times
— Bail reform could destroy a storied but controversial industry. Sacramento Business Journal
— Why the most die-hard advocates of criminal justice reform aren't happy with California's action. Mother Jones
Cleaning up
California would set some of the nation's strongest clean energy goals under legislation that cleared a key vote in the Assembly on Tuesday, bringing the state a step closer to ending its reliance on fossil fuels by phasing out their use to generate electricity. The bill would require California to obtain 100% of its power from renewable sources by 2045. Lawmakers supporting the bill said it was important that the state continue its pioneering efforts to curb greenhouse gas emissions. Los Angeles Times
Labor moves
The union once led by Cesar Chavez has handed over its top post to a Mexican immigrant: Teresa Romero. The departure of Chavez' son-in-law, Arturo Rodriguez, marks several firsts for the United Farm Workers Union — a woman, an immigrant and the first person outside the family to head the union. Los Angeles Times
— Trump's latest trade deal with Mexico could bring some needed good news for California farmers. Sacramento Bee
-- In California, the gig economy is a pretty hard life. CNBC
Get the Essential California newsletter »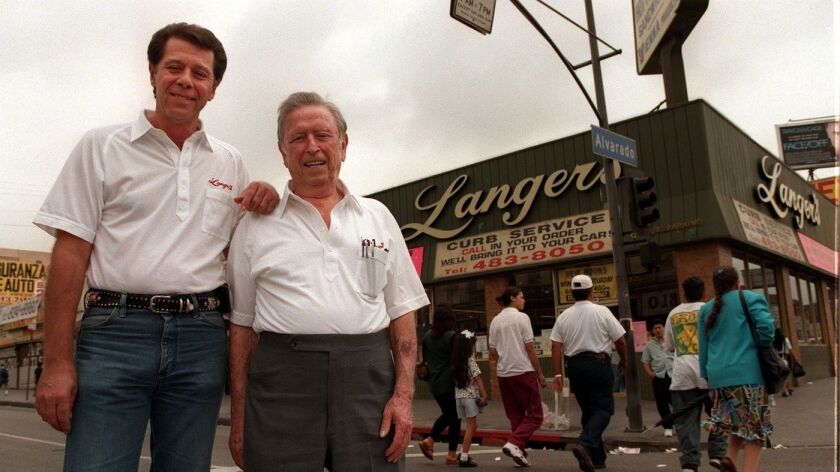 L.A. STORIES
Legendary location: The home of Langer's Deli, the Los Angeles pastrami institution that has occupied the southeast corner of Alvarado and 7th streets since 1947, is up for sale. Los Angeles Times
Shifting gears: A new direction for the Bill & Melinda Gates Foundation — and millions in new funding — will make their presence felt in Los Angeles schools. Los Angeles Times
Cliffhanger: How one couple bought a Pacific Palisades lot cheap, not sure whether the land could support a house. It worked out well for them. New York Times
Small world: After Pixar Fest, what does Disneyland have planned as a follow up? Orange County Register
Big rollout: Randy's Donuts in Inglewood is one of L.A.'s most famous food landmarks. Now it's expanding across Southern California. Can it work? Daily Breeze
Shaky ground: Parts of Southern California were rattled by a 4.4 magnitude earthquake Tuesday night that was centered near La Verne but felt over a wide area. Los Angeles Times
CRIME AND COURTS
Freed: A Long Beach resident who was held as political prisoner in Cambodia has been released. Los Angeles Times
Sigh: The side of the white ice cream truck in north Long Beach advertised various frozen treats that ranged from ice cream sandwiches to Popsicles shaped like Spider-Man and SpongeBob SquarePants, but police allege meth was also on the menu. Los Angeles Times
On the case: How to investigate a wildfire? Wired
Ouch: A bow hunter is recovering after authorities say he was severely mauled by a black bear that he had wounded with an arrow in the Banning Canyon area of Riverside County. Los Angeles Times
POLITICS AND GOVERNMENT
It's official: The Anaheim City Council voted Tuesday to end agreements that offer the Disneyland Resort tax breaks for investing in its theme parks and an adjacent shopping district, a move requested by theme-park owner Walt Disney Co. Los Angeles Times
Backlash: A GOP candidate's decision to post a photo of himself in front of the Muslim Community of Folsom has sparked debate. Sacramento Bee
New normal: The school where more than 150 students lost their homes in the Santa Rosa fires. Press Democrat
About time: The battered 60 Freeway in the Inland Empire is up for a major upgrade. Press-Enterprise
CALIFORNIA CULTURE
Not so fast: Jeff Robinov's Studio 8 launched four years ago with everything a Hollywood player could want: $1 billion in financing, the support of a major studio, and a partnership with a deep-pocketed Chinese conglomerate. It has been a humbling journey for a company that, as its name suggests, aimed to rival the seven biggest U.S. studios. Los Angeles Times
Eye on the future: A new breed of helicopter being made in Silicon Valley could eventually be that "flying car." San Francisco Chronicle
True original: "I obviously like stuff that can be a little bit more macabre, a little bit darker." He pauses in front of a skeleton holding marionette strings connected to two smaller skeletons in baby bonnets. "But I do like it when things are dark with a humorous twist." Inside a hot L.A. gallery that is also a haunted house of sorts. Los Angeles Times
"A vestige of a previous era": HBO has dropped its erotic films and documentary series from its channels and streaming service. It means racy reality shows such as "Taxicab Confessions," the documentary series "Real Sex" and "Cathouse," which chronicled life in a Nevada brothel, and specials featuring adult film star Katie Morgan, are no longer available to HBO subscribers. Los Angeles Times
Vow of poverty? Outrage after a San Jose bishop gets a $2.3-million home. Mercury News
Fresh: Rotten Tomatoes is trying to diversify its critic ranks. New York Times
CALIFORNIA ALMANAC
Los Angeles area: mostly sunny, 84, Wednesday; partly cloudy, 86, Thursday. San Diego: partly cloudy, 81, Wednesday; partly cloudy, 82, Thursday. San Francisco area: partly cloudy, 69, Wednesday; partly cloudy, 66, Thursday. San Jose: partly cloudy, 78, Wednesday; mostly sunny, 76, Thursday. Sacramento: sunny, 80, Wednesday; partly cloudy, 82, Thursday. More weather is here.
AND FINALLY
Today's California memory comes from Pamela Hinchcliffe:
"When I arrived in San Francisco 50 years ago, I traveled to the Eastern Sierra with my daughters. As I drove down Highway 395 from Mono Lake, the snow of Mt. Whitney was floating down on us in 70-degree weather. We were definitely not at the Jersey Shore anymore. What an amazing state."
If you have a memory or story about the Golden State, share it with us. Send us an email to let us know what you love or fondly remember about our state. (Please keep your story to 100 words.)
Please let us know what we can do to make this newsletter more useful to you. Send comments, complaints and ideas to Benjamin Oreskes and Shelby Grad. Also follow them on Twitter @boreskes and @shelbygrad.
---