Newsletter: Essential California: Gov. Brown's cosmic boom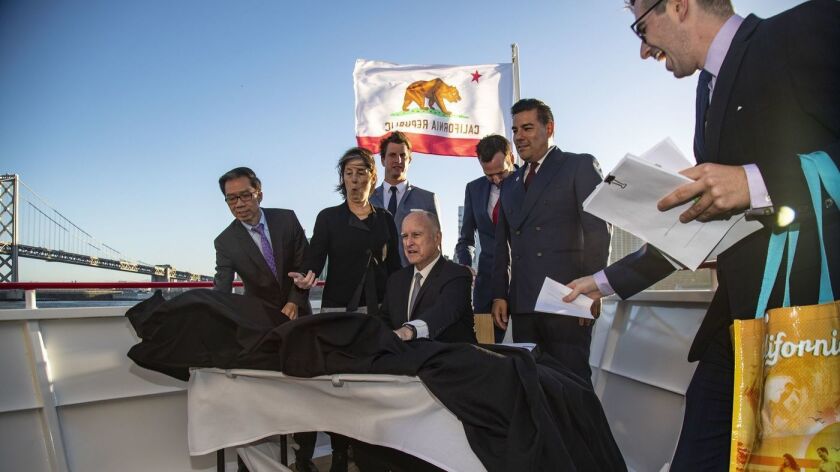 Good morning, and welcome to the Essential California newsletter. It is Saturday, Sept. 15. Here's what you don't want to miss this weekend:
TOP STORIES
Gov. Moonbeam is finally sending California into space. Jerry Brown closed his climate summit in San Francisco on Friday with a dramatic announcement: California will launch its own satellite into orbit to track and monitor the formation of pollutants that cause climate change. He did it with a flourish: "With science still under attack and the climate threat growing, we're launching our own damn satellite." Los Angeles Times
— The bottom-up approach of California and some cities to climate change in the age of Trump might actually be the most effective approach. The Economist
— Will China join with California? New York Times
— How the "divestiture" movement reached its apex this week on the streets of San Francisco. The New Yorker
— Not so fast. Climate change ambitions on display this week in San Francisco aren't enough. Wired
Wildfires update
A firefighter who died in August while battling the Mendocino Complex fire was killed when the force of a retardant drop from an air tanker knocked a nearly 90-foot Douglas fir on top of him. Los Angeles Times
— Fighting wildfires with cash. Wired
High tension
An allegation against Supreme Court nominee Brett Kavanaugh of improper behavior during his high school years is becoming a political headache for Sen. Dianne Feinstein. She's being attacked by her opponent, Kevin de León, for her handling of the woman's allegations, and the matter probably won't derail Kavanaugh's bid for the high court. Los Angeles Times
AROUND CALIFORNIA
Drama: Allegations of fake pregnancies and lies roil San Clemente. Orange County Register
Michael Bauer's goodbye: A legendary San Francisco restaurant critic looks back on 30 years of meals. San Francisco Chronicle
Unusual path: The high school dropout who now runs the Federal Reserve Bank of San Francisco. Los Angeles Times
Dream house: "LOS ANGELES BECKONS the restless. It hums a million small reasons to slough off your life and move there — 72 degrees and sunny (even when it's not), the city feels like it unfurls forever, offering the wild promise of self-invention, a frontier land of permissiveness and cheap avocados and good light." — So begins a story about Eagle Rock's own magic castle. New York Times
Behind the story: Inside the empty building that became a home for squatters in the heart of Hollywood. LAist
"Jane Doe": One week after the Los Angeles Times reported that 20th Century Fox had deleted a scene featuring Steven Wilder Striegel from "The Predator" after learning that he is a registered sex offender, the 14-year-old girl involved in the case is speaking out. She's now 24. Los Angeles Times
Key ruling: A federal judge issued a preliminary injunction Friday barring the Trump administration from imposing requirements that local jurisdictions cooperate with immigration agents to receive anti-gang funds. Los Angeles Times
Brooklyn Heights? Google is going waaaay back in finding names for communities on its maps. Los Angeles Magazine
Get the Essential California newsletter »
THIS WEEK'S MOST POPULAR STORIES IN ESSENTIAL CALIFORNIA
1. A deer carcass, mountain lions and lawsuits: An ugly battle escalates over a picturesque trail in a celebrity enclave. Los Angeles Times
2. More than 220,000 solo HOV-lane drivers will lose carpool stickers Jan. 1. Mercury News
3. How two young women bond while plotting to escape poverty in L.A. Los Angeles Times
4. An early Disneyland designer won over Walt Disney with his rebel reputation. Now he laments: "The park is gone." Los Angeles Times
5. "This massive mural being painted in downtown celebrates L.A.'s diversity — and could set a world record." LAist
ICYMI, HERE ARE THIS WEEK'S GREAT READS
Breaking down barriers: C.R. Roberts' mind, drifting from the effects of age and dementia, isn't sparked by discussing the 1956 USC-Texas matchup down in Austin. Sure, he ran the ball 12 times for 251 yards, a Trojan single-game record that stood for 20 years. But he doesn't see the importance of that anymore. For so long, Roberts would tell people how he had something to prove that night. He may have mentioned that African Americans from around Austin came to the USC team hotel to get a glimpse of him, but that's about as far as he usually went. "All the time I was growing up," says his daughter, Cathy Creasia, "it never was really put in this context of a civil rights story, even though in its essence it is. And it became one of those stories that kind of got lost." Los Angeles Times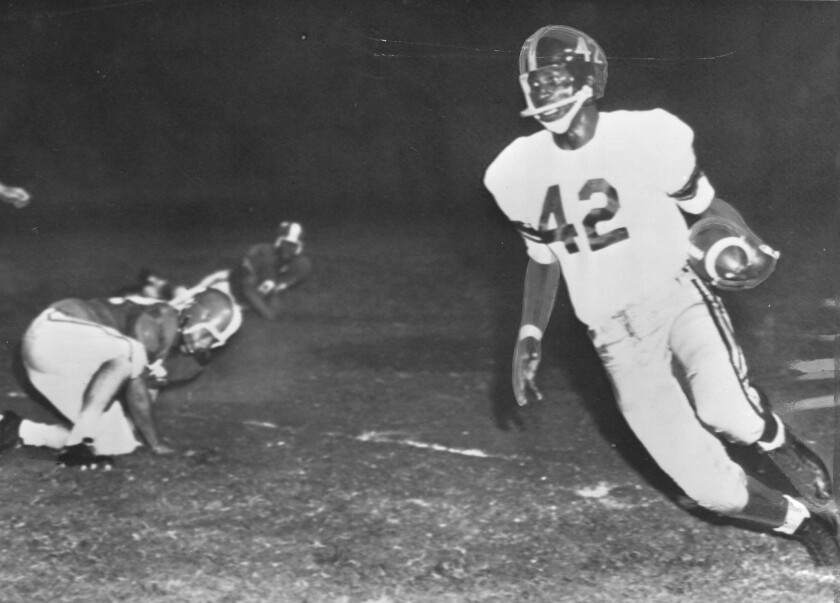 Transcending late-night TV: This Spanish-speaking clown from Burbank has bridged many cultural divides. Los Angeles Magazine
Classic: Perhaps the most L.A. restaurant in L.A. These brothers came from Oaxaca and were dishwashers, then cooked in the kitchens of Lebanese restaurants. Now they have their own eatery that mixes Oaxacan and Lebanese food. Boyle Heights Beat
In the Central Valley: An effort to help young female addicts with one of the biggest barriers to staying clean: Caring for their kids. Fresno Bee
Please let us know what we can do to make this newsletter more useful to you. Send comments, complaints and ideas to Benjamin Oreskes and Shelby Grad. Also follow them on Twitter @boreskes and @shelbygrad.
---