Republicans pressing ahead with Kavanaugh nomination despite allegation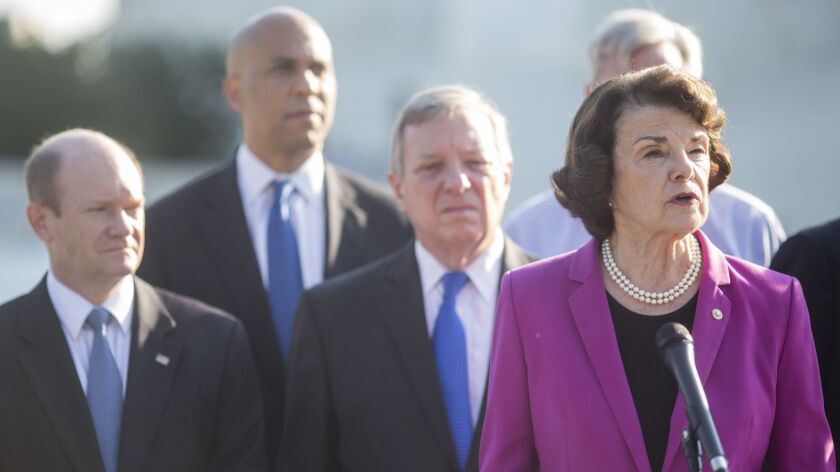 Reporting from Washington —
Senate Republicans said Friday that an allegation against Supreme Court nominee Brett Kavanaugh of improper behavior during his high school years won't deter his confirmation from moving forward.
Republicans continued to question why the allegation came to light days after his lengthy, often testy public confirmation hearing in the Senate Judiciary Committee. They circulated a letter signed by 65 women who knew Kavanaugh in high school attesting that "he has behaved honorably and treated women with respect."
After vague details of the allegation circulated in Washington this week, the New Yorker published a fuller account on Friday morning. It reported that a woman who has declined to go public has alleged that while he was a student at Georgetown Preparatory High School in Bethesda, Md., just outside Washington, and she was also in high school, Kavanaugh held her down at a party and attempted to force himself on her.
Kavanaugh denied the incident in a statement distributed by the White House.
"I categorically and unequivocally deny this allegation. I did not do this back in high school or at any time," he said.
The allegation — and how Sen. Dianne Feinstein (D-Calif.) handled it since she received the woman's account and turned it over to the FBI — has further inflamed the already high tensions surrounding President Trump's nominee.
So far, the allegation appears unlikely to derail Kavanaugh's confirmation by the Republican-controlled Senate. Democrats have been more focused in recent days on pressing their complaint that Kavanaugh has repeatedly misled the Senate, under oath, about his role in the George W. Bush administration in several controversies.
The test, however, will be whether the accusation influences the votes of the two most moderate Republicans, Sens. Susan Collins of Maine and Lisa Murkowski of Alaska.
They are considered to be swing votes given their support for abortion rights, an issue that opponents have put at the center of their campaign to prevent Kavanaugh's confirmation. Both senators have faced a barrage of calls and advertisements against Kavanaugh in their respective states; Collins has even reported threats.
On Friday, Collins held an hourlong phone call with Kavanaugh, a conversation that was planned before the allegation became public. Her office declined to reveal what was discussed.
Feinstein, the top Democrat on the Senate Judiciary Committee, on Wednesday referred the allegation to federal law enforcement officials. She refused to share the details of the letter with other senators on the panel, to their frustration, citing the accuser's request for confidentiality. Committee Democrats largely declined to talk about the letter or the debate about it within their party.
Republicans suggested Democrats had been pushing Feinstein to make the issue public. They also questioned why the allegation surfaced after the confirmation hearing and after Democrats had an opportunity to question Kavanaugh in a closed-door committee session designed to address the nominee's standard background investigation.
Feinstein did not attend the session because she wasn't feeling well, according to her spokesman. She took the allegation seriously and believed it should be public, he added, but "the woman in question made it clear she did not want this information to be public."
"It is critical in matters of sexual misconduct to protect the identity of the victim when they wish to remain anonymous, and the senator did so in this case," said the aide, who declined to be identified speaking about the controversy.
Republicans denounced the allegation and the attempt to make it public.
"I do not intend to allow Judge Kavanaugh's confirmation to be stalled because of an 11th-hour accusation that Democrats did not see fit to raise for over a month," said Sen. Orrin G. Hatch of Utah, a senior member of the committee.
Referring to Feinstein, he said, "The senator in the best position to determine the credibility of these accusations made the conscious decision not to take action on them, and the authorities to whom the accusations have been referred have decided not to take action either."
In a year in which Feinstein is facing reelection in California, her rival — a fellow Democrat from the party's progressive wing, Kevin de León — seized on the issue to criticize her leadership.
"The American people deserve to know why the Ranking Member on the Senate Judiciary Committee waited nearly three months to hand this disqualifying document over to the federal authorities and why Sen. Feinstein politely pantomimed her way through last week's hearing without a single question about the content of Kavanaugh's character," De León said in a statement.
jennifer.haberkorn@latimes.com
---
Get our Essential Politics newsletter
The latest news, analysis and insights from our politics teams from Sacramento to D.C.
You may occasionally receive promotional content from the Los Angeles Times.