Newsletter: Essential California: Knowing 'Suge' Knight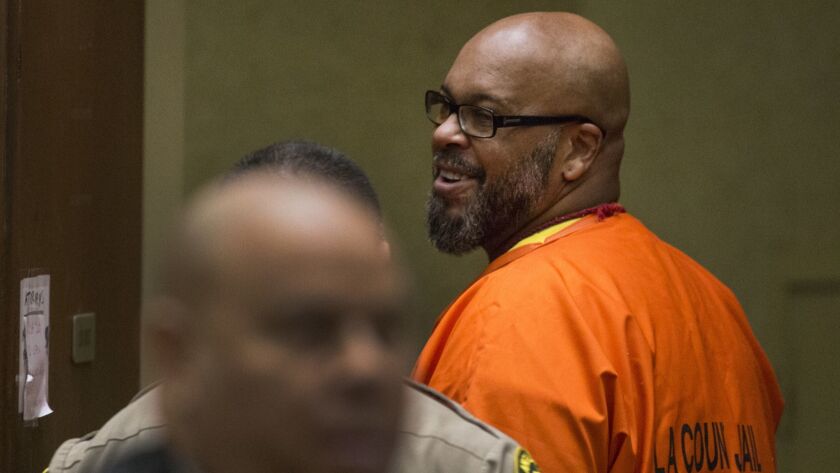 Good morning, and welcome to the Essential California newsletter. It is Saturday, Sept. 22. Here's what you don't want to miss this weekend:
TOP STORIES
Rap impresario Marion "Suge" Knight long had a fearsome reputation in the music industry. He helped popularize and market the thug rapper archetype — and tried his best to live up to it. But during three years of court hearings in his murder case, his seemingly fragile physical condition and affable repartee belied his image as a feared enforcer. Los Angeles Times
Looking toward November
Saddled with an unpopular president and getting little or no traction from a robust economy, Republicans have settled on a blunt-force strategy as they struggle to hang onto the House in November: Paint the opposition as wild-eyed and dangerous. Los Angeles Times
Plus: Do Gavin Newsom and John Cox even want the same job? Their visions of California's governorship radically differ. Los Angeles Times
Wildfires everywhere
With an eye toward destructive wildfire as California's most immediate climate emergency, Gov. Jerry Brown took action on Friday to broadly expand state prevention efforts while allowing utility companies to shift some fire-related costs to their customers. The far-reaching proposal signed by Brown boosts government fire protection efforts by $1 billion over the next five years, providing funds that could help clear thousands of acres of dense, dry forests and brittle coastal brush. Los Angeles Times
AROUND CALIFORNIA
Nabbed: Sacramento County authorities announced on Friday the arrest of a longtime UC Berkeley employee as a suspect in the "NorCal Rapist" case. Roy Charles Waller, 58, is suspected of carrying out a series of sexual assaults from 1991 to 2006 in several cities from Sacramento Valley to the Bay Area, according to Dist. Atty. Anne Marie Schubert. Los Angeles Times
Spooky! Halloween has become big business for theme parks. Los Angeles Times
Not so fast! Everyone has penciled the Dodgers in for the playoffs, but there is a trap series this weekend against the San Diego Padres. Los Angeles Times
Vision: How the new head of the L.A. Phil is redefining the American orchestra. Los Angeles Times
RIP: Ritchie Valens' older brother has died. Los Angeles Daily News
Great photos: The diversity of Southern California's deserts. Curbed LA
Never again: She ate brunch at Scientology's "5-star" restaurant — and won't be going back. LAist
That's a mortgage payment: Beyoncé and Jay-Z bought a $88-million mansion in Bel-Air. And no, they didn't pay cash. It's a trend in high-end real estate. Wall Street Journal
Mystery: What is suddenly missing from Disneyland? Orange County Register
When fake news kills: Lynchings in Mexico are linked to viral child-kidnap rumors. Los Angeles Times
Get the Essential California newsletter »
THIS WEEK'S MOST POPULAR STORIES IN ESSENTIAL CALIFORNIA
1. Anger in California's carpool lanes as more than 200,000 drivers are set to lose decals. Los Angeles Times
2. A mysterious great white shark lair was discovered in the Pacific Ocean. SF Gate
3. Brett Kavanaugh's nomination faces delay after an accuser comes forward. Los Angeles Times
4. The ex-Green Beret who inspired Colin Kaepernick to kneel instead of sit during the anthem would like to clear a few things up. Los Angeles Times
5. For some, there is a way to avoid the long lines at the DMV. Los Angeles Daily News
ICYMI, HERE ARE THIS WEEK'S GREAT READS
A changing state seen through soccer: Like football or basketball in other locales, soccer often seems like the clearest path out of the Salinas Valley. The valley's rich soil makes migration a constant in the area, from the waves of Mexican rancheros and Spanish colonists long ago to the Depression-era Okies in John Steinbeck's "Grapes of Wrath." Now, a generation after Cesar Chavez was thrown in jail on the East Side during a 1970 lettuce strike, it's impossible to miss the imprint of the thousands of Mexican immigrants who feed America's appetite for strawberries, lettuce and broccoli. Los Angeles Times
Wow: Wealthy L.A. schools' vaccination rates are as low as South Sudan's. The Atlantic
Crisis time: The Salton Sea is shrinking even faster, and California still hasn't done much to fix it. The Desert Sun
Great interview: The secret struggles of the Golden State Warriors. California Sunday Magazine
In profile: Super lawyer David Boies isn't apologizing for going from defending gay marriage to defending Harvey Weinstein. New York Times
Please let us know what we can do to make this newsletter more useful to you. Send comments, complaints and ideas to Benjamin Oreskes and Shelby Grad. Also follow them on Twitter @boreskes and @shelbygrad.
---