Newsletter: Essential California: A fight over rent control
Good morning, and welcome to the Essential California newsletter. It's Thursday Sept. 27, and here's what's happening across California:
TOP STORIES
A fight over rent control has raged for three years in the Silicon Valley suburb of Mountain View, with no end in sight. It began in October 2015, when Mountain View City Council members rejected pleas from tenant activists to limit rent increases. Tenant groups responded with a November 2016 ballot initiative to restrict rent hikes, and council members countered by putting a less stringent proposal before voters. Similar battles could be coming to the rest of California. In November, voters across the state will decide on Proposition 10, an initiative to repeal the Costa-Hawkins Rental Housing Act, a 1995 state law that keeps local governments from implementing most forms of rent control. Los Angeles Times
Decision California
Rep. Maxine Waters has tried for months to get a House committee chairman to subpoena documents from Deutsche Bank about Russian money-laundering and the finances of President Trump and his family. If Democrats win the House majority in November, the 14-term Los Angeles lawmaker is almost certain to gain the committee's gavel. That would give Waters, one of Trump's fiercest critics, the power to issue those subpoenas along with something more — a high-profile platform to battle the administration. Los Angeles Times
Plus: Boosted by growing support among suburban women and widespread antipathy toward President Trump, Democrats approach the midterm election poised to make major gains nationwide, a new USC Dornsife/Los Angeles Times Poll shows. Los Angeles Times
And: In a neighborhood built by refugees more than a generation ago, Trump has found strong support for his crusade to keep immigrants from entering the U.S. without legal status. To many first-generation Vietnamese Americans, who fled war and communism to become stalwart Republicans, it's an issue of fairness and waiting your turn in line. But it's also a stance that butts up against a few uncomfortable realities — including Vietnamese entrepreneurs' heavy reliance the labor of Mexican and Central American immigrants often in the country illegally. Los Angeles Times
Get more midterm election coverage on our Decision California page.
Get the Essential California newsletter »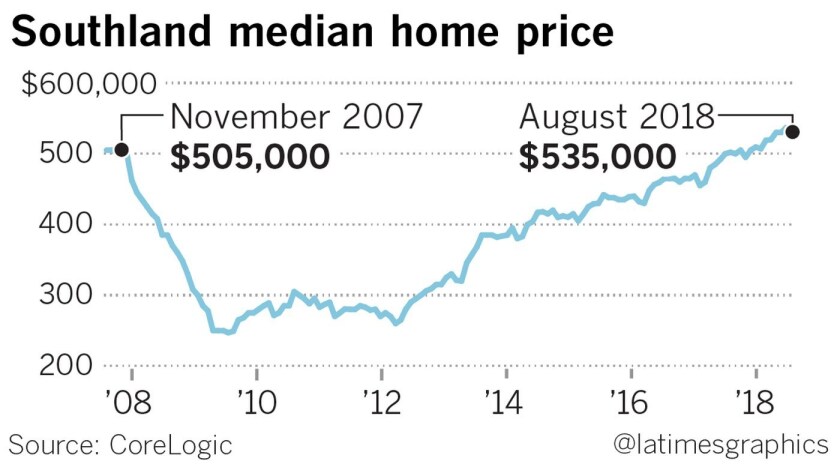 L.A. STORIES
Cooling off? Southern California home prices kept rising in August, but sales fell as questions grew over whether the housing market is finally cooling. Los Angeles Times
#TBT: The Dodgers' loss was the Angels' gain when they hired Mike Scioscia. Los Angeles Times
Contentious negotiations: Los Angeles school officials on Tuesday announced an improved contract offer to teachers that was immediately rejected by union leaders. Los Angeles Times
A rising tide lifts all boats? Can L.A.'s restaurant development boom do more for diversity? Eater LA
IMMIGRATION AND THE BORDER
Big roundup: Immigration officials announced the arrest of about 150 people in the Los Angeles area they described as "criminal aliens and other immigration violators." Los Angeles Times
Plus: "ICE agents express dismay at how the public perceives their job." BuzzFeed
Scary: In Mexico, federal authorities have taken over security in the Pacific Coast city of Acapulco after suspicions that the local police force has been infiltrated by organized crime. Los Angeles Times
POLITICS AND GOVERNMENT
Drip, drip: Michael Avenatti has revealed client Julie Swetnick as the third woman to accuse Supreme Court nominee Brett Kavanaugh of sexual misconduct. Los Angeles Times
On the trail: "Gavin Newsom's low-risk campaign for governor, along with a widespread sense that the outcome of the contest is almost a foregone conclusion, suggests voters may learn little between now and Election Day about Mr. Newsom's qualifications and what he intends to do should he take over as the leader of the nation's most populous state." New York Times
Money, money, money: How John Cox made the money he's using to run for California governor. Sacramento Bee
The midterms: Inside three crucial battleground races. California Sunday Magazine
Ooops! San Francisco's new Transbay Transit Center will remain closed at least through the end of next week, transportation officials said Wednesday, after a second cracked steel beam was discovered during an overnight safety inspection. San Francisco Chronicle
CRIME AND COURTS
Charged: A man suspected of killing several homeless people and leaving others comatose during a string of brutal assaults in Southern California was charged with three counts of murder Wednesday as authorities identified an eighth victim who suffered serious injuries in a recent Westside attack. Los Angeles Times
Plus: A Los Angeles County judge ordered journalists Wednesday not to publish courtroom photographs of the man in the homeless beating case. The Times plans to challenge it in court as an unconstitutional prior restraint against the media. Los Angeles Times
Yuck: A former Rancho Palos Verdes building inspector was arrested Tuesday and charged with 89 counts of voyeurism after authorities say he placed a hidden camera inside a City Hall bathroom and a bathroom at a coffeehouse, authorities said. Los Angeles Times
Following up: "An investigation released Tuesday found a California senator threatened to slap a lobbyist and rubbed her shoulders at a restaurant near the Capitol in August." Mercury News
THE ENVIRONMENT
Another fire: A blaze that quickly chewed through 50 acres of brush in the Cajon Pass on Wednesday prompted the closure of the 15 Freeway. Los Angeles Times
More trouble: With climate change, Valley fever spreads in California—and this year could be the worst yet. CALmatters
CALIFORNIA CULTURE
Blame game: Tesla's Elon Musk is blaming a trailer shortage for Tesla's Model 3 delivery delays. Auto haulers are dubious. Los Angeles Times
Pay up: Uber Technologies Inc. will pay $148 million to settle claims related to a large-scale data breach that exposed the personal information of more than 25 million of its U.S. users. Los Angeles Times
Yum! "One of L.A.'s best Sichuan restaurants is opening on the Westside." Los Angeles Magazine
RIP: William "Bill" Patterson, a longtime Fresno Bee reporter who unflinchingly faced an unknown amount of jail time to protect a confidential source and subsequently helped change laws that protect journalists, died Sunday at the age of 91. Fresno Bee
On the market: What $2,700 rents in L.A. right now. Curbed LA
CALIFORNIA ALMANAC
Los Angeles area: partly cloudy, 86, Thursday and Friday. San Diego: partly cloudy, 78, Thursday and Friday. San Francisco area: partly cloudy, 66, Thursday; partly cloudy, 62, Friday. San Jose: partly cloudy, 82, Thursday; partly cloudy, 75, Friday. Sacramento: partly cloudy, 96, Thursday; partly cloudy, 85, Friday. More weather is here.
AND FINALLY
Today's California memory comes from Virginia Rodriguez:
"In 1982 I celebrated my quinceañera (traditional Mexican 15th birthday celebration) at the Church of the Epiphany in Lincoln Heights wearing a big white dress. The girls in my court wore pink dresses and the boys wore burgundy tuxes with pink ruffled shirts. Our family church was the birthplace of the Chicano Movement in the 1960s, but to me, it was a special place with beautiful traditions that honored our community and my Mexican and Californio ancestors. We always enjoyed homemade Mexican hot chocolate, pan dulce and tamales after church, and sometimes we had Aztec dancers dancing down the aisle during church."
If you have a memory or story about the Golden State, share it with us. Send us an email to let us know what you love or fondly remember about our state. (Please keep your story to 100 words.)
Please let us know what we can do to make this newsletter more useful to you. Send comments, complaints and ideas to Benjamin Oreskes and Shelby Grad. Also follow them on Twitter @boreskes and @shelbygrad.
---