Newsletter: Essential California: Beverly Hills students call on Trump to help divert a subway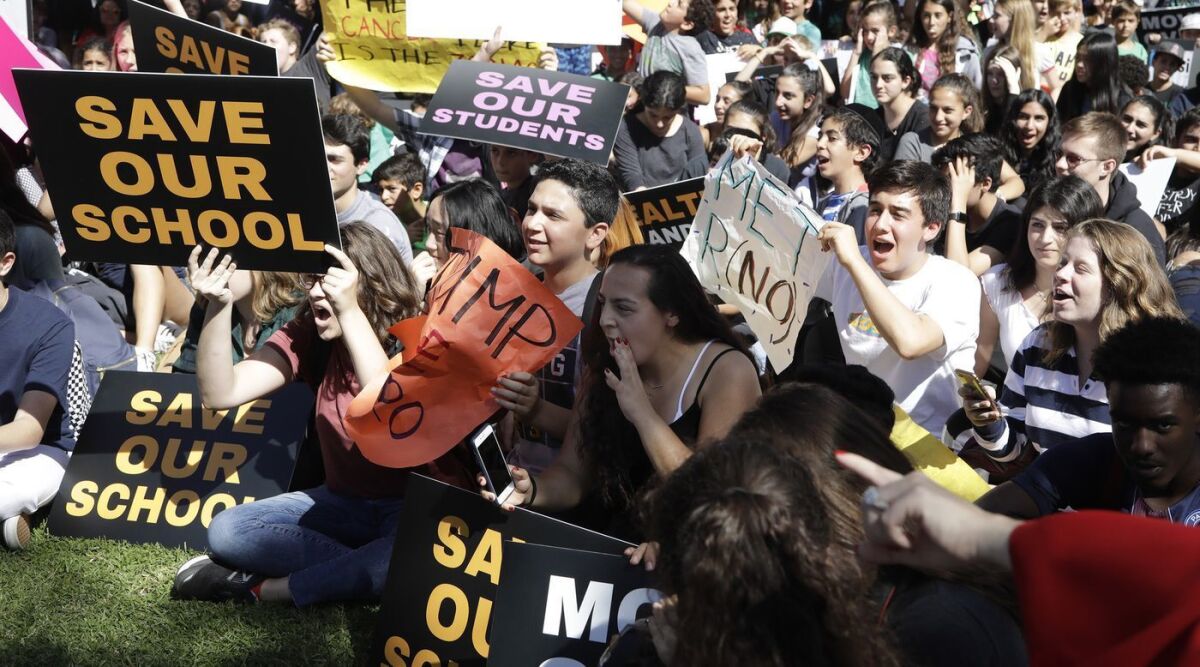 Good morning, and welcome to the Essential California newsletter. It is Saturday, Oct. 13. Here's what you don't want to miss this weekend:
TOP STORIES
Hundreds of Beverly Hills students, teachers and parents gathered in Will Rogers Memorial Park on Friday morning to protest the route of the Westside subway, which is slated to run beneath the city's high school. Students who received a signed permission slip from their parents left the district's five schools Friday at 10 a.m. and arrived on more than a dozen school buses. Some students as young as 8 clutched bag lunches and juice boxes. Others held signs that read, "President Trump, you can fix it!" and "Move over, Metro." Los Angeles Times
Others weigh in: "Seriously, Beverly Hills? Cut your Purple Line hysteria, already," says the Los Angeles Times Editorial Board. Los Angeles Times
A divided campus
For years, the professor told the assistant dean that she was beautiful and greeted her with hugs and a kiss on each cheek. He believed he was showing her admiration, respect and the courtly manners of his native Spain. She felt objectified and humiliated. During their time together at UC Irvine, Francisco J. Ayala, 84, and Benedicte Shipley, 50, perceived their encounters in dramatically different ways. Her version won out this year, when officials concluded that Ayala had sexually harassed Shipley and two other women. The university swiftly moved to erase his presence. But the sanctions have sharply divided the campus. Some say it shows the dangers of #MeToo overreach. Los Angeles Times
A saint is born
Maria Hilda and Guillermo Gonzalez dedicated their lives to promoting the legacy of Monseñor Oscar Romero. But their devotion came at a high risk with death threats and decades of silence and opposition. His canonization in Rome is a day they worried they wouldn't live to see. Los Angeles Times
AROUND CALIFORNIA
Crazy weather: A thunderstorm lit up the Southland sky Friday night, with rain falling widely across the region — and images of lightning filling up social media. Los Angeles Times
Feeling blue: Dodgers pitcher Clayton Kershaw has had a postseason career of highs and lows. On Friday night, it was a low as his team lost to the Milwaukee Brewers 6 to 5. Los Angeles Times
Welcome aboard: Spring Labs, a Los Angeles start-up that wants to overhaul the consumer credit industry using blockchain technology, has added Gary Cohn, a former top Goldman Sachs executive and economic aide to President Trump, to its board of advisors. Los Angeles Times
Midterm madness: As Trump steps up attacks on Sen. Dianne Feinstein, it's become a challenge for Kevin de León, who has been trying to cast her a moderate who is not standing up to the president. Los Angeles Times
Plus: In a worrisome sign for Reps. Dana Rohrabacher and Mimi Walters of Orange County, a major Republican Party funding group has passed over the two in its opening round of broadcast television advertising across Southern California. Los Angeles Times
And: Proposition 5 offers tax breaks for older home buyers but could shortchange schools and cities. Los Angeles Times
Flashback: The White House is actively considering plans that could again separate parents and children at the U.S.-Mexico border, hoping to reverse soaring numbers of families attempting to cross illegally into the United States. Washington Post
Plus: The 5-year-old who was detained at the border and persuaded to sign away her rights. The New Yorker
Scoop! Discussions between Clippers and Inglewood representatives about building an arena in the city started several months earlier than previously disclosed, according to emails filed Wednesday in Los Angeles County Superior Court. The emails contradict public statements and court filings on behalf of Inglewood and Mayor James T. Butts Jr. Los Angeles Times
By the Bay: San Francisco hasn't hit 85 degrees once this year: Will we ever get an Indian summer? San Francisco Chronicle
Fun video: Disney's 1950 short about traffic safety could pass for L.A. in 2018. LAist
To the principal's office: A teacher who recounted how a senior aide to Trump ate glue as a third-grader is in trouble with her employers. Los Angeles Times
Out and about: Bernie Sanders sizes up California. Politico
Get the Essential California newsletter »
THIS WEEK'S MOST POPULAR STORIES IN ESSENTIAL CALIFORNIA
1. Tom Petty's death is still a hard reminder for aging rockers about the downside of life on the road. Los Angeles Times
2. A Sierra town hit hard by disaster is tripped up by another problem: Google Maps. San Francisco Chronicle
3. Susie Bean Breitbart: L.A.'s secret powerbroker behind a right-wing media force. The Hollywood Reporter
4. An unfinished tunnel with a rail system is found under the Mexico-California border. Los Angeles Times
5. An ICE memo explains the differences between Trump and Obama on immigration enforcement. BuzzFeed
ICYMI, HERE ARE THIS WEEK'S GREAT READS
Orwellian? Everyone's DNA sequence is unique. But for those who wish to maintain their genetic privacy, it may not be unique enough. A new study argues that more than half of Americans could be identified by name if all you had to start with was a sample of their DNA and a few basic facts, such as where they live and about how old they might be. It wouldn't be simple, and it wouldn't be cheap. But the fact that it has become doable will force all of us to rethink the meaning of privacy in the DNA age, experts said. Los Angeles Times
Smoke's up: The cannabis harvest is underway in Northern California as the pot economy transitions. Santa Rosa Press Democrat
Gas tax stakes: More than 400 transit infrastructure projects would be jeopardized if California's gas tax hike gets killed in November, with plans shelved, construction frozen in place and millions of taxpayer dollars vaporized, according to officials with state and local transportation agencies. San Francisco Chronicle
By the border: Immigration authorities are extending their reach deep into the interior, putting the civil liberties of millions of people in jeopardy. Texas Observer
Hollywood talk: Actor Michael Peña has come to play. GQ
Please let us know what we can do to make this newsletter more useful to you. Send comments, complaints and ideas to Benjamin Oreskes and Shelby Grad. Also follow them on Twitter @boreskes and @shelbygrad.
The stories shaping California
Get up to speed with our Essential California newsletter, sent six days a week.
You may occasionally receive promotional content from the Los Angeles Times.