Editorial: Seriously, Beverly Hills? Cut your Purple Line hysteria, already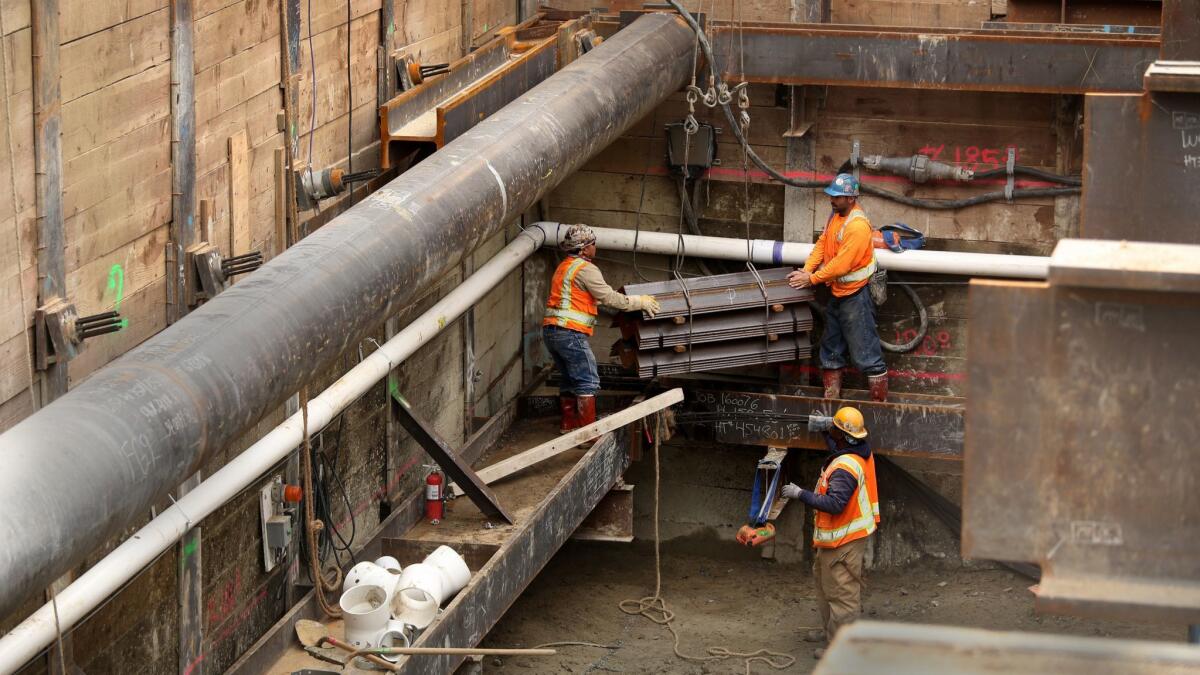 Beverly Hills High School students are being encouraged to "walk out" of their classrooms on Friday, board buses and travel to a local park to protest the extension of the Purple Line subway, a $9-billion project that will require tunneling underneath their campus beginning next year.
But here's a tip to students: When the school district is helping you plan your "walkout," requiring permissions slips and providing buses to get you from here to there, it's not really a walkout. It's more like a field trip.
This made-for-TV rally is the latest attempt in a years-long campaign by Beverly Hills Unified School District leaders to thwart the Purple Line subway, or at least route it away from their campus. Their argument is that the tunneling is too dangerous — but study after study has shown that is not the case. The opponents lost a fight over the subway's path years ago. Then they lost a lawsuit in Superior Court aimed at blocking the project entirely. They are currently expected to lose a new federal lawsuit to reroute the project. But they refuse to give up.
Now they're trying a last-ditch effort to persuade President Trump and his secretary of transportation, Elaine Chao, to block construction. The student "walkout" will converge at Will Rogers Memorial Park, across the street from the Beverly Hills Hotel. How was the location chosen? Apparently Trump owns a home nearby.
There's nothing unusual about running subways lines under schools.
Time is running out and Beverly Hills school officials are getting desperate. Metro is already tunneling for the first section of the rail line from the current terminus in Koreatown to Miracle Mile; it's slated to open in 2023. Work began earlier this year on the second section, which crosses beneath Beverly Hills en route to Century City; tunneling is slated to begin next year and the line should open in 2025.
Perhaps the "walkout" was the brainchild of students, as administrators say, but it's hardly a student-led event. The school required permission slips signed by parents. Students at the rally will be organized by grade and supervised by teachers, district staff and parents. And the district's website has thoughtfully offered suggested messages for student signs, including "Save Our School" and "Mr. President, We Need Your Help."
Beverly Hills school officials have long contended that tunneling under the high school poses a danger to students and teachers. The campus — like much of Los Angeles — has abandoned oil wells beneath it, as well as pockets of methane gas. Information on the school district's website warns that "any disturbance of these oil wells can increase deadly methane gas and hydrogen sulfides beneath the school."
There's no mention of the voluminous studies concluding that Metro can safely tunnel under the school. Metro engineers say they have ample experience tunneling through underground gas fields, which are common in Los Angeles, and modern tunneling machines allow them to bore through the soil without disturbing the surrounding geology or causing disruption above ground.
Nor do Beverly Hills folks mention why Metro chose the subway route beneath the school: The alternative route would have crossed active fault lines that would truly have been risky. Plus, the route that goes under the school is closer to Century City high-rises and would serve the most riders.
Enter the Fray: First takes on the news of the minute from L.A. Times Opinion »
By the way, there's nothing unusual about running subways lines under schools. It's done in Washington, D.C., Portland, San Francisco and here in Los Angeles. The subway runs beneath the Young Oak Kim Academy middle school in Koreatown and Camino Nuevo Charter Academy in Westlake.
So far, thankfully, the Trump administration has not been swayed by Beverly Hills' fearmongering. In fact, last month the Federal Transit Administration committed to reimburse Metro if the agency spends its own $492 million to expedite construction of the Purple Line's Section 3, between Century City and West Los Angeles. That FTA commitment was vital to keep the project on track for completion before the 2028 Olympics. The Purple Line is among the few major transit projects that have been given the green light by the Trump administration.
Will the Beverly Hills student protests really sway Trump anyway? Surely a savvy New Yorker would scoff at such theater. Schools, hospitals and apartment towers have existed for decades over New York City's subway tunnels without catastrophe. Even the Trump International Hotel on Manhattan's West Side sits safely atop two subway lines.
So, Beverly Hills, cut the hysteria. This "walkout" is a charade. It's teaching students that evidence doesn't matter and that fear is more potent than facts. There's nothing educational about that.
Follow the Opinion section on Twitter @latimesopinion and Facebook.
A cure for the common opinion
Get thought-provoking perspectives with our weekly newsletter.
You may occasionally receive promotional content from the Los Angeles Times.