Newsletter: Essential California: The boom that begot tragedy in Paradise
Good morning, and welcome to the Essential California newsletter. It's Tuesday, Nov. 13, and here's what's happening across California:
TOP STORIES
When Greg Bolin arrived in Paradise in 1967, the Sierra Nevada foothill town was too small to require traffic lights. It felt unplanned and slightly spontaneous. Rustic wood-sided cabins sprouted up along winding, often narrow roads and cul-de-sacs. It was the kind of place you could live in for decades and still not know all its secrets. "It just kind of evolved over the years," said Bolin, the town's vice mayor and also a builder.
"Was it something I would design? No, not at all. It was something we had to live with."
Bolin was part of the mass migration four decades ago that ultimately doomed the Sierra ridge town. Everyone wanted to live in Paradise. When a massive wildfire swept through its streets on Thursday, residents found themselves trapped by bumper-to-bumper traffic as they tried to flee.
To date 42 people on the ridge are confirmed dead, and more than half the dwellings of Paradise are gone. Still burning and uncontrolled, whipped by winds, the fire that began five days ago on Camp Road is already the worst wildfire disaster in California history. The irony is that Paradise was one of the few Sierra slope towns built in a tinderbox that tried to change its fate. Los Angeles Times
Vicious cycle: This month's firestorms come as California continues to see much less rain than it used to get. That makes an already dangerous situation much worse. Los Angeles Times
Some questions: As the toll mounts from Malibu to Thousand Oaks, how did the Woolsey fire become a monster? Los Angeles Times
Get ready: After a fire, insurers are "very smart about paying less." Here's how to handle them. Los Angeles Times
Gearing up for more fires: Strong Santa Ana winds take an unusual path as they slam San Diego County. Los Angeles Times
Some context: A visual guide to why California fires seem as if they're getting worse every year. Los Angeles Times
About those concerns: State officials say there's probably no added health risk from the Woolsey fire that burned part of the Santa Susana Field Laboratory nuclear cleanup site. Los Angeles Times
In pictures: Here's what one street in Malibu looks like after a wildfire ripped through. Desert Sun
A dog's tale: The story of how Luna the husky was reunited with her human is amazing. Los Angeles Times
A superhero in the comic book world
When he got his start in the 1940s, Stan Lee was embarrassed by his profession. "I would meet someone at a party, and they would ask what I did and I would say, 'I'm a writer,' then start to walk away," said the man who helped create Spider-Man and other famed superheroes. Pressed for more details, he would say he wrote for magazines. And if the questions kept coming? "Finally I would say, 'comic books,'" Lee said. "And they would walk away from me." A half-century later, the writer who in the 1960s spearheaded Marvel Comics' transformation into a powerhouse brand was considered a superhero in his own right. The comic book legend died Monday at age 95. Los Angeles Times
Plus: An illustrated tribute to the man and his career. Los Angeles Times
Video: A look at what fans and fellow comic book writers had to say about Lee. Los Angeles Times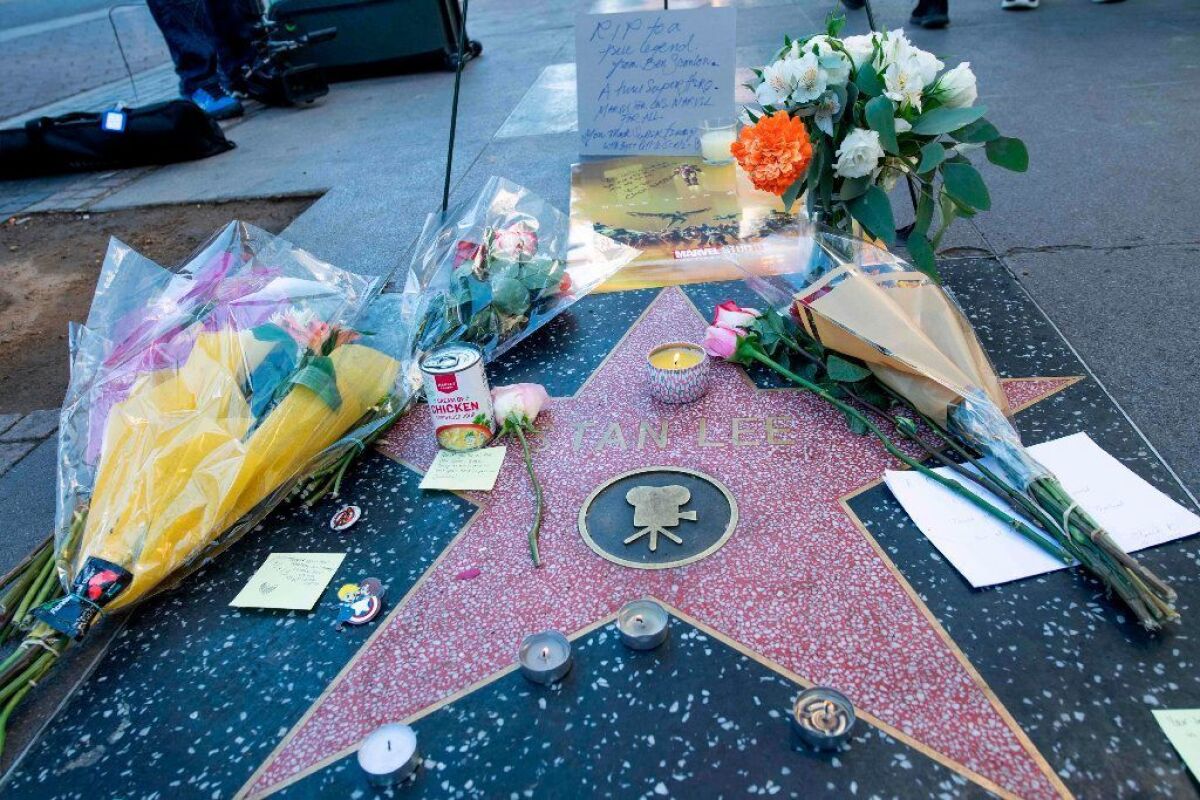 Get the Essential California newsletter »
L.A STORIES
$$$: The cost of constructing the Southern California section of the state bullet train could jump by as much as $11 billion over estimates released earlier this year, though rail authority officials caution that their new numbers assume a more expansive design than is likely to be built. Los Angeles Times
Giving comfort: Therapy dogs have come to Thousand Oaks to console mourners. Los Angeles Times
Politics in tragedy: Doctors express outrage after the NRA tells them "to stay in their lane." Washington Post
IMMIGRATION AND THE BORDER
In D.C.: President Trump has told advisors he has decided to remove Homeland Security Secretary Kirstjen Nielsen, and her departure from the administration is likely to occur in the coming weeks, if not sooner, according to five current and former White House officials. Washington Post
On ICE: "The war inside 7-Eleven." Bloomberg
POLITICS AND GOVERNMENT
Come January: Rep. Maxine Waters will take aim at Wells Fargo and Deutsche Bank as the new head of the House Financial Services Committee. Los Angeles Times
The count continues: Orange County has released more numbers for two House races. Two-term Republican Rep. Mimi Walters saw her election night lead of more than 6,000 votes dwindle to barely 1,000, leaving her just ahead of Democrat Katie Porter. And Republican Young Kim's lead over Democrat Gil Cisneros shrank to fewer than 2,000 votes. Los Angeles Times
"Living wage": Anaheim voters appear to have approved a ballot initiative that requires some hospitality businesses to pay workers at least $15 an hour, with 51.5% of ballots counted as of Monday cast in favor of the measure. Los Angeles Times
Another second act: "Former Los Angeles Mayor Antonio Villaraigosa, who made an unsuccessful run for California governor earlier this year, is joining a Washington consulting firm." Politico
CRIME AND COURTS
Tragic story: A Fresno police officer shot and killed a retired city police captain who was armed with a knife and suffering from mental health issues Monday morning, authorities said. Los Angeles Times
History lesson: In 1978, Rep. Jackie Speier went to Guyana on a fact-finding mission. By the time she returned, more than 900 people had died. She was almost one of them. Politico Magazine
CALIFORNIA CULTURE
Sad: As FilmStruck heads toward its demise at the end of this month, movie buffs have been wringing their hands over the future of cinema's past. They worry that Hollywood's rapid embrace of streaming services and new, buzz-worthy content will make it harder for new audiences to discover the classics that shaped an industry. Streaming companies such as Netflix, Amazon and Hulu are spending billions of dollars to compete with Hollywood and create the kinds of next-big-thing TV dramas that draw subscribers, and aren't so interested in hosting vast catalogs of oldies. Los Angeles Times
Ghost of the past: UC Berkeley's law school is confronting the racist legacy behind its famed Boalt Hall. Los Angeles Times
Roster moves: Hyun-Jin Ryu has accepted the Dodgers' qualifying offer; Yasmani Grandal did not and will test the free agent waters. Los Angeles Times
Kudos: The Angels' Shohei Ohtani was named the American League rookie of the year by the Baseball Writers Assn. of America. Los Angeles Times
Feels like we've heard this one before: Palantir Technologies has a $20-billion valuation and a bigger problem: It keeps losing money. Wall Street Journal
CALIFORNIA ALMANAC
Los Angeles area: Partly cloudy, 74, Tuesday. Sunny, 77, Wednesday. San Diego: Partly cloudy, 74, Tuesday. Partly cloudy, 76, Wednesday. San Francisco area: Partly cloudy, 67, Tuesday. Sunny, 65, Wednesday. San Jose: Partly cloudy, 71, Tuesday. Sunny, 71, Wednesday. Sacramento: Partly cloudy, 66, Tuesday. Sunny, 69, Wednesday. More weather is here.
AND FINALLY
Today's California memory comes from Joseph Hammond:
"Adelanto, 1918: The schools closed for the Armistice; on this, my grandfather and his sister agreed. En route to Victorville for the festivities, Star the family horse decided to have a quick celebration of his own — a roll in Mojave River mud. This paused the family outing. Waiting by the river, my grandfather, age 7, killed 'the Kaiser' that day with a .22 rifle — or so my great-aunt remembered. In the next war, my grandfather became a Japanese-language interpreter and later a professor of Greek mythology in Pasadena. Looking back, it is hard to imagine him shooting anything — even a mud hen in 1918."
If you have a memory or story about the Golden State, share it with us. Send us an email to let us know what you love or fondly remember about our state. (Please keep your story to 100 words.)
Please let us know what we can do to make this newsletter more useful to you. Send comments, complaints and ideas to Benjamin Oreskes and Shelby Grad. Also follow them on Twitter @boreskes and @shelbygrad.
---