Newsletter: Essential California: Preparing the LAUSD picket line
Good morning, and welcome to the Essential California newsletter. It's Wednesday, Jan. 9, and here's what's happening across California:
TOP STORIES
With more than 30,000 teachers union members ready to strike at the Los Angeles Unified School District as early as Thursday, families are beginning to consider all the ways it will affect their daily lives. For some, school is about much more than formal education. It provides reliable daycare, medical attention, tutoring and free extracurricular activities. Teachers are guidance counselors, mentors and confidants for students going through crisis or learning to break out of their shells. Los Angeles Times
The reasons to strike: Teachers who deal with the reality of students' medical and mental-health needs, sometimes in classes so large that not everyone has a desk, talk about why they and their children desperately need change. Here are the reasons they think a strike is necessary. Los Angeles Times
The reasons not to strike: "An L.A. teachers' strike — the first in 30 years — would hurt students and families while solving nothing," writes Superintendent Austin Beutner. Los Angeles Times
Steve Lopez's take: "L.A. schools aren't failing us. We're failing them." Los Angeles Times
Wildfires' aftermath
California's largest power company faces an existential crisis as it confronts the looming possibility of tens of billions of dollars in wildfire liability. PG&E Corp. — which owns Pacific Gas & Electric Co. — reportedly could face at least $30 billion in liability related to fires and has considered filing for bankruptcy protection or unloading its natural gas operations. The consequences of bankruptcy or an asset sale could ripple far beyond the utility's shareholders, some experts say, affecting 16 million Californians who depend on PG&E for energy and potentially threatening the state's ability to meet its climate-change goals. Los Angeles Times
On the state level: After the deadliest year of wildfires in California history, Gov. Gavin Newsom announced plans designed to improve the state's response, along with new proposals on how to spend $1 billion in fire prevention funds earmarked by lawmakers last summer. Los Angeles Times
On second thought …
Park officials early Tuesday said Joshua Tree National Park would close to visitors for the duration of the shutdown, but walked that back later in the day to say the park would reopen by week's end. "The park has staff coming in Wednesday to start cleanup," National Park Service spokesman Mike Litterst said Tuesday afternoon. "This is their top priority to get restrooms cleaned and trash picked up. We will have everything finished and access restored to the park ... by the end of the week." Los Angeles Times
Plus: As the partial federal government shutdown continues, the National Park Service says it will use funds earmarked for future projects to clean up messes like those recently reported at Yosemite and Joshua Tree national parks. Los Angeles Times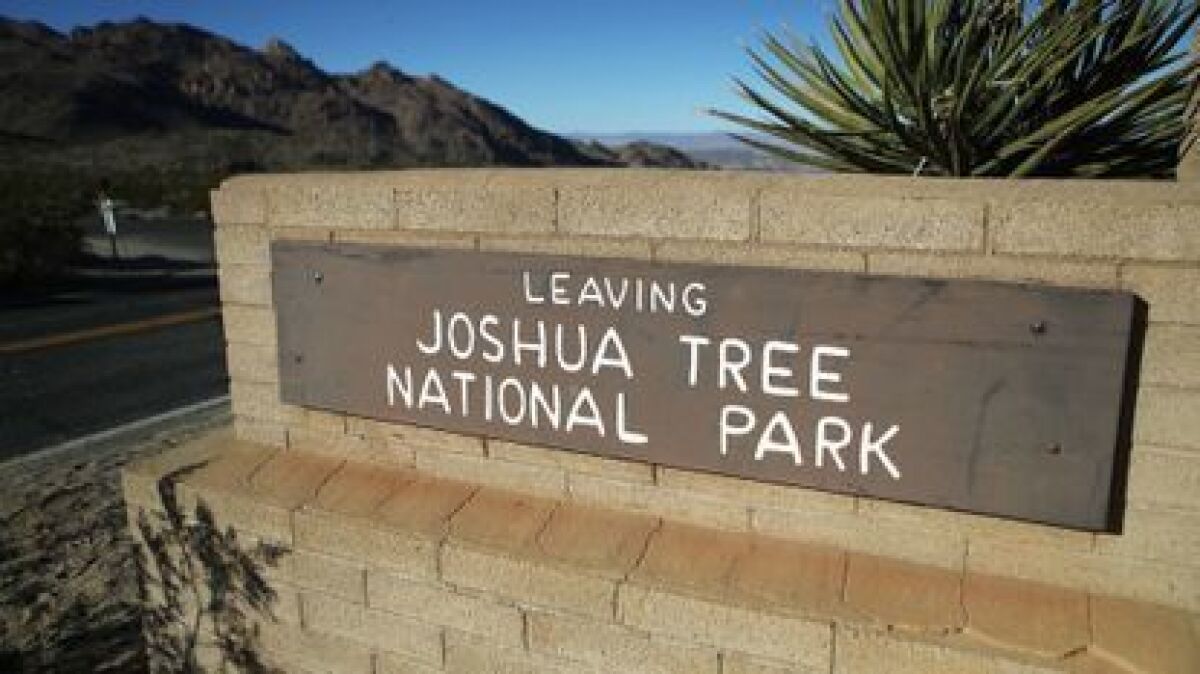 Get the Essential California newsletter »
L.A. STORIES
The "underbelly" of WeHo: The apartment of prominent West Hollywood LGBTQ political activist Ed Buck has been the scene of two apparent overdose deaths in the last two years. In both cases, African American men were found dead inside Buck's home. The cases are raising questions of race, class and justice. Los Angeles Times
Looming deadline: Residents whose homes were damaged by the Woolsey or Hill fires have until Friday to apply for assistance from the Federal Emergency Management Agency, officials said. Los Angeles Times
Important story: A bereaved grandmother answers one of L.A.'s deadliest questions: "Where you from?" Los Angeles Times
Big real estate move: Google will rent nearly all of the former Westside Pavilion shopping mall, as the tech giant further expands its presence in Los Angeles. Los Angeles Times
IMMIGRATION AND THE BORDER
Speechifying: President Trump gave his first prime-time Oval Office speech, focusing on what he declared to be a crisis on the country's southern border. The House and Senate Democratic leaders gave their responses. What did it all add up to? Here are five takeaways. Los Angeles Times
On the ground: How fentanyl is flowing from Sinaloa to the United States. Vice News
Beautiful pics: "Graciela Iturbide's photos of Mexico make 'visible what, to many, is invisible.' " New York Times
POLITICS AND GOVERNMENT
Feeling the pinch: Caught in the shutdown, U.S. workers in California and elsewhere brace for missing paychecks. Los Angeles Times
Plus: The shutdown is causing major problems at Palm Springs' airport. CNN
2020 watch: "As she nears a decision on whether to seek the presidency, Sen. Kamala Harris is taking on what could be a hurdle in a Democratic primary: her past as a prosecutor." Associated Press
Plus: "Harris is moving closer to an anticipated presidential announcement, has shuttered her state campaign committee and is donating its roughly $1 million balance to a host of organizations." Politico
CRIME AND COURTS
Pushback to women's jail: The Mira Loma Women's Detention Center project, which has been in development for years, is facing serious opposition from key stakeholders who are demanding more therapeutic alternatives for women in Los Angeles County's criminal justice system. Los Angeles Times
More transparency, but … : Just as a landmark police transparency law is going into effect, some California police agencies are shredding internal affairs documents, and law enforcement unions are rushing to block the information from being released. Los Angeles Times
Worrying: Police on Monday announced the arrest of a Napa middle school student in connection with what they said was a plan to carry out a mass shooting at two schools in the district. Los Angeles Times
THE ENVIRONMENT
Shred! A storm blanketed Mammoth and dumped on Big Bear, and more snow is expected. Los Angeles Times
Gulp: U.S. greenhouse gas emissions spiked in 2018, and it couldn't have happened at a worse time. Washington Post
CALIFORNIA CULTURE
Redstone redux: Closing a chapter on a long-running saga that laid bare the inner workings of Sumner Redstone's corporate empire, the ailing 95-year-old media mogul and his family have reached a settlement to end their lengthy legal dispute with his former live-in companion Manuela Herzer. Los Angeles Times
Whiplash: Kliff Kingsbury is off to coach the Arizona Cardinals, leaving USC to try to get back on track after being with the school's program for just one month. Los Angeles Times
Where he's lived: Eight homes of a 13-year-old former foster kid. California Sunday Magazine
Cool shots: Nine views of the L.A River before and after it was paved in 1938. Curbed LA
Eat up: The "38 essential San Francisco restaurants." Eater San Francisco
CALIFORNIA ALMANAC
Los Angeles area: partly cloudy, 66, Wednesday; sunny, 64, Thursday. San Diego: sunny, 64, Wednesday and Thursday. San Francisco area: showers, 59, Wednesday; foggy, 57, Thursday. San Jose: showers, 61, Wednesday; partly cloudy, 62, Thursday. Sacramento: showers, 59, Wednesday; partly cloudy, 57, Thursday. More weather is here.
AND FINALLY
Today's California memory comes from Steve Arthur:
"In the 1970s and '80s, I worked at a Boy Scout camp in far Northern California. It was a tradition of the adult staff to visit nearby Lassen Volcanic National Park and hike to the peak each year. Opening day of the L.A Olympics was our 1984 visit. As was our tradition, we packed wine, bread and cheese to the summit to share with other hikers. That year provided the best weather of all my years doing the hike, which allowed for amazing views of California mountains while toasting the Olympics with hikers we just met from three countries."
If you have a memory or story about the Golden State, share it with us. Send us an email to let us know what you love or fondly remember about our state. (Please keep your story to 100 words.)
Please let us know what we can do to make this newsletter more useful to you. Send comments, complaints and ideas to Benjamin Oreskes and Shelby Grad. Also follow them on Twitter @boreskes and @shelbygrad.
---