Newsletter: Essential California: L.A. teachers enjoy support for strike, as pressure on both sides grows
Good morning, and welcome to the Essential California newsletter. It's Wednesday, Jan. 16, and here's what's happening across California:
TOP STORIES
The last time Los Angeles teachers went on strike, back in 1989, Alejandra Delgadillo was a fifth-grader at Trinity Street Elementary School. She graduated from the school in Historic South-Central long ago and so did her sons, the youngest just last year. Still, this week, Delgadillo was among the first to join the picket line, bringing with her a truck full of paper cups, juices, doughnuts, pretzels and a canopy to guard teachers from the rain. For half a dozen moms like Delgadillo at Trinity Street Elementary who make up a mighty band of voices, this strike is not just a fight for teachers, but also a fight to save their ever shrinking school. Los Angeles Times
— With the LAUSD teachers' strike in its third day, the question now is what will it take to end the walkout? Los Angeles Times
— Presidential politics are getting wrapped up in the teachers' strike, as potential Democratic candidates weigh in with their support. Los Angeles Times
— Los Angeles schools Supt. Austin Beutner said the first day of the teachers' strike hit hard. Only a third of the district's students showed up, which he said would cost the district $25 million in state funding based on attendance. Subtract unpaid wages for the strikers of $10 million, he said, and that amounts to an estimated one-day, net loss of $15 million. Los Angeles Times
— Los Angeles County supervisors inserted themselves into the LAUSD teachers' strike on Tuesday, approving a vague, nonbinding plan to provide $10 million for healthcare at schools and to create programs for the thousands of students who are missing class during the impasse. Los Angeles Times
— Teachers at three charter schools are on strike too. That's a first. Los Angeles Times
— What's really at stake in the Los Angeles teachers' strike. New York Times
Impact!
The Los Angeles City Council voted Tuesday to change a retirement program that allowed hundreds of veteran police and firefighters to take extended leaves from work at essentially twice their usual pay. The Deferred Retirement Option Plan pays city cops and firefighters their salaries and early pension payments for the last five years of their careers. Under the new measure, the pension checks will be withheld from new DROP participants who miss significant time due to injury or illness in any given month. Those employees will still receive their full salary for the time off. The change of policy comes in response to a Los Angeles Times investigative series. Los Angeles Times
Bad news for climate progress
Climate change helped fuel the deadly fires that prompted California's largest power company to announce Monday that it would file for bankruptcy in the face of $30 billion in potential liabilities. In a grim twist, the bankruptcy of PG&E Corp. could now slow California's efforts to fight climate change. The Golden State has dramatically reduced planet-warming emissions from the electricity sector, largely by requiring utilities to increase their use of solar and wind power and fund energy-efficiency upgrades for homes and businesses. But those government mandates have depended on Pacific Gas & Electric and other utilities being able to invest tens of billions of dollars in clean energy technologies. Los Angeles Times
Get the Essential California newsletter »
L.A. STORIES
Wet out there! Authorities in several Southern California communities issued evacuation orders Tuesday as a new round of rain soaked the region, causing minor roadway flooding and downed trees. Los Angeles Times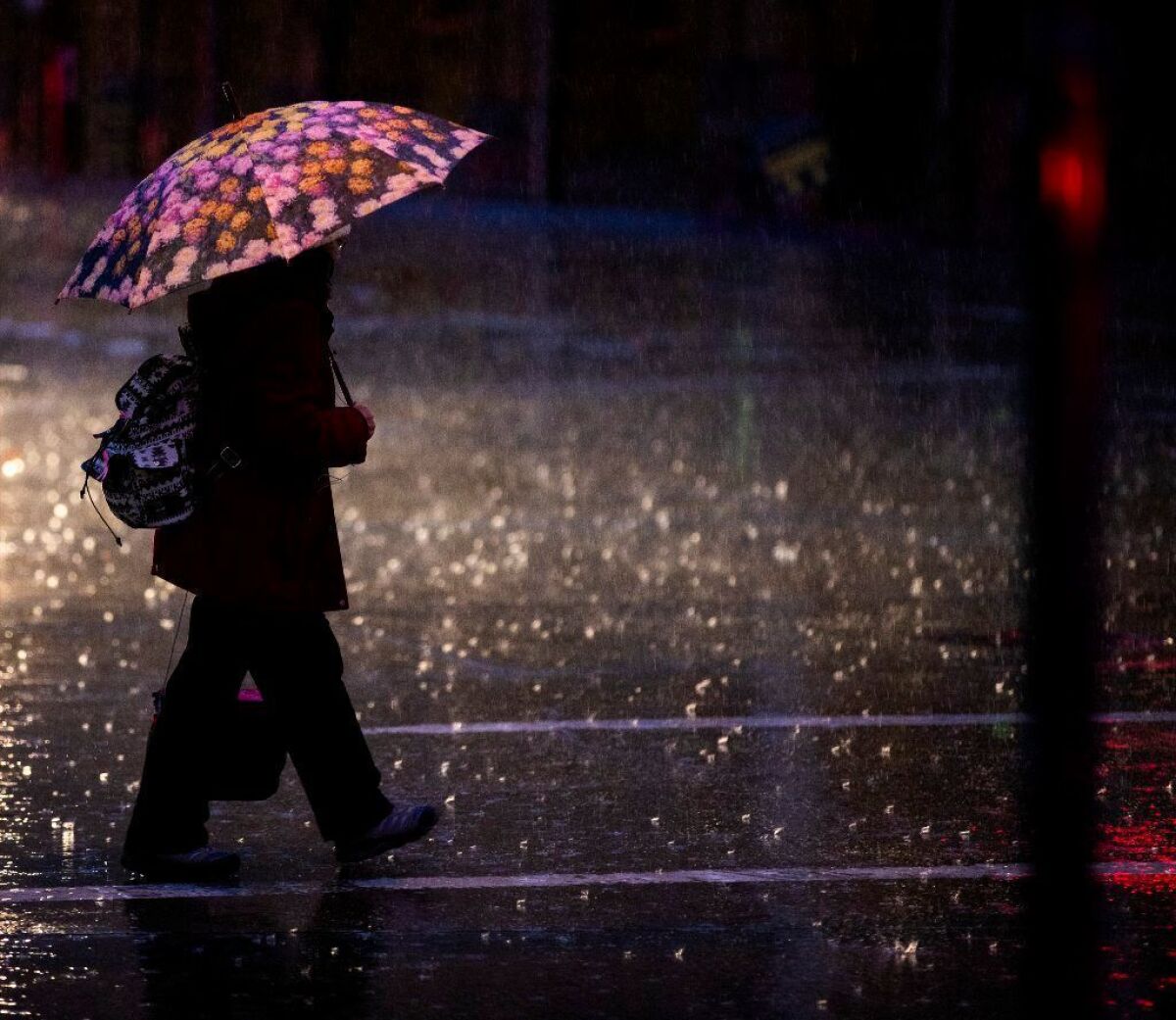 Tuning in: While the Oscars remain without a host, the Grammy Awards are doubling down on their female presence this year by naming powerhouse singer-songwriter Alicia Keys as the ceremony's host. Los Angeles Times
Frightening: L.A.'s next big earthquake could displace 270,000 people. Curbed LA
Yum: Where to eat soul food in L.A. LAist
IMMIGRATION AND THE BORDER
Mission extended: The Pentagon has agreed to keep several thousand U.S. troops deployed on the U.S.-Mexico border until Sept. 30, again expanding a mission that began last fall and already was extended once. Los Angeles Times
2020 watch: "Beto O'Rourke's immigration plan: No wall but no specifics." Washington Post
On the ground: What is life really like in border country, where President Trump wants his wall? The Guardian
POLITICS AND GOVERNMENT
The new GOP House leader: Rep. Kevin McCarthy had his first test as leader of House Republicans this week: how to respond to racist comments made by Iowa Rep. Steve King. Los Angeles Times
Not so happy returns: Even if the shutdown ends today, the IRS may not issue you a timely tax refund. Los Angeles Times
City Hall update: Former Councilman Greig Smith has been chosen to temporarily fill a council seat that was vacated by Mitchell Englander, a spot he could hold for up to eight months. Los Angeles Times
Housing help: "Flanked by Gov. Gavin Newsom and surrounded by Bay Area residents struggling with the region's cost of living, San Jose Mayor Sam Liccardo on Tuesday pledged $10 million to help fund the governor's ambitious housing development goals, and hinted more money will follow from Silicon Valley tech companies." Mercury News
But...: Yes, Newsom wants the tech industry to help pay for new housing. But it wouldn't help the neediest Californians. Los Angeles Times
CRIME AND COURTS
New milestone: A Jan. 9 standoff in Koreatown, which lasted nine hours before the suspect was safely arrested, marked the first time the Los Angeles Police Department has used a drone. Hundreds of law enforcement agencies across the country that have acquired drones, but privacy activists are worried they could be used for spying. Los Angeles Times
In court: A Los Angeles police detective went public with allegations that another officer distributed sexually explicit photos of her throughout the LAPD and physically abused her several times, marking the latest in a series of sex scandals to rock the department in recent years. Los Angeles Times
Trump vs. California: State Atty. Gen. Xavier Becerra "has cemented his role as the health care defender-in-chief." Kaiser Health News
Mueller update: "The Special Counsel's Office and federal prosecutors in Manhattan are scrutinizing a meeting involving former House Intelligence Committee Chairman Devin Nunes, one-time National Security Adviser Michael Flynn, and dozens of foreign officials." Daily Beast
CALIFORNIA CULTURE
Slimming down: In announcing layoffs last week, SpaceX pointed to its bid for riskier markets — providing broadband internet via thousands of small satellites and building a spaceship for Mars transportation. Los Angeles Times
Not so chill: Netflix is kicking off 2019 with higher subscription prices for its U.S. customers, with the most popular plan rising to $12.99 a month from $10.99. Los Angeles Times
Plus: "The chief of Paramount Animation reassured her team Monday that they will not be working with Skydance Animation, which announced last week that it is hiring John Lasseter." The Hollywood Reporter
A meal with a champ: Breakfast with Manny Pacquiao on a rainy day in L.A. Associated Press
Great photos: Arthur Elrod and the vibrant, modern interiors of Palm Springs. Curbed Los Angeles
CALIFORNIA ALMANAC
Los Angeles area: showers, 61, Wednesday; thunderstorms, 62, Thursday. San Diego: partly cloudy, 65, Wednesday; showers, 62, Thursday. San Francisco area: showers, 59, Wednesday; showers, 56, Thursday. San Jose: showers, 60, Wednesday; showers, 58, Thursday. Sacramento: showers, 56, Wednesday and Thursday. More weather is here.
AND FINALLY
Today's California memory comes from Steve Roll:
"For whatever reason, all my Golden State memories are transportation-related. As a small child, I remember riding in the yellow cars of the Los Angeles Railway. As a primary schooler, I remember flying on the San Francisco and Oakland Helicopter Airlines; it had a observation port in the floor. During my rebellious and regrettable teenage years, I remember riding in the California Youth Authority transportation buses; 'Green Hornet,' we wards called them. As a young adult, I rode crab boats, long liners, herring and tuna boats in and out of every port from San Diego to Crescent City and beyond. I live in northwest Washington state now, and I love it here, but my heart will always be in California."
If you have a memory or story about the Golden State, share it with us. Send us an email to let us know what you love or fondly remember about our state. (Please keep your story to 100 words.)
Please let us know what we can do to make this newsletter more useful to you. Send comments, complaints and ideas to Benjamin Oreskes and Shelby Grad. Also follow them on Twitter @boreskes and @shelbygrad.
---