Newsletter: Essential California: Ed Buck liked to generate controversy, but the deaths of two men may give him more than he wants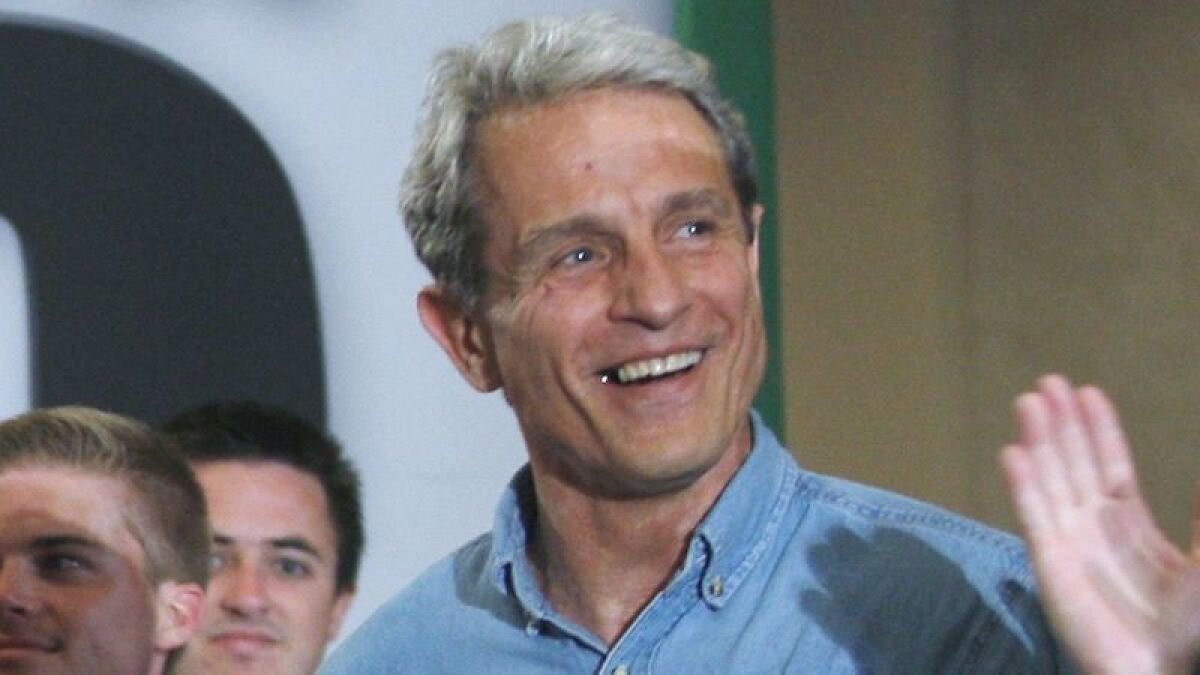 Good morning, and welcome to the Essential California newsletter. It is Saturday, Jan. 19. Here's what you don't want to miss this weekend:
TOP STORIES
The deaths of Timothy Dean, 55, earlier this month and Gemmel Moore, 26, in 2017 in the West Hollywood home of Democratic donor Ed Buck have prompted homicide investigations by the Los Angeles County Sheriff's Department. They also have stoked outrage and suspicion among activists and the men's family and friends, who question whether differences in race, wealth and political connections have influenced the investigations. Both of the dead men were black. Buck is white. His attorney, Seymour Amster, said his client was a man with a "heart of gold" who invited troubled people into his home to help them and is not responsible for the deaths. Los Angeles Times
Major Montecito lawsuit
Southern California Edison — fighting dozens of legal claims related to the Montecito mudslides that followed the Thomas fire — is putting the blame on Santa Barbara County and Caltrans for failing to prepare for deadly debris flows they knew were inevitable. More than 75 lawsuits have been filed against Edison for allegedly igniting the fire, which denuded the slopes above Montecito, making them vulnerable to catastrophic erosion during a heavy storm. On Jan 8. 2018, as downpours soaked the mountainsides, boulder-filled debris tore through the wealthy town, killing 23 people and destroying 130 homes. On Friday, the public utility sued the county and state agencies, alleging they ignored decades of warnings. Los Angeles Times
A sunny Day 5 of the strike
If striking Los Angeles teachers needed an omen as they rallied by the thousands in Grand Park downtown Friday, Mother Nature obliged. After four days of picketing — all of it in rain, chill and gloom — sunshine burst forth on teams of negotiators as they entered City Hall. "Do you feel your power?" union President Alex Caputo-Pearl asked the masses, who stretched from the steps of City Hall through Grand Park all the way to the Music Center. They provided a thundering response. Los Angeles Times
Plus: Navigating the LAUSD strike is especially tough for parents of students with special needs. Los Angeles Times
AROUND CALIFORNIA
Taking on Trump: In a public display of defiance, Gov. Gavin Newsom encouraged Transportation Security Administration employees to apply for unemployment insurance through the state after the Trump administration warned California that the workers are ineligible for the benefits during the federal shutdown. Los Angeles Times
Scoop: Three current and former employees filed a lawsuit this week against the California Democratic Party and its former chairman, Eric Bauman, alleging discrimination and a culture of harassment and sexual misconduct that was "well-known and apparently tolerated" by top officials. Los Angeles Times
Plaschke's prediction: Here are five reasons why the Rams will beat Saints and reach the Super Bowl. Los Angeles Times
Scaling down: Tesla will cut 7% of its staff as it tries to make the Model 3 cheaper and needs cash. Los Angeles Times
In court: A landmark attempt to open up records of police use of force and misconduct in California has turned into a broad legal battle as law enforcement unions across the state have gone to court to stop the release of some of the documents. Los Angeles Times
Scandal mushrooms: An appointee of Los Angeles Mayor Eric Garcetti who was named in a federal search warrant filed in the FBI's ongoing City Hall corruption probe resigned from his post Friday. Los Angeles Times
Nabbed: A leader in a Mexican drug cartel has pleaded guilty to transporting cocaine and other narcotics to the U.S. and laundering drug proceeds, the U.S. attorney's office said. Los Angeles Times
Bad: Domestic violence reports rose during the World Series. Crosstown LA
Weighing in: The Baseball Hall of Fame is a museum. It shouldn't make you angry. Los Angeles Times
Ugh: "Even college graduates can't afford a home on the West Coast." Bloomberg
It's over: Embattled R&B singer R. Kelly and his longtime label RCA have parted ways after a decades-long relationship. Los Angeles Times
In the Bay Area: "Minutes after a judge granted a gag order that bans attorneys and defendants of the Ghost Ship case from speaking publicly, outspoken attorney Tony Serra emerged from the courtroom with his hand over his mouth." East Bay Times
Get the Essential California newsletter »
THIS WEEK'S MOST POPULAR STORIES IN ESSENTIAL CALIFORNIA
1. A UC Davis student group is criticized for calling a photo of Officer Natalie Corona "anti-Black." Sacramento Bee
2. "A 'rape fantasy' plot sent her to jail. Now she's fighting back." BuzzFeed
3. Is Tehran spying on Southern California? Feds say an Orange County waiter and a man nicknamed "Chubby" from Long Beach were agents of Iran. Los Angeles Times
4. Berkeley tells a barbecue restaurant to stop barbecuing. Eater SF
5. Landlord rents $1,500 studio to two cats, hits "peak Silicon Valley." Mercury News
ICYMI, HERE ARE THIS WEEK'S GREAT READS
Our social media age! With his pouty lips, high cheekbones and windswept hair, Jonathan Cheban, 44, looks like a daytime soap opera regular. He rose to C-list notoriety as Kim Kardashian's BFF on "Keeping Up With the Kardashians" and its many reality television spinoffs. Not content to be a barnacle on the whale that is Kardashian fame, three years ago he rebranded himself as Foodgod, a manufactured celebrity for the Instagram age. Los Angeles Times
The big picture: Some home shoppers are calling it quits, convinced that prices have peaked. Los Angeles Times
Getting back on the road: Roger Daltrey on swagger and sensitivity, the new Who tour, plus the Beatles question. Los Angeles Times
On our border: Finding a way through the border fence was easy. Winning the right to remain won't be. Washington Post
Yum: 15 ramen recipes to build a perfect bowl at home. Serious Eats
Twitter fingers: "Jack Dorsey has no clue what he wants." Huffington Post
Perspective: How Google and Facebook corrupted capitalism. Los Angeles Review of Books
Please let us know what we can do to make this newsletter more useful to you. Send comments, complaints and ideas to Benjamin Oreskes and Shelby Grad. Also follow them on Twitter @boreskes and @shelbygrad.
---