Column: Rams will beat Saints and reach the Super Bowl. Here's five reasons why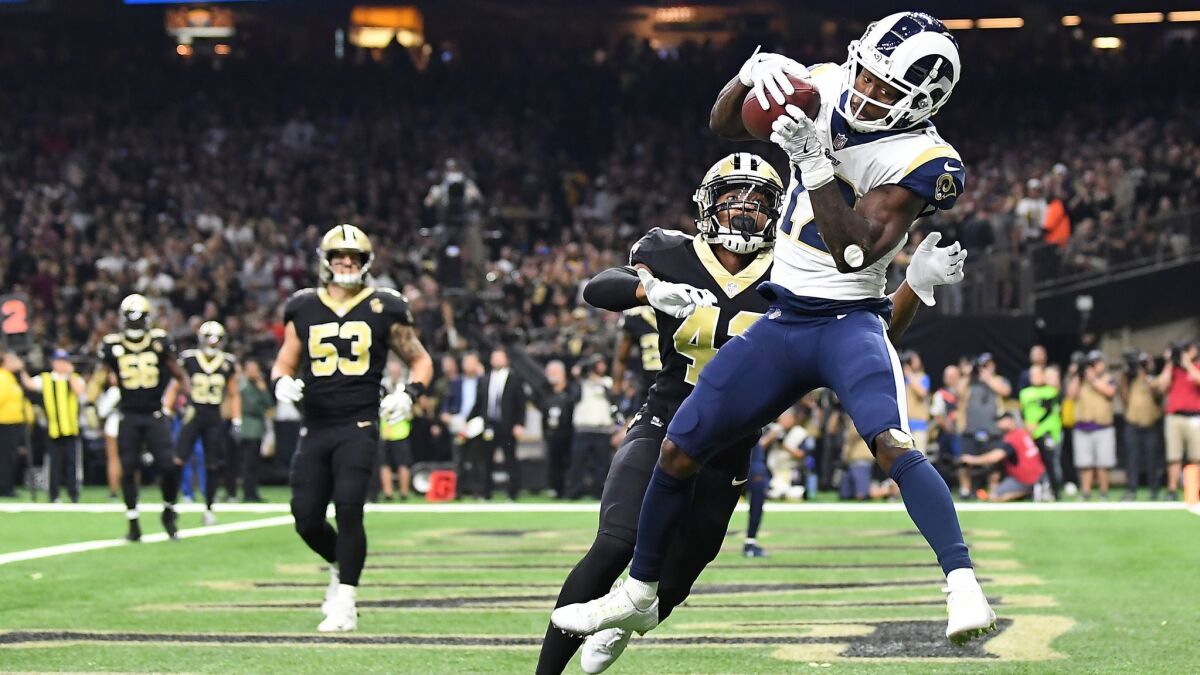 You could see it last Saturday night at the Coliseum, where dozens of blue stars lay flattened on the muddy turf.
The Rams didn't just beat the Dallas Cowboys. They ran them into the ground.
"I think we kind of feel like we were born for this moment,'' tackle Andrew Whitworth said.
You could feel it this week in Thousand Oaks, where giants are moving about with sturdy assurance, speaking with quiet conviction, acting like they know they belong.
The Rams aren't scared of their biggest game in many seasons. They're embracing it.
"We're getting back to getting hot and feeling good about ourselves,'' Whitworth said.
You know how, at a Hollywood party, there's always at least one person in the room that handles themself with such magnetic conviction, you just know their next project is going to be a hit?
That's the Rams right now.
Bill Plaschke predicts a big win for the Rams in the NFC title game against the New Orleans Saints.
The Rams are so ready for Sunday's NFC championship game against the New Orleans Saints, they're walking around smiling as if they know something we don't.
Except we do.
They're a better team than the one that lost to the Saints by 10 points almost three months ago.
They have better players. They have healthier players. They have players who literally have been through the fire and come out the other end.
Sign up for our daily sports newsletter »
"I think this team is a lot more confident than that one,'' Whitworth said. "l feel like right now, we're our best version of ourselves."
This version wins this game. This version puts Los Angeles in the Super Bowl for the first time in 35 years.
It might be considered a jinx to predict a Rams victory, but this jazzed-up version of the Rams is more powerful than voodoo, as the folks in New Orleans will discover when the outsiders go marching in Sunday and knock the Saints more senseless than a frat boy on Bourbon Street.
The Rams will win, and here's five reasons why they're all dat.
(One reason for every New Orleans cliché in the previous two paragraphs)
These Rams have two Todd Gurleys
Back in November, the Saints held the Rams to 92 yards rushing, with Gurley gaining only 68 in 13 carries.
This time you can double that, with C.J. Anderson joining the Rams backfield to form a duo that crushed the Cowboys for 273 yards rushing. Anderson, who was on somebody's bench most of the season, has run for 134 yards a game since joining the Rams three games ago. Now that Gurley is sound and unselfishly sharing, it's hard to imagine even the formidable Saints defense slowing them down.
Said Anderson: "I'm the freshest running back in the league.''
Said Gurley: "It doesn't matter who's making plays, as long as we win, honestly I could care less."
The only thing this duo lacks is a nickname.
"I didn't know you can have a nickname after one week together,'' Gurley said.
Sure you can! "Ram Sandwich!''
Or maybe not.
These Rams have one Aqib Talib
Their veteran cornerback and former Super Bowl champion sat out the first meeting because of an ankle injury, and his fellow cornerback Marcus Peters was owned by the Saints' Michael Thomas.
That won't happen again. Talib probably will cover Thomas, and that changes everything. Just ask Saints coach Sean Payton.
"Well, I think it's significant,'' Payton told reporters this week. "I think there's a leadership element — a guy with a ton of playoff experience … he's an extremely, extremely smart player.''
With Talib off the field, Rams opponents' passer rating is 108.6. When he plays, that rating drops to 69.0. He's playing Sunday. Enough said.
These Rams are like, noise, what noise?
The Saints biggest home-field advantage at the Superdome lies in the overwhelming crowd that creates incredible pressure.
But the Rams have been there, heard that, felt that.
They've already played there twice this season, including the preseason, so they're accustomed to the sound.
''We learned some good things — how to operate there and how to do some things in the noise,'' said quarterback Jared Goff.
And considering what they've been through since that first game — including the tragic fires and shooting in the Thousand Oaks community — they're used to the heat.
"I think those weeks where we were evacuated and had to deal with a lot of the tragedy that was going on … those two or three weeks right there were probably the glue that kind of brought us together, I guess,'' Goff said.
Saints fans can shake the house for four hours, but here's guessing the Rams are not going to rattle.
These Rams have that second half
Do you remember how, back in November, once the Rams calmed they outplayed the Saints in the final 30 minutes and nearly pulled off a memorable comeback?
The Rams haven't forgotten.
They outscored the Saints 18-10. They outgained them 239-174. As usual, Rams coach Sean McVay made smart adjustments and midway through the fourth quarter the score was tied at 35-35.
But the comeback from a 21-point deficit required all of their steam, and after Thomas scored on a 72-yard pass over Peters, the Rams had nothing left.
"Just mimic the second half of that game,'' said receiver Robert Woods when asked about a strategy for Sunday. "We were down 21, trailing, and I think that from that point, I think that's the kind of football we have to play. Attack them, be ourselves.''
They might fall behind again this time. But it won't be as big, and it won't be for long.
These Rams have Los Angeles
When they lost to the Saints on Nov. 4, it was their first blemish in nine games, and yet they immediately became part of this city's sporting gloom.
On the same day, the Lakers lost for the sixth time in 10 games with LeBron James and the Kings fired then-coach John Stevens. A day earlier, the USC and UCLA football teams fell to combined 7-11. A week earlier, the Dodgers had just blown another World Series.
It was as if the Rams had fallen off the map like everyone else … until two weeks later, when they defeated the Kansas City Chiefs on a Monday night while honoring the victims of the recent tragedies.
Since then, they've slowly recaptured the buzz that has filled the airwaves with Rams chatter, filled their press room with Rams media and now even can be seen on the streets with that ultimate show of Los Angeles sports love — the car flag.
The city now is behind them. They saw it and felt it Saturday in a packed Coliseum, and now they're carrying that fire with them into a game they should and will win.
"It doesn't feel like, 'Oh man, we've got to go get lucky or we've got to have something go our way,''' Whitworth said. "I think we feel like, 'Hey, how can we go out this week, play the best game we can possibly play and see where it all stacks up when it's over?'''
He smiled the smile of someone who knows something you don't.
"We'll just go down swinging,'' he said.
I'm calling it right now. A home run.
Get more of Bill Plaschke's work and follow him on Twitter @BillPlaschke
---
Get our high school sports newsletter
Prep Rally is devoted to the SoCal high school sports experience, bringing you scores, stories and a behind-the-scenes look at what makes prep sports so popular.
You may occasionally receive promotional content from the Los Angeles Times.