Newsletter: Essential California: A wiretap brings privilege and helicopter parenting to the fore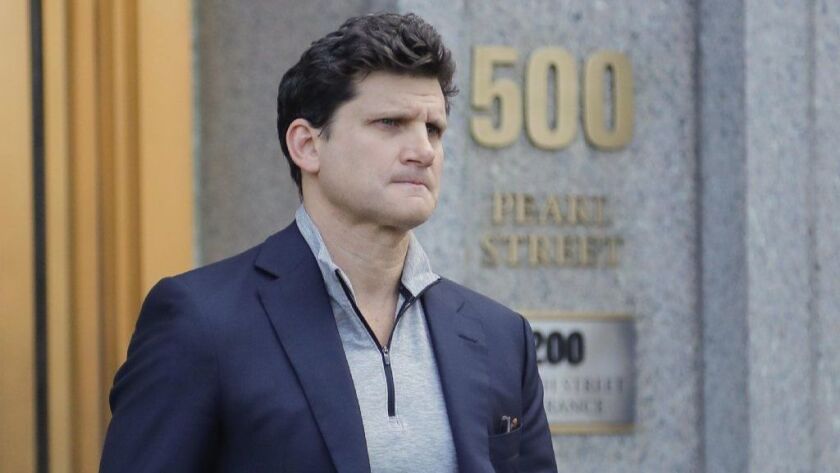 Good morning, and welcome to the Essential California newsletter. It's Friday, March 22, and here's what's happening across California:
TOP STORIES
Wealthy parents have been going to great lengths to help their kids get into elite universities for years. But the college admissions scandal, a well-documented — and viral — moment in the helicopter-parenting era, indicates a willingness to go to greater extremes. In an era of badly behaving bankers, entertainment and sports figures, and government officials who tweet first and think later, the cheating may seem like perversely logical behavior. Experts in parenting say the win-at-all-costs attitude can have a pernicious effect on a child. Los Angeles Times
Wiretaps, emails and checks: Parents face a tough legal fight. Los Angeles Times
And if it doesn't work out: Parents are turning to this convicted felon for advice on life in prison. Washington Post
The kids: As colleges decide the fate of children in the scandal, there's a key question: What did they know? Los Angeles Times
New boss in town
As chancellor of the University of North Carolina at Chapel Hill, Carol L. Folt removed the Confederate statue that had been at the heart of a brewing scandal. For some, it was a brave act. For others, like Jerry Wilson, a black graduate student at the university, it was the right move — but one Folt also made when it was politically safe: on her last day on the job. As Folt becomes USC's new president, it remains to be seen how bold a crusader for change the normally cautious leader will be at a university that desperately needs change. Los Angeles Times
Some pushback from the Marines
The commandant of the Marines has warned the Pentagon that deployments to the southwest border and funding transfers under the president's emergency declaration, among other unexpected demands, have posed "unacceptable risk to Marine Corps combat readiness and solvency." In two internal memos, Marine Corps Gen. Robert Neller said the "unplanned/unbudgeted" deployment along the border that President Trump ordered last fall, and shifts of other funds to support border security, had forced him to cancel or reduce planned military training in at least five countries and delay urgent repairs at bases. Los Angeles Times
Get the Essential California newsletter »
L.A. STORIES
Poppy boom: Overwhelmed by visitors because of this year's epic super bloom of spring flowers, Lake Elsinore on Thursday announced new measures designed to control the crowds. Los Angeles Times
Plus: Where to go to see the flowers. Los Angeles Times
Scary: For the second time this month, Los Angeles County public health officials are warning travelers that a person with measles flew into Los Angeles International Airport. Los Angeles Times
More fallout: UCLA men's soccer coach Jorge Salcedo resigned in the wake of his alleged involvement in accepting $200,000 in bribes to help enroll two players using fake athletic profiles. Los Angeles Times
It begins: Walt Disney Co. began laying off senior-level executives after acquiring 21st Century Fox this week. Los Angeles Times
IMMIGRATION AND THE BORDER
Illuminating: This photo shows why a border wall won't stop the immigration surge. Washington Post
These arrests are up: "Federal immigration agents under President Donald Trump have set a new record for arrests of undocumented immigrants who don't have a criminal record, according to data released Thursday." USA Today
POLITICS AND GOVERNMENT
Scoop: The Trump administration is quietly laying the groundwork to weaken a decades-old federal law that empowers California and other states to slow and even stop offshore oil and gas drilling in federal waters. Los Angeles Times
Who knew we needed a law? More California students may be banned from using cellphones at school under new bill. Los Angeles Times
No thanks: The Economic Roundtable, an L.A. nonprofit, says it can predict with high accuracy whether some adults and youths will become chronically homeless. But L.A. County officials don't want that research. Instead, they have accused the nonprofit of misusing data it received from government agencies. Los Angeles Times
New legislation alert: Female surfers push beyond equal pay — even if it means letting men into the water too. CALmatters
Heading to Texas: Sen. Kamala Harris puts Beto O'Rourke on notice. Politico
CRIME AND COURTS
Interesting battle: Gov. Gavin Newsom is considering prohibiting new death sentences in criminal cases, a position that is sure to be opposed by local district attorneys and possibly state Atty. Gen. Xavier Becerra. It comes after Newsom imposed a moratorium on actual executions while he is in office. Los Angeles Times
In court: Tesla Inc. sued Zoox Inc., a Silicon Valley start-up that is a rival in the race for fully autonomous cars, and four former employees, accusing them of stealing confidential information. Bloomberg
Under review: "UC Berkeley's athletic department has referred an allegation of sexual harassment involving the football team to the campus' Office for Prevention of Harassment and Discrimination." San Francisco Chronicle
THE ENVIRONMENT
Called out: The Trump administration's reliance on industry-funded environmental specialists is again coming under fire, this time by researchers who say that Anthony "Tony" Cox Jr., who leads a key EPA advisory board on air pollution, is a "fringe" scientist and ideologue pushing policies detrimental to public health. Los Angeles Times
Food safety: Farmers are supposed to consider safer alternatives to toxic pesticides. A UCLA report says that's not working out well. KQED
CALIFORNIA CULTURE
Cleaning up: WarnerMedia, roiled by a sex scandal that led to the departure of former studio chief Kevin Tsujihara, said it will create a new executive position that will focus on diversity and inclusion. Los Angeles Times
Spring arts preview: Recommendations from our critics and profiles of the emerging artists you should know now. Los Angeles Times
Opening day is soon: The clock is ticking on Justin Turner's shot at a World Series title. Los Angeles Times
FBF: Historian Kevin Starr's years as a newspaper columnist. Boom California
Harrowing story: Emilia Clarke had just finished filming Season 1 of "Game of Thrones." Then, she writes, "I was struck with the first of two aneurysms." The New Yorker
He's in charge: Lachlan Murdoch takes control of Fox Corp. But how will he deal with President Trump? Washington Post
Great story: "In praise of Jason Clarke, Hollywood's go-to cuckold." New York Magazine
CALIFORNIA ALMANAC
Los Angeles area: partly cloudy, 66, Friday and Saturday. San Diego: partly cloudy, 64, Friday and Saturday. San Francisco area: showers, 57, Friday; sunny, 58, Saturday. San Jose: showers, 62, Friday; partly cloudy, 62, Saturday. Sacramento: rainy, 57, Friday; partly cloudy, 64, Saturday. More weather is here.
AND FINALLY
Today's California memory comes from Richard Durant:
"We moved from New Hampshire to the South Bay area via Route 66 in 1956. My father was an oil worker at the Richfield refinery in Wilmington. The area had dairies and farms. I left in 1971 to serve in the Air Force, returning to attend college in 1975. I grew up watching the area develop and grow. The only thing better today is the air quality. I remember days as a kid when you could hardly breathe the air. I remember driving to Disneyland passing fields of oranges. The area, sadly, has no open space left. I currently live in Ventura, which still has agriculture."
If you have a memory or story about the Golden State, share it with us. Send us an email to let us know what you love or fondly remember about our state. (Please keep your story to 100 words.)
Please let us know what we can do to make this newsletter more useful to you. Send comments, complaints and ideas to Benjamin Oreskes and Shelby Grad. Also follow them on Twitter @boreskes and @shelbygrad.
---