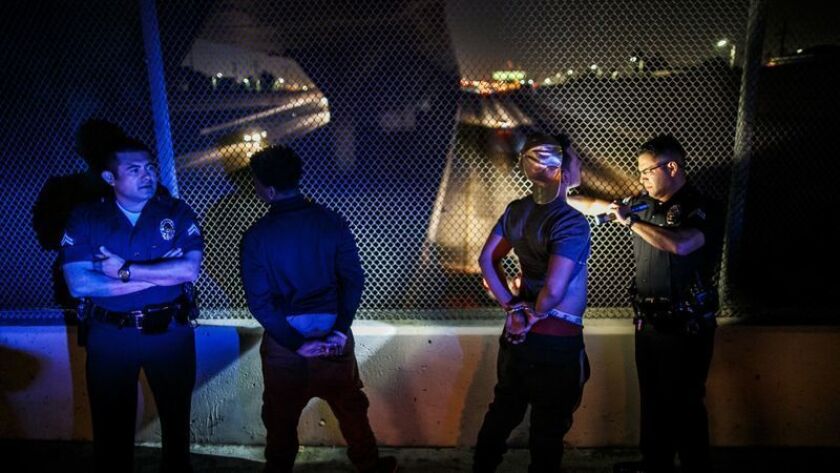 Good morning, and welcome to the Essential California newsletter. It's Thursday, May 9, and I'm writing from Los Angeles.
What if your name could be added to a secretive state database labeling you a gang member, and you had little idea of how it got there? And even less recourse for removing it?
This is reality for some of the nearly 90,000 individuals whose names are in CalGang, a database used by law enforcement agencies across California. To those agencies, it is an essential tool for policing; social justice advocates counter that it's a prime tool for racial profiling and say the opaque processes for adding and removing names may infringe on civil rights.
But big changes may be ahead. After a state audit in 2016 found that CalGang was rife with errors and unsubstantiated entries, the Legislature handed oversight of the database to then state Atty. Gen. Kamala Harris. Now her successor Xavier Becerra is responsible for crafting new rules about who can be labeled a gang member in California, and what evidence is needed.
Ahead of the release of those rules, I spoke with Sacramento-based reporter Anita Chabria, who has a big story out in today's paper about the future of CalGang. Chabria, who covers criminal justice and social issues, tells us about the history of the database, its issues, and why all of it matters.
CalGang grew out of something developed by the L.A. County Sheriff's Department in the late 1980s. How did it evolve into the statewide database we know today?
Los Angeles in the 1980s was seeing the first of its large-scale problems with gangs, especially around crack cocaine. So, it became a very big priority for law enforcement in the area to try to get a handle on who was involved in that criminal activity and what it meant.
There was a well-known gang detective by the name of Wes McBride out of the sheriff's office. He had come up with a very old-school system for tracking gang members, where he was using punch cards. One day, he was looking at a DMV screen and it occurred to him that he could have something like that, where he could search all these different fields. He started what was the precursor to CalGang at the sheriff's office. They were eventually able to expand it into a system that other agencies could access and add to, and that eventually became CalGang.
How did the state end up taking control of it?
Assemblywoman Shirley Weber passed legislation in 2017 that took the database away from this self-elected board who'd been running it and gave oversight to the attorney general's office with a mandate to clean it up and regulate it. The AG took over in 2018, and the first thing they did, as they were required to by the legislation, was to put a moratorium on entering anyone into the database for a couple months. Part of getting it back on track involved convening an advisory panel that was supposed to be half law enforcement and half social justice advocates to come up with a new set of regulations for how names get added. But that panel deadlocked after a year. Whatever comes out next will be the attorney general's take on what constitutes a gang member, and how we should go forward.
Why have gang databases been called a tool for racial profiling?
Because more than 90% of the people in the database are people of color. It's mostly Latino and black men.
The question that has dogged CalGang forever is where does public safety end and racial profiling begin? Where is that line?
That's ultimately what much of this is about. And when you're in an urban neighborhood where police suspect that gangs are committing a lot of the crime, there has never been a good or easy answer for that. There is a constant tension, and what people will tell you is this then becomes an issue of poverty and equity and equality.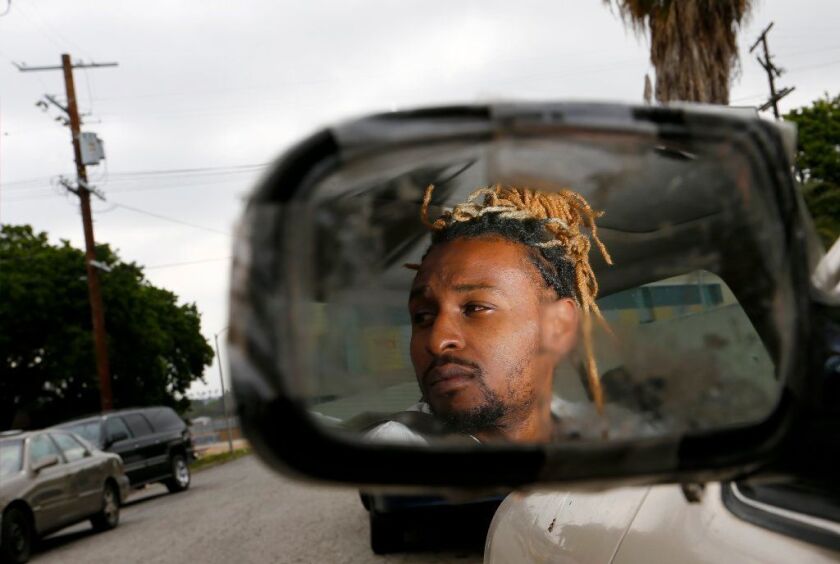 Has Becerra done anything to signal his point of view?
He has largely been publicly silent when it comes to conversations about criminal justice reform in the state. There is some nervousness on the part of social justice advocates that he will skew toward law enforcement when it comes to creating these regulations.
Will these new regulations have a substantial effect on how people are policed around the state?
Absolutely, it will have an effect on who can go in this database. Supposedly, this database does not impact those in it. But when someone's pulled over, if police can see if they're in CalGang, that's probably going to change the interaction. Tightening the rules around who is in the database will affect how police officers and people in the community interact with one another.
It's one of those reforms that's not a high-profile reform, but it will likely have more day-to-day impact than even something like Proposition 47 or 57, in the sense that this is how police are interacting with people in the community.
(Read "Is there a way to identify gang members without racial bias? California wants an answer" by Anita Chabria.)
And now, here's what's happening across California:
TOP STORIES
Ride-hail drivers went on strike in cities around the country to protest pay rates and working conditions, two days ahead of Uber's massive planned IPO. Los Angeles Times
In San Francisco, drivers shut down Market Street with a rally outside of Uber headquarters. San Francisco Chronicle
USC's social work school may be forced to lay off nearly half its staff amid revelations of severe budget problems that began under former dean Marilyn Flynn. Los Angeles Times
Six months after the Paradise fire, officials are still trying to identify some of the victims. San Francisco Chronicle
Get the Essential California newsletter »
L.A. STORIES
Before Nipsey Hussle was gunned down, he was working to bring economic development to his neighborhood, but on his own terms. He wanted more for his community, but he wanted the changes to be driven from within. Angel Jennings looks at his larger vision for South L.A. and black neighborhoods across country. Los Angeles Times
Nine tips for riding the L.A. Metro system like a pro, from how to load your TAP card to the best apps. Curbed LA
In L.A.'s Carthay Circle, residents worry that Senate Bill 50 could ruin the integrity of their neighborhood. Los Angeles Times
(Quick refresher: Senate Bill 50 is a measure being considered by the California Legislature that would increase housing density around transit, among other things. The high-profile bill — which has already generated countless think pieces — will either save or destroy California, depending upon whom you ask. And yes, you're probably going to be hearing about it for a while.)
More than 1,000 guns were seized from a Bel-Air mansion during a raid by federal agents. Los Angeles Times
Your support helps us deliver the news that matters most. Subscribe to the Los Angeles Times.
POLITICS AND GOVERNMENT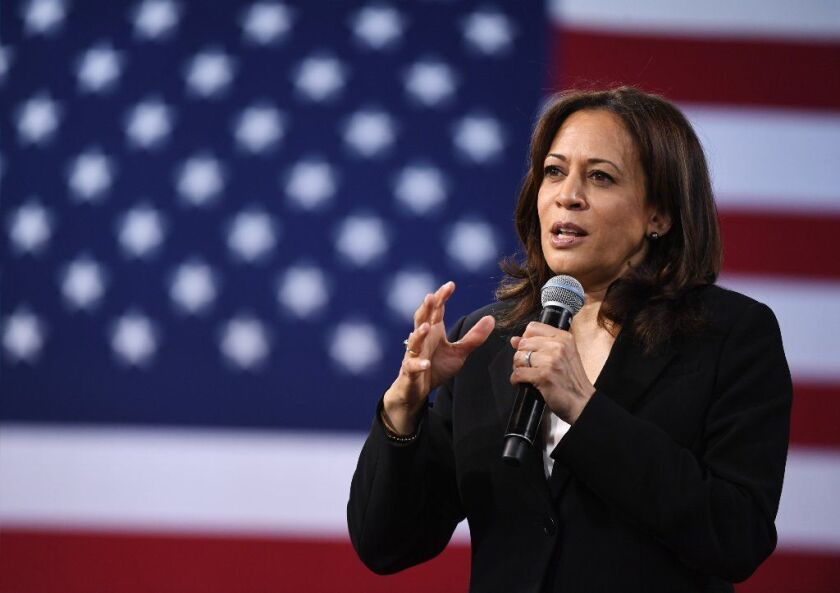 Kamala Harris started her 2020 campaign strong, but she is now fading. Can a new focus on Trump help? New York Times
Plus: Why isn't Harris getting her Vanity Fair cover? New York Times
Will Trump appear on the 2020 California ballot? A columnist examines a California bill — directed at Trump — that would require presidential candidates to release their tax returns to get on the state's ballot in 2020. San Diego Union-Tribune
San Clemente Mayor Steven Swartz, who was in his first term on the City Council, died Wednesday at age 74. Orange County Register
Changes to the state's health and sex education curriculum are coming. Despite protests, the California Department of Education unanimously approved new lessons for elementary schoolers about sex trafficking, sexual orientation and how to support transgender students. Sacramento Bee
CRIME AND COURTS
Actress Lori Loughlin has been slammed in the court of public opinion. But she is still looking to fight college admissions charges. Los Angeles Times
San Francisco's city attorney is investigating whether a doctor who champions alternative medicine techniques has been illegally excusing children from mandatory vaccinations. Los Angeles Times
THE ENVIRONMENT
Drone footage shows Paradise today, where so much destruction from the fire is still visible. Sacramento Bee
Here's a guide to some of Yosemite's lesser-known waterfalls. In a park that encompasses nearly 1,200 square miles, there's plenty of hidden wonder to be found. Fresno Bee
CALIFORNIA CULTURE
After hyping a $1-billion Star Wars land, how does Disneyland get visitors to leave? Los Angeles Times
"BoJack Horseman" co-creators Lisa Hanawalt and Raphael Bob-Waksberg have been friends since high school. This profile looks at their unique partnership-friendship over the years. With the launch of their new Netflix show, "Tuca & Bertie," Hanawalt becomes the first female showrunner of an adult animated series in nearly a decade. California Sunday Magazine
Plus: A look at the craziest pastries from "Tuca & Bertie." Los Angeles Times
A world-famous chef was stopped as he brought 40 piranhas through LAX. Los Angeles Times
CALIFORNIA ALMANAC
Los Angeles: cloudy, 68. San Diego: cloudy, 67. San Francisco: sunny, 64. San Jose: sunny, 73. Sacramento: sunny, 81. More weather is here.
AND FINALLY
Today's California memory comes from Dan Warthman:
"In the Army in the mid-1960s, my best friend Jerry was from L.A., and he talked excitedly about the wonders of California. I tried to match him with sketches about my own home: Erie, Pa. He laughed.
"When I finally visited Jerry, he had a plum tree in his backyard. A plum tree! In his yard! And when I showered at his house, I was certain the water smelled like plums. That's how I think of California — smelling like plums."
If you have a memory or story about the Golden State, share it with us. (Please keep your story to 100 words.)
Please let us know what we can do to make this newsletter more useful to you. Send comments, complaints, ideas and unrelated book recommendations to Julia Wick. Follow her on Twitter @Sherlyholmes.
---