USC considers deep cuts at social work school after revelations of gaping deficit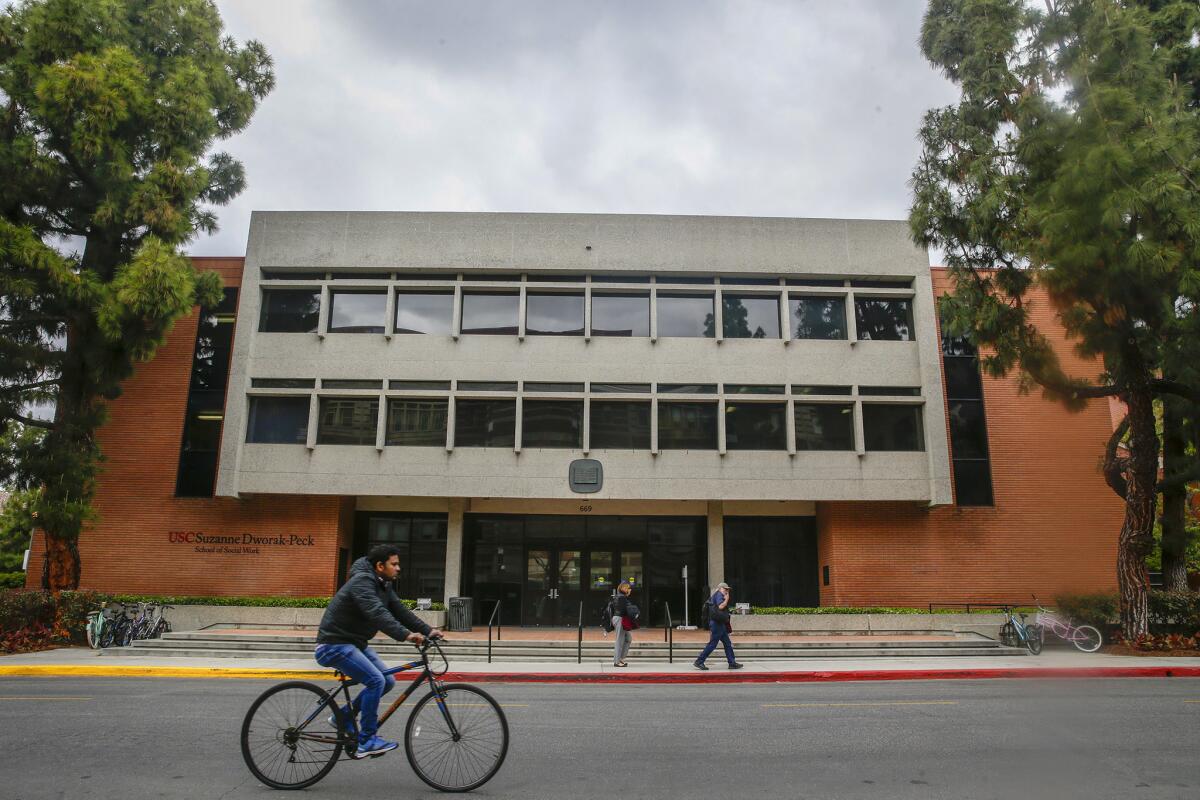 USC's social work school, the largest in the world and one of the oldest in the nation, might be forced to lay off nearly half its staff and eliminate the vast majority of its part-time teaching positions following the revelations of severe budget problems that began under a former dean.
Marilyn Flynn stepped down from her post at the Suzanne Dworak-Peck School of Social Work last year amid scrutiny of a $100,000 donation she had transferred through school coffers to a nonprofit controlled by the son of a powerful local politician, as The Times reported last year citing interviews and correspondence. The donation prompted an investigation by the U.S. attorney's office in Los Angeles that is ongoing.
RELATED: The Times' investigation of George Tyndall and USC
A team of school officials reviewing financial records after her departure found the school had been operating at a loss for years, according to sources familiar with the records. The school's budget appeared balanced only because reserve accounts were tapped, the sources said.
Administrators also determined that admissions standards had been lowered dramatically in past years in what some faculty now suspect was an attempt to shore up the flagging budget with additional tuition revenue. The school's national ranking has declined significantly over the last decade.
Accountants from Ernst & Young were brought on to assess the state of the school's finances. Their January report determined that the school's $150-million budget had an operating deficit that would grow to nearly $40 million by 2020 if admissions standards were tightened and no budget cuts implemented, according to people briefed on the findings. USC said more recent data suggested the 2020 figure was under $10 million.
Flynn, who served as dean for 21 years, referred questions to an attorney. Lawyer Vicki Podberesky said the former dean discussed budget issues "openly and transparently" with faculty and administrators, including shortfalls stemming from the school's embrace of online degree programs.
Podberesky said Flynn proposed measures "to try and compensate for a revenue deficit that was being created by the online program" but that "neither the provost nor the president would approve it."
"USC knew full well she had to dig into the reserves from time to time to keep this afloat," Podberesky, a criminal defense attorney, added. She said her client was a scapegoat because she no longer worked at USC.
Provost Michael Quick, who is leaving his post June 30 and declined to be interviewed, said in a statement that the cuts were necessary and "will ensure the school is on solid footing as it seeks its next dean."
The social work school's woes represent yet another fire for incoming President Carol L. Folt to extinguish as she seeks to reform the scandal-plagued university. Folt formally takes over USC on July 1 but has been working behind the scenes to address a raft of challenges, including the college admissions scandal and fallout from sexual abuse claims against campus gynecologist Dr. George Tyndall.
USC has not made public the details of the financial challenges facing the social work school, and faculty members said that at various times they had been told at school meetings that the hole in the school's budget was between $20 million and $30 million, amounts a USC spokeswoman disputed as wildly overstated. The Times spoke to more than a half-dozen faculty and administrators who've been briefed on the school's financial state as well as reviewed internal records and a video recording of an April faculty meeting.
"These kind of things don't happen overnight, and they don't get resolved overnight," Dr. Avishai Sadan, dean of USC's dental school and a member of a university task force convened to resolve the deficit, told professors at the April meeting. "Across the board, it's a new world order."
The task force Sadan helped lead made recommendations in April to begin addressing the budget problems. They included slashing up to 45% of the staff over two years and doing away with hundreds of posts for adjunct professors and mid-level deans. Their recommendations also included ending study abroad and international programs.
Some proposals have already been implemented. Full-time faculty members have been given new contracts requiring them to shoulder heavier course loads. Professors who previously taught a half-dozen classes over the academic year will be assigned 10 courses over a 12-month period at the same salary, according to interviews and Sadan's comments at the meeting last month.
"It's basically a pay cut," he acknowledged to faculty.
One longtime professor criticized the schedule as "impossible to teach well."
"It's not good for instructors and it is not good for the students," said the professor, who like several colleagues spoke to The Times on the condition of anonymity to preserve a non-tenured position.
Founded in 1920 and renamed three years ago for USC trustee and alumna Dworak-Peck, who donated $60 million, the school has been an innovator in social work education. It was a pioneer in training practitioners to work with veterans and their families and was among the first schools to embrace online degree programs.
The virtual program launched under Flynn in 2010 nearly quadrupled the student body to 3,500, a size that even exceeded the enrollment of many liberal arts colleges. Flynn called the online courses "a cash cow" in an interview this year with Huffington Post.
But the program did not prove a panacea long-term. Additional teachers were costly, a digital learning company took a large portion of revenues, and other universities began cutting into USC's market with their own virtual social work programs, according to interviews with faculty and administrators.
Despite these challenges, as recently as February 2018 she spoke about the school's financial health, telling faculty in an email reviewed by The Times that the institution had "an estimated surplus of over $2 million."
"Our finances, programs and research are flourishing," Flynn wrote.
Faculty feared the drive for greater enrollment was also coming at a cost to the quality of students. Some said that many enrolled online and on campus in recent years did not appear ready for graduate programs.
"We would read admissions files and reject students who would end up in the program anyhow," recalled one professor.
Data that emerged after Flynn's departure corroborated faculty concerns, professors and administrators said. Up to 40% of admitted students in the final years of her tenure were "conditional" admissions, meaning they lacked the minimum 3.0 GPA for full-time undergraduate study or failed to meet other stated requirements, the sources said.
The social work school ranked in the top 10 by U.S. News & World Report a decade ago. This year, the magazine put the school as 25th best in the nation. Flynn's lawyer said faculty set admissions standards and brushed off the import of the rankings, saying U.S. News "uses flawed and controversial methodology in an attempt to objectively rank schools."
After the faculty complaints about admissions and other issues reached Quick last spring, Flynn was moved out of the social work school and into a post as "special advisor" to the provost. He praised her then as "a visionary leader" and said the university owed her "a tremendous debt of gratitude."
At about the same time, a whistleblower alerted administrators to what the employee considered a suspicious financial transaction handled by the dean.
Los Angeles County Supervisor Mark Ridley-Thomas, a USC alumnus with a long professional relationship with Flynn, donated $100,000 from his campaign account to the social work school.
The Times reported last year that Flynn had transferred the money to the United Ways of California with instructions that it be given to a think tank run by Ridley-Thomas' son Sebastian. The younger Ridley-Thomas was at the time working to regain his footing professionally.
He had stepped down abruptly from the state Assembly after learning he was the subject of a sexual harassment probe. He denied the accusations, but legislative investigators later found that several allegations "more likely than not" occurred. USC's schools of public policy and social work both offered him a job as a non-tenured professor, and the social work school also gave him a scholarship to study for a master's degree.
After hearing from the whistleblower, USC hired a criminal attorney who advised the school to turn information about the donation and Sebastian Ridley-Thomas' employment and scholarship over to the public corruption unit of the U.S. attorney's office in L.A. Both Ridley-Thomases have denied any wrongdoing.
Stephen Kaufman, an attorney representing Mark Ridley-Thomas, said in a statement that his client "has no information or knowledge about the School of Social Work's finances."
USC said it continues to cooperate with federal prosecutors. Asked whether there is any evidence of misappropriated money at the school, a USC spokeswoman said, "This is still part of the government investigation." A spokesman for the U.S. attorney's office declined to comment on the current status of the matter.
The school's grim finances come amid a period of transition. John Clapp, who took over as interim dean, is expected to step down soon, and a replacement as interim dean will be named shortly. The search for a permanent dean is expected to conclude in 2020.
Twitter: @MattHjourno
Sign up for Essential California for news, features and recommendations from the L.A. Times and beyond in your inbox six days a week.
You may occasionally receive promotional content from the Los Angeles Times.