A world-famous chef was stopped as he brought 40 piranhas through LAX
PSA: Customs officers do not like it when you try to bring a duffel bag full of 40 vacuum-sealed, frozen piranhas into Los Angeles.
Virgilio Martinez, chef-owner of Central restaurant in Peru, who was featured in the third season of Netflix's "Chef's Table," learned this lesson the hard way.
The chef landed at LAX this past week to cook dinners at Somni and at Vespertine as part of the Los Angeles Times' monthlong food festival Food Bowl. In his luggage when he landed were 40 piranhas.
"I was extremely obsessed about bringing piranhas because we serve piranhas in the Amazon at Central, so I said, 'Guys, why not take a risk to bring piranhas to L.A.?' " Martinez said. "You probably have preconceived notions about piranhas because of movies, but for me, piranhas, we go fish them."
When the chef was going through customs, officers opened his bag and "they went into a panic," Martinez said.
"What's inside?" asked one officer.
"Bones," responded Martinez with a laugh. "Flesh."
His attempt at humor landed him in a private interrogation room where he was questioned by additional officers.
"Why are you bringing piranhas?"
"I'm doing a special dinner with a friend who I really respect and I'm going to do a dish I really enjoy doing," Martinez says he told them. And so it went for a total of five hours before Martinez was able to convince the officer that he was there to do something strange but, ultimately, benign.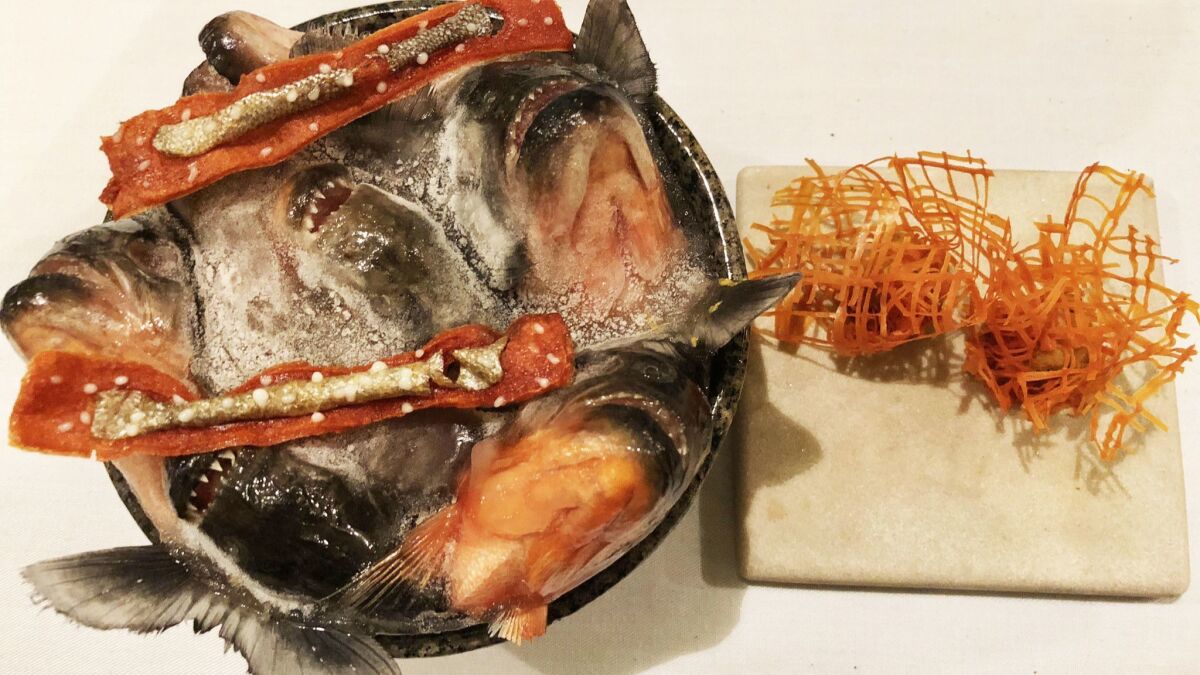 "I told him that it was from my heart and showed him a few photos," Martinez said. "I took my book and said, 'Look, this is what I want to do with the piranhas.' And he finally said, 'Oh, wow, go ahead.' "
For Martinez, carrying that bag out of LAX was more than worth the hassle. Because of the airport ordeal, he wasn't able to dine at Vespertine, but he was able to use the meat from the piranhas to make a salad while cooking at the restaurant the following evening. And at Somni, he dried the piranha skins and served them in the piranha heads.
"I bet most people here have never tried piranhas," Martinez said. "I told the people at the Somni dinner that I spent five hours for you, so you better enjoy it."
We have a full lineup of fantastic chefs from around the world in town to participate in Food Bowl. For more information and for a schedule of events, please visit lafoodbowl.com.
Get our L.A. Goes Out newsletter, with the week's best events, to help you explore and experience our city.
You may occasionally receive promotional content from the Los Angeles Times.