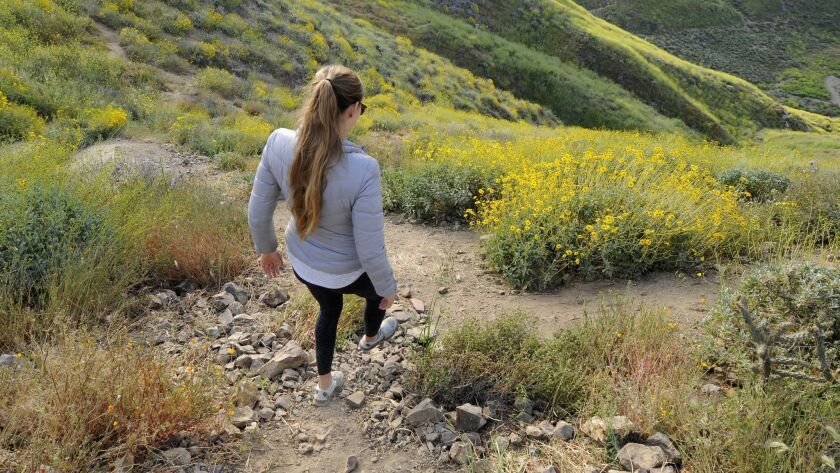 Good morning, and welcome to the Essential California newsletter. It's Wednesday, May 15, and I'm writing from Los Angeles.
There are more than a billion Instagram users worldwide, and for a few weekends this spring it seemed like nearly all of them were in Lake Elsinore, driven by super bloom mania.
The actual number of visitors artfully posed in the orange poppy fields was more likely in the hundreds of thousands. But they overwhelmed the area to disastrous effect, with the city declaring it a public safety emergency. "Everything that could go wrong went wrong," as the mayor of Lake Elsinore told a reporter.
The whole thing was a classic example of overtourism.
Think Thailand's Phi Phi Beach, which will be closed for the next two years to recover from environmental damage, the anti-tourist banners unfurled in Barcelona, or residents of the pastel-colored homes on Paris' Rue Crémieux demanding gates to keep out the invasion of Instagrammers.
Tourism is a double-edged sword: Communities depend on the revenue and jobs it brings, but the influx of people it attracts can overpower and at times even destroy.
"Overuse can lead to damage of the resources and compromise the long-term productivity of the very object that people are going to see," John Kleinfelter, a wilderness expert who founded Yosemite Guide Service, said over the phone as he led a group down a trail through the Giant Sequoias in Mariposa Grove.
The issue can be especially acute in places like Monterey County, where tourism ranks as the second-largest industry after agriculture.
"It comes up constantly," said Pam Marino, a reporter at Monterey County Weekly who has written about tourism for several years. "You hear it at City Council meetings, because I cover a few different cities in the county," she continued.
Take the famously rugged coastline of Big Sur, where tourism drives much of the economy but also exacts a rough toll on the remote area. The number of visitors can overwhelm the limited infrastructure and seriously affect residents' quality of life.
"They kind of got a reprieve from tourists for a while, but for sad reasons," Marino explained, citing the Soberanes Fire and the storm damage and landslides that closed roads in 2017. "But as soon as the roads opened up, then the tourists were back. I think the Instagram effect is real for them. The Bixby Bridge gets mentioned the world over, and people see that on social media and then they want to go and get selfies with the Bixby Bridge."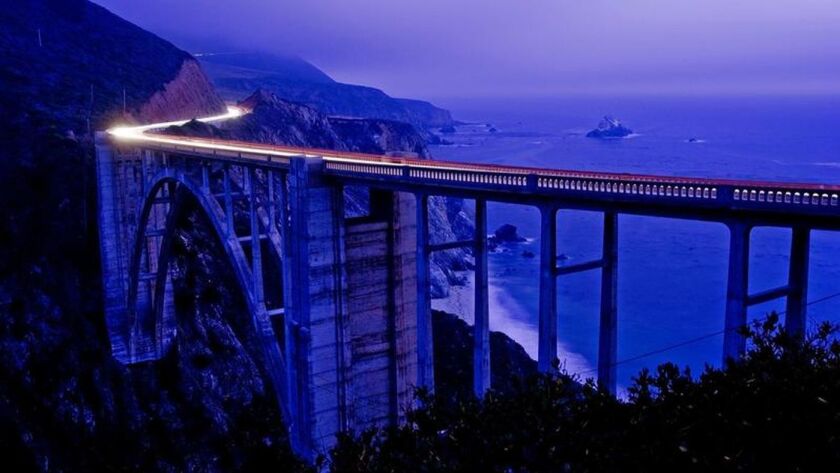 The gateway bridge to Big Sur has been geotagged more than 100,000 times on Instagram.
But Big Sur residents complain about the tourists who stop in the middle of the scenic highway to take photos, dangerously blocking traffic, and those who urinate on the highway and in yards, according to Marino.
Way back in 1975 — the very same year that Big Sur's first luxury resort opened — an ahead-of-his-time Canadian economics professor named George Doxley came up with a model called the Irridex.
Though you've probably never heard of it, the Irridex (a portmanteau for "irritation" and "index") is as ubiquitous in the tourism studies field as the Kübler-Ross model is in psychiatry. But unlike Elisabeth Kübler-Ross and her five stages of grief, Doxley set out to describe the effects of increased tourism on a host community. He divided the deteriorating responses into four stages: euphoria, apathy, irritation and antagonism.
Some Big Sur residents, like the individuals behind the "Big Sur Hates You" Instagram account, have definitely reached the fourth stage. The anonymous account, which changed its name to "Big Sur Educates You" on Tuesday "to be more professional and friendly," posts photos publicly shaming misbehaving tourists with sardonic commentary.
"You have that dichotomy there of needing the revenue that it brings but not liking the negative effects. I think that's why you see the Big Sur Pledge," Marino said, citing another community effort that sits entirely apart from the end-stage antagonism of the Doxley scale.
Started last December by frustrated locals and modeled after Hawaii's Pono Pledge, the Big Sur Pledge takes a more proactive approach. It aims to educate visitors on better behavior, and asks them to pledge to do things like share the coastal roads in a safe manner, camp only where allowed and be fire safe.
(Read Pam Marino's story on the Big Sur Pledge in the Monterey County Weekly)
"I think it's their attempt to manage the tourism that they are getting, like, 'If we can train the visitors to behave in better ways, then maybe it's not so bad for us,' " Marino said.
People have always been drawn to staggering natural landscapes like Yosemite or Big Sur, and ephemeral phenomena like the poppy fields because of "the rare chance to see something that humans cannot replicate or reproduce," according John Kleinfelter, the Yosemite guide. We can't create that wonder, but we can certainly destroy it, if left to our own devices.
And now, here's what's happening across California:
TOP STORIES
Jackie Goldberg has won a seat on the Los Angeles Unified School District's Board of Education. Goldberg is a veteran L.A. politician who has served on the school board, City Council and in the state Assembly. She has the backing of the L.A. teachers union. Los Angeles Times
Gov. Gavin Newsom will travel the state this week, trying to sell his unpopular plan to levy hefty fines on those who do not have medical coverage. Los Angeles Times
Get the Essential California newsletter »
L.A. STORIES
Los Angeles is on track to build more than 9,100 hotel rooms near their downtown convention center. How many more downtown hotels will get tax breaks from the city? Curbed LA
Tacos 1986, a Tijuana-style L.A. street-food star, will be opening its first storefront in downtown Los Angeles in June. Eater LA
A racist "promposal" involving Palos Verdes High School students has prompted backlash. Los Angeles Times
Your support helps us deliver the news that matters most. Subscribe to the Los Angeles Times.
POLITICS AND GOVERNMENT
Sacramento is officially ditching an "aggressive panhandling" ordinance, per a City Council vote Tuesday. A federal judge had ordered the city to stop enforcing the ordinance in July. Sacramento Bee
CRIME AND COURTS
The police raid of a San Francisco journalist's home and ensuing civic response is testing San Francisco's progressive creed. San Francisco Chronicle
THE ENVIRONMENT
How California is fixing Angeles Crest Highway after its worst landslide in decades. The road is taking longer than expected to repair. The Drive
Another dead whale has washed up in the Bay Area, making it the 10th found this year. Officials do not yet know what caused the death of this gray whale. East Bay Times
CALIFORNIA CULTURE
Six California Catholic dioceses across California will create a compensation program for victims sexually abused by priests as children. City News Service
A famed clothing-optional hot springs 120 miles northeast of San Francisco is currently for sale, for anyone with a cool $10 million and dreams of owning the perfect 1,700-acre off-the-grid health retreat. SFGate
"John Doe" patients sometimes force hospital staff to play detective, and federal privacy laws can also make uncovering a patient's identity challenging in these difficult cases. Desert Sun
How two San Jose sisters took their garage ice-cream business national. Gwen and Christine Nguyen watched YouTube videos and took to Google to learn how to make macarons and homemade ice cream. Mercury News
CALIFORNIA ALMANAC
Los Angeles: cloudy, 70. San Diego: partly sunny, 68. San Francisco: rain, 64. San Jose: rain, 65. Sacramento: rain, 67. More weather is here.
AND FINALLY
Today's California memory comes from Phil Johnson:
"In the 1940s and early 1950s, Major League Baseball had not yet come to California. But we had the AAA Pacific Coast League — one step down from the majors. The PCL sent plenty of players to the big leagues, most notably Joe DiMaggio from the San Francisco Seals to the New York Yankees and Ted Williams from the San Diego Padres to the Boston Red Sox.
"I remember ramshackle Lane Field where the Padres played, down by the docks at the harbor. I would go to games with my dad or take the bus down to the ballpark and join my boyhood friends there. I recall the smell of hot dogs roasting on the grill. And reaching out to the players near the Padres dugout to get their signatures in my autograph book. I can still see the towering homers Padres sluggers like Jack Graham, Max West, and Luke Easter drove out over the right-field fence to the railroad tracks beyond the ballpark."
If you have a memory or story about the Golden State, share it with us. (Please keep your story to 100 words.)
Please let us know what we can do to make this newsletter more useful to you. Send comments, complaints, ideas and unrelated book recommendations to Julia Wick. Follow her on Twitter @Sherlyholmes.
---