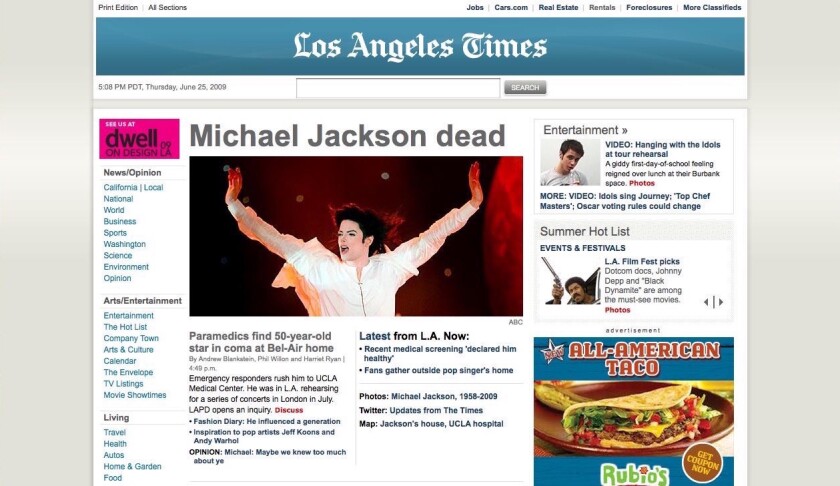 Good morning, and welcome to the Essential California newsletter. It's Wednesday, June 26, and I'm writing from Los Angeles.
There is plenty to be said about Michael Jackson's complicated life and even thornier legacy — sufficient material to fuel an infinity of late-night debates and a half-dozen library carrels of dissertations. But, amid all the warring noise, we do have one unifying truth: You probably remember exactly where you were when you learned that the King of Pop had died.
It's possible that your recollections have been colored by the shift that Jackson's public persona has undergone in the intervening decade and a day since June 25, 2009. But it's difficult to overstate how volcanic the news of his death was.
Forget the world standing still. Everyone started clicking, unleashing a hot flood of interest that nearly decimated the infrastructure of the internet. (Or the Internet, as we still called it then.)
Jackson had lived his life in the tabloids. And through a confluence of factors — enough people on smartphones, establishment news sites finally adapting to the internet era and the proliferation of social media — his death was a turning point in the way people learned of and processed major news events, particularly celebrity passings.
We began to mourn in public just minutes after his actual passing, posting and Googling as the story broke in real time.
The traffic was so feverish that Twitter crashed, AOL's instant messenger service went down for 40 minutes, LiveJournal sputtered and even Google News suffered technical difficulties. "Today was a seminal moment in Internet history," as an AOL statement put it at the time. "We've never seen anything like it in terms of scope or depth."
Jackson's death also functioned as a tipping point in the history of TMZ, which broke the news of his demise. The then-upstart gossip site's scoop signaled "a seismic shift in the news business," as Buzzfeed chief Los Angeles correspondent (and former Los Angeles Times editor) Kate Aurthur wrote on Twitter.
Today, the phrase "according to TMZ" brings up more than a 100,000 Google news results from various outlets citing TMZ's reporting, including — as recently as yesterday — the Los Angeles Times.
But on the day of Jackson's death, numerous other news organizations were reluctant to rely on them. Instead, many chose to credit The Times, which had independently corroborated news of Jackson's death from multiple sources several minutes after TMZ.
"People were kind of hedging," former Los Angeles Times crime reporter Andrew Blankstein, who was responsible for the Times' confirmation of the story in 2009, explained. Back then, as Blankstein put it, TMZ was not that old, and known for covering mostly stories that "people in the newspaper business and elsewhere thought were beneath them."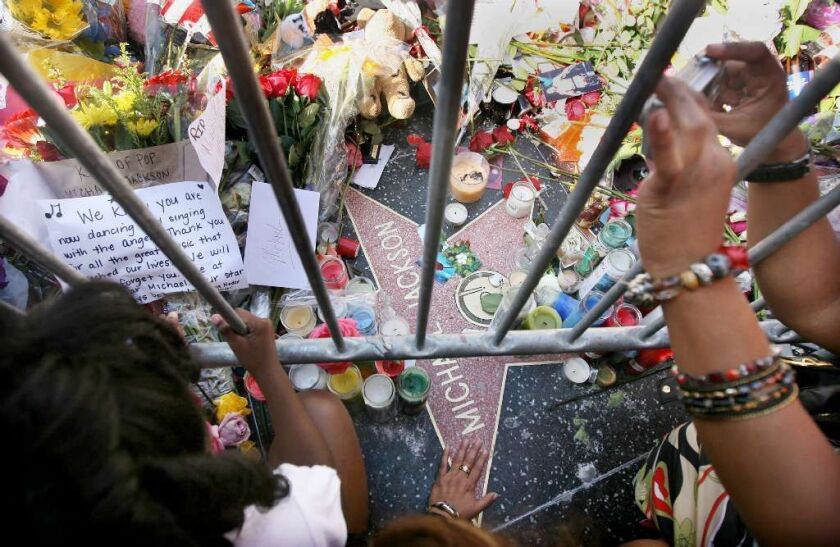 But before we get any further, let's quickly pan out, albeit to the landscape of the mid-to-late aughts. TMZ had burst onto the scene during a time when reality TV as we know it was exploding, and a relatively new ecosystem of early gossip websites (e.g. Perez Hilton, LaineyGossip and Dlisted) were throwing a constant stream of tawdry, snarky chum into the ravenous internet waters.
Those Web 2.0 gossip sites could afford to bite the hand that feeds, as they were largely run by unsourced outsiders who'd never had access to begin with. But for essentially all of Hollywood history, the Establishment Gossip Media's existence has been predicated on access, and all of the swapped favors, longstanding relationships and puffery that that entails.
TMZ was led by Harvey Levin, a native son of the deep San Fernando Valley with a University of Chicago law degree. He'd first made his name as a KCBS reporter on the practically made-for-TV O.J. Simpson case.
The site, which had broken details of Mel Gibson's 2006 drunk driving arrest and subsequent anti-Semitic rant three years before Jackson's death, brought hard-charging, hard-news tactics to the world of scandal. It ostensibly blew up the existing model, and fundamentally altered the way that celebrities live in public in the process.
You could find TMZ's celebrity subject matter trivial, or its carnivorous invasions of privacy to be morally reprehensible. And you could certainly quibble with its story-attainment ethics, which have reportedly long included plentiful financial transactions. But after June 25, 2009, you couldn't argue with the fact that TMZ had become a journalistic force with some credibility.
It used to be that the world found out about a public figure's death after they were, well, definitively dead — and sometimes not even until the next day's paper. The instantly unspooling story of Jackson's death signaled a shift in the way we consume news, and spoke to the broader tabloidization of the mainstream media. But, revile it as you might, TMZ already had the pulse of the moment. And they were perfectly poised to rise in it.
And now, here's what's happening across California:
TOP STORIES
San Francisco became the first major city to ban the sale of electronic cigarettes. Juul — the largest company in the e-cigarette landscape, by a long shot — is based in San Francisco. San Francisco Chronicle
See also: Why critics are saying that Juul's move to circumvent the ban through a ballot initiative is a page out of the Big Tobacco playbook. San Francisco Chronicle
House Democrats have approved a $4.5-billion federal bill to aid the humanitarian crisis at the border. The House vote follows a growing scandal over unsanitary conditions for children at a Texas Border Patrol facility that sparked resignations, replacements and last-minute bill wrangling. Los Angeles Times
Get the Essential California newsletter »
L.A. STORIES
A new L.A. book fair presented by the Los Angeles Review of Books and Hauser & Wirth Publishers is coming to the Arts District next month. Los Angeles Times
How the newest acquisition to the 1,262 varieties of roses in the Huntington's legendary rose garden came about. Los Angeles Times
The famed Amoeba Music building in Hollywood has been approved for demolition. The zoning change approval, which clears the way for the development of a 26-story complex on the site, also fuels further speculation on the future of the city's biggest record store. Amoeba has said it hopes to add a marijuana dispensary at its new location, wherever it might eventually be. Los Angeles Times
The overstuffed glory that is a strawberry doughnut from the legendary Donut Man shop in Glendora, as illustrated by artist Stacy Michelson. Los Angeles Times
Your support helps us deliver the news that matters most. Subscribe to the Los Angeles Times.
IMMIGRATION AND THE BORDER
ICE is still playing a role in L.A. jails, despite L.A. Sheriff Alex Villanueva kicking agents out. Los Angeles Times
POLITICS AND GOVERNMENT
Gov. Gavin Newsom has dodged taking a stand on a gig worker bill. The Chronicle posits Newsom's "rare reticence" could be because the bill pits him between two of his most favored constituencies: organized labor and disruptive tech leaders. San Francisco Chronicle
California wiretapping laws could expand if a bill that has been quietly making its way through the state Legislature passes. The proposal was sponsored by Los Angeles County Dist. Atty. Jackie Lacey, in part due to a failed attempt to fire a sheriff's deputy who appeared on the wrong side of the law on a 2009 wiretap. Los Angeles Times
A proposed law would let homeless community college students sleep overnight in campus parking lots, but it's receiving opposition from the people one might expect to support it. Nearly 20 California community colleges and districts have opposed the bill, saying it could expose them to security, maintenance and liability costs. Sacramento Bee
Why can't California pass more housing legislation? The Legislature introduced roughly 200 bills aimed at addressing the state's worsening housing crisis in the first half of 2019, but nearly all of them had died or stalled out by the end of May. Curbed SF
Politifact has rated President Trump's latest claim about voter fraud in California to be as baseless as past allegations, giving it a "Pants on Fire" rating on its Truth-o-Meter. Politifact
CRIME AND COURTS
The high-profile pregnancy discrimination trial against celebrity chef Thomas Keller has run its three-week course. Jurors are now deliberating the case. San Francisco Chronicle
THE ENVIRONMENT
A 10-week-old bald eagle chick needs more time to learn to fly, so a portion of Big Bear Lake remains closed to keep a safe space around the chick's nest. San Bernardino Sun
And while we're on the animal beat: Conservation groups are warning that mountain lions in Central and Southern California may be at risk of extinction. Los Angeles Times
CALIFORNIA CULTURE
Want panoramic views of the Pacific without breaking the bank? Here are a few Southern California restaurants with million-dollar views and value-priced menus. Orange County Register
Visitors to Disneyland's new Star Wars: Galaxy's Edge have been making off with anything that's not nailed down, with a variety of purloined items already showing up on "the secondary market" (read: EBay). Orange County Register
From Chez Panisse to Spago, here's a look at eight restaurants and chefs that changed the face of California cooking. Newsweek
San Francisco institution Leah Garchik is retiring from the Chronicle after 47 years. Here's her final column. San Francisco Chronicle
Big news for people who care what East Coast critics think! The arbiters of culture at Condé Nast have declared the Los Angeles Philharmonic's extraordinary centennial season to have had "no peer in modern orchestral history." The New Yorker
CALIFORNIA ALMANAC
Los Angeles: partly sunny, 73. San Diego: partly sunny, 69. San Francisco: partly sunny, 65. San Jose: partly sunny, 75. Sacramento: sunny, 79. More weather is here.
AND FINALLY
It is my unbiased opinion that California can and does furnish the best bad things that are obtainable in America.
Hinton Helper, 1855
If you have a memory or story about the Golden State, share it with us. (Please keep your story to 100 words.)
Please let us know what we can do to make this newsletter more useful to you. Send comments, complaints, ideas and unrelated book recommendations to Julia Wick. Follow her on Twitter @Sherlyholmes.
---