I'm Davan Maharaj, editor-in-chief of the Los Angeles Times. Here are some story lines I don't want you to miss on Martin Luther King Jr. Day.
TOP STORIES
Obama's Legacy; Andrew Jackson Weighs In!
As President Obama gets ready to leave office, his approval ratings are among the highest of exiting presidents; they're even better among African Americans. But polls have also shown black people to be more satisfied with Obama the man and less with their progress under him as president. "We thought our dreams would be more visible under Obama," says Andrew Jackson II, a supporter. "They're not."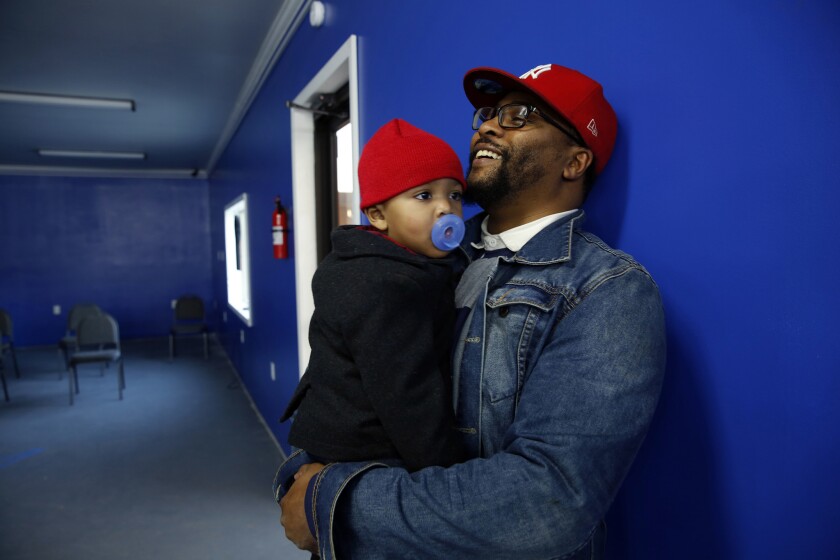 More About Obama's Legacy
-- Race is an integral part of Obama's story, and he embraced its complexity.
-- He sought to ease partisanship but saw it worsen instead.
Why Trump Could Be the Governator's Apprentice
Californians have seen it before: An outsider with an outsize personality gets into the highest office in the land and plays by his own rules. In Arnold Schwarzenegger's case as governor, that style eventually backfired and forced him to change his approach. Will the same scenario play out for Donald Trump as president?
More Politics
-- One family's six-year battle against Trump's former business partner in India shows the downside of the country's corrupt real estate sector.
-- CIA Director John Brennan took aim at Trump for his criticism of the intelligence community.
-- Trump kicked off the Martin Luther King Jr. weekend with disparaging tweets about civil rights icon John Lewis.
Trump and Medi-Cal: Can't Touch This
One-third of Californians get their health coverage through Medi-Cal, the low-income program jointly funded by state and federal governments that has grown by leaps and bounds under Obamacare. So what happens if Trump and Republicans repeal the Affordable Care Act and restructure Medicaid? A lot of hard decisions.
A 49er Who Told Our Story
Kevin Starr was a fourth-generation San Franciscan, but it took a stint at Harvard for him to decide to write about California. He'd spend the rest of his life doing just that as the state's leading historian. "I've always tried to write California history as American history," he told The Times in 2009. Here's a look back at Starr, who died at age 76 over the weekend. Plus, some thoughts on California in Starr's own words.
The Free Speech Movement Confronts the New Reality
"The university is a place for reasoned debate," says UC Davis' interim chancellor, not "one group screaming at another." But that's what happened last week when protesters shut down a planned talk by conservative commentator and Twitter pariah Milo Yiannopolous. Now campuses are bracing themselves for more political clashes — and wrestling with some sticky free speech issues.
What Does Hollywood Have Cooking in 2017?
A sequel to "Trainspotting." Jude Law as the pope. A 25th hour for "24." Here are the movies and television shows that the L.A. Times' entertainment staff are most excited to see in 2017. Are any of them any good? Who knows? But we can't wait to find out.
CALIFORNIA
-- Ten Southern California journalists are fighting an effort by prosecutors to compel them to testify in San Bernardino County corruption trials.
-- Federally endangered bighorn sheep are grazing on the greens of golf courses in La Quinta, and some conservationists say they need to be fenced out.
-- An L.A. screenwriter started a project involving handmade pink caps with cat ears to protest Trump's inauguration.
-- Southern California will celebrate Martin Luther King Jr. Day with a parade and other activities.
HOLLYWOOD AND THE ARTS
-- "Sometimes, it takes, oh, about 40 years of perspective to figure it out." Fleetwood Mac's Christine McVie and Lindsey Buckingham talk about making their first duet album.
-- The 146-year-old Ringling Bros. and Barnum & Bailey Circus will close in May, and for some the online reaction has been a great show.
-- Michelle Monaghan brings grit, empathy and a hard right to Jamie Foxx's face to "Sleepless."
-- Zubin Mehta returned to the L.A. Philharmonic to conduct the West Coast premiere of Ravi Shankar's Second Sitar Concerto with Anoushka Shankar.
NATION-WORLD
-- Fifty years ago, Martin Luther King Jr. turned his activism against the Vietnam War and lost allies as a result.
-- South Korean prosecutors issued an arrest warrant for the Samsung Group's de facto leader in a bribery case related to the president's impeachment.
-- Here's what we know about the British ex-spy who wrote the Trump dossier.
-- More than 70 countries and international organizations pledged their support for a two-state solution involving Israelis and Palestinians in Paris. Too bad neither side was there.
-- When Obama dropped the "wet foot, dry foot" policy for Cubans, he also snuffed out another program few Americans knew about.
BUSINESS
-- When Trump tweets, Wall Street trades, instantly.
-- Lockheed Martin's chief executive told Trump the cost of the F-35 Joint Strike Fighter program would be significantly lower.
SPORTS
-- Sam Farmer: This season's four remaining NFL playoff teams (New England, Pittsburgh, Green Bay and Atlanta) show the Super Bowl pendulum tends to swing.
-- Can L.A. support two NFL teams? It will be a challenge.
OPINION
-- Trump's foreign policy nominees flat-out disagree with him.
-- Obama will be seen by historians as the first president to bring millennial values to the challenges of the Oval Office.
WHAT OUR EDITORS ARE READING
-- "Tell them about the dream, Martin!" The story behind Mahalia Jackson's contribution to Martin Luther King Jr.'s "I Have a Dream" speech. (Yahoo)
-- The Parliament building in London desperately needs a fire safety upgrade, lest it meet the fate of its predecessor 183 years ago. (The Guardian)
-- Librarians answer the question, "What's the weirdest thing you've found in a book?" (Tin House)
ONLY IN L.A.
It was the case of the missing baseball from a walk-off home run that helped give a fairy-tale ending to Vin Scully's final game at Dodger Stadium. What happened to it, Bill Plaschke wondered last week. Now, we have an answer — and a couple of more questions.
Please send comments and ideas to Davan Maharaj.
If you like this newsletter, please share it with friends.
---