Newsletter: Today: Trump's Shock, Awe ... and Diversion?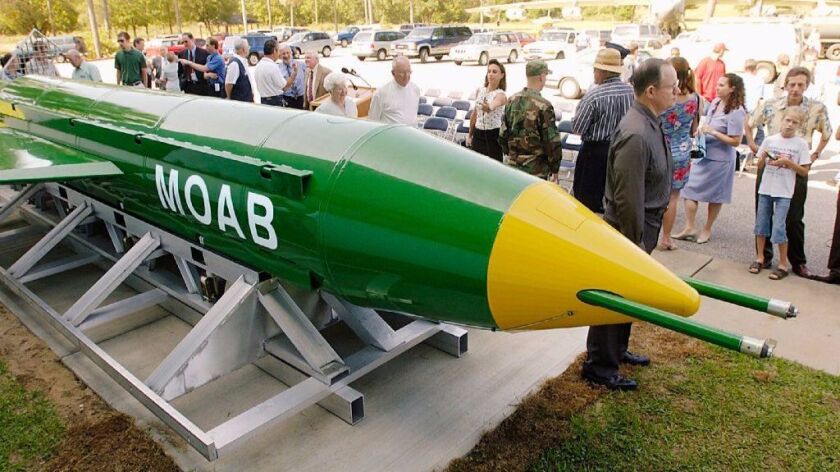 What message is sent when the U.S. drops an 11-ton bomb in Afghanistan? I'm Davan Maharaj, editor-in-chief of the Los Angeles Times. Here are some story lines I don't want you to miss today.
TOP STORIES
Trump's Shock, Awe ... and Diversion?
In 2001, America's longest war began in Afghanistan. The next year, the "mother of all bombs," originally intended for Iraqi dictator Saddam Hussein, was developed. With the ability to produce a lethal shock wave more than a mile and a half away, America's most powerful nonnuclear bomb hadn't been used in battle — until it was dropped Thursday on a cave-and-tunnel complex the U.S. said was used by Islamic State fighters in eastern Afghanistan. It came on the same day the military announced its worst friendly-fire incident in Syria. And as President Trump empowers "the generals" to create more shock and awe, reports of civilian casualties there and in Iraq have been rising.
More Politics
-- Candidate Trump was a "nuclear whirling dervish" on foreign policy, according to one diplomat. Now he's embracing mainstream positions that have alarmed ardent supporters but have reassured U.S allies.
-- Trump has signed a law that allows states to deny certain federal funding to Planned Parenthood.
-- CNN political commentator Jeffrey Lord came under fire on social media for describing President Trump as "the Martin Luther King of healthcare."
In North Korea, What's 'More Powerful Than 100 Nuclear Warheads'?
As North Korea appears headed toward another nuclear test and the U.S. hints at military action, Pyongyang has invited a contingent of journalists, including L.A. Times reporter Jonathan Kaiman. So far, he's been to a school for orphans, where the wall decor includes drawings of tanks and missiles, and the opening of Ryomyong Street, a residential high-rise project where Supreme Leader Kim Jong Un made an appearance. "The completion of this street is more powerful than 100 nuclear warheads," said Prime Minister Pak Pong-ju. Got a question for our correspondent? You can ask here.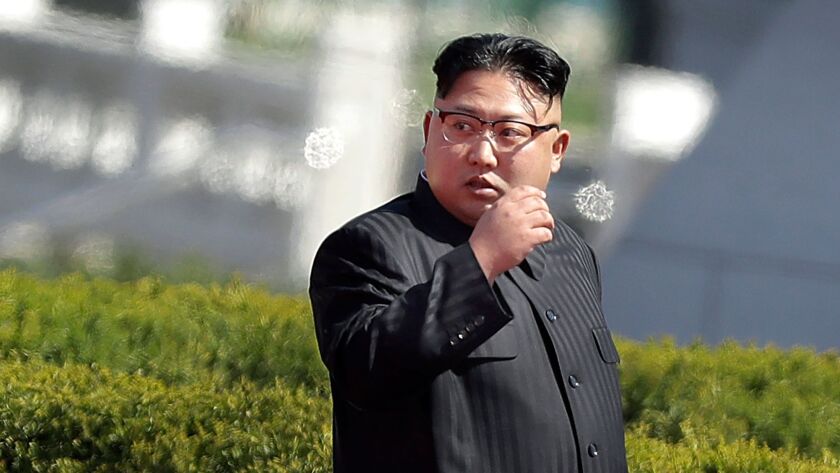 The Hacker Who Recruited ISIS Fighters in the U.S.
He was born and raised in Britain, but in 2013 he left for Syria at age 19. There, he led a team of Islamic State recruiters who reached out online to would-be terrorists around the globe, including scores of Americans, according to FBI Director James Comey. In all, the young man communicated with at least nine people who later were arrested or killed by U.S. law enforcement, court filings show. Here's the story of the hunt to stop him and his recruits in 2015.
House the Homeless, but NIMBY?
When L.A. voters approved Proposition HHH, they freed up $1.2 billion for building thousands of apartment units for the homeless. But where? Case in point: a vacant lot on the Eastside. A nonprofit developer could build 49 affordable-housing units on the property, with half dedicated to chronically homeless people who've been diagnosed as mentally ill. But El Mercado, a mall next door, opposes it, and it's been stuck for nearly a year in a committee headed by Councilman Jose Huizar, one of the most vocal supporters of — you guessed it — Prop. HHH.
Coachella Gets a Latin Beat
Radiohead, Lady Gaga and Kendrick Lamar are the headliners at the Coachella Valley Music and Arts Festival, which starts today and runs through Sunday. Though the big party in the desert has featured alternative rock, EDM, hip-hop and more since its inception in 1999, Latin music hasn't gotten much love — until this year. It's a move meant to resonate in the first year of the Trump presidency. One band from Argentina even had trouble getting its visas.
FLASHBACK FRIDAY
The Titanic was described as "unsinkable" when it set sail from Southampton, England, on April 10, 1912, on its maiden voyage to New York. But the ship struck an iceberg and sank in the early hours of April 15, killing about 1,500 people. Five years ago, Times reporter Christopher Reynolds paid a visit to Halifax, where many of the recovered bodies were buried, to see why "the greatest maritime disaster in the history of the world" still fascinates. Here's what the front page of the L.A. Times looked like 105 years ago.
CALIFORNIA
-- Over eight months, lethal bacteria infected 10 already critically ill infants in UC Irvine Medical Center's neonatal intensive care unit, but the public is finding out about it only now. Hospital officials say none of the infants have died.
-- How's this for a trade-off? End sales taxes on tampons and diapers, but raise liquor taxes.
-- A series of late-season storms has made it the wettest winter for California's northern Sierra Nevada in nearly a century of record-keeping.
-- This common misuse of disabled parking permits could cost you $1,000.
YOUR WEEKEND
-- Easter 101: How to boil an egg, and 34 holiday main course recipes to wow them at Easter.
-- Say "kuku" three times fast, then make the terrific Persian herb and egg dish.
-- A guide to Las Vegas pools, from DJ parties to the best blackjack you can play while wearing your swimsuit. And the bad news: Parking fees are rising.
-- So what does a $60,000 bottle of whiskey taste like?
-- Nine secrets to container gardening.
HOLLYWOOD AND THE ARTS
-- Is this meta? In "The Fate of the Furious," Michelle Rodriguez says, "It's gonna be a bomb." Watch Justin Chang's movie review.
-- A range of unconventional American players will populate this year's Cannes Film Festival competition lineup.
-- As Center Theatre Group turns 50, the theater company's artistic director is plotting the second act.
-- Try not to cry: A "Star Wars" tribute to Carrie Fisher reveals footage of Princess Leia.
NATION-WORLD
-- Lawyers who represent the man who was dragged off a United Airlines flight say he suffered a broken nose and concussion and lost two front teeth. The airline issued another apology.
-- Mexican authorities have arrested a suspect in the killing of a U.S. Border Patrol agent.
-- It was supposed to be an easy reelection for the mayor of Seattle. Then, he was accused of having sex with minors.
-- The predicament facing the world's tigers: poachers, habitat loss and the building of more roads in Asia.
BUSINESS
-- Elon Musk says Tesla will unveil an electric cargo truck in September, heating up the race to get a zero-emissions semi truck on the road.
-- As colleges embrace e-sports, there are thorny questions about who, if anyone, profits.
SPORTS
-- Dodgers manager Dave Roberts ruminates on life, the death of his father and mixing things up in the bullpen.
-- The Clippers have never advanced beyond the second round of the NBA playoffs, but there's always hope it will be different this year.
OPINION
-- Trump should claim victory on the border and abandon his foolish wall: See the David Horsey cartoon.
-- Go ahead, let Richard Branson kill United Airlines.
WHAT OUR EDITORS ARE READING
-- Chechens say they were beaten in an anti-gay purge. (The Guardian)
-- The final hours of the sea freighter El Faro. (Associated Press)
-- Remember the good/bad old days of card catalogs? (NPR)
ONLY IN L.A.
Typos happen (tell us about it!), but 13 signs in San Pedro found a way to put the gaffe in Gaffey Street with an extra E. A spokesman for Councilman Joe Buscaino says about six people looked at the signs before they were printed, but no one caught the error until a driver spotted the problem when he exited the 110 Freeway. Read on to see why all but one will get the blue pencil treatment.
Please send comments and ideas to Davan Maharaj.
If you like this newsletter, please share it with friends.
---