Newsletter: Today: Staredown on the Korean Peninsula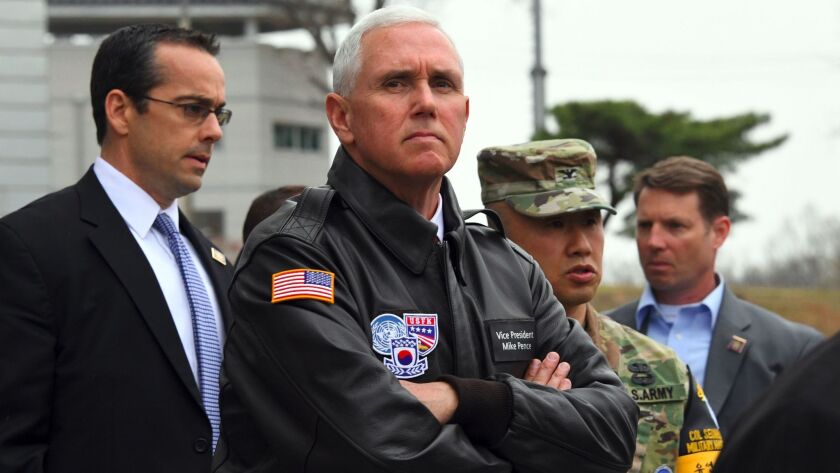 Tensions over North Korea's nuclear and missile programs continue to simmer. I'm Davan Maharaj, editor-in-chief of the Los Angeles Times. Here are some story lines I don't want you to miss today.
TOP STORIES
Staredown on the Korean Peninsula
Harsh words have long been a staple in the game of brinksmanship between Washington and Pyongyang, usually followed by some kind of calm. This time, "the era of strategic patience is over," Vice President Mike Pence says, and if it wasn't clear already from the U.S. missile strike in Syria and the "mother of all bombs" in Afghanistan, he put it bluntly on his trip to the Demilitarized Zone. "North Korea would do well not to test [President Trump's] resolve — or the strength of the armed forces of the United States in this region." He also gave a cold stare across the border, while North Korean soldiers took pictures of him and his entourage. Pence continues his Asian trip today.
More Politics
-- Today's special election in Georgia will give Republicans a chance to reassert power or Democrats a chance to flip a Republican House seat.
-- Treasury Secretary Steven Mnuchin says the Trump administration is unlikely to meet its self-declared August deadline for enacting tax reform.
-- Calexit, stage left: The author of the initiative to secede from the U.S. has called it quits on his proposal for a 2018 ballot measure.
-- Justice Neil M. Gorsuch took his seat on the Supreme Court for the first time and quickly joined colleagues in firing questions at lawyers in three highly procedural disputes.
Why the Border Patrol Likes Trump's Laid-Back Approach
The U.S. Border Patrol is the largest federal law enforcement agency, with a budget of more than $13 billion and nearly 20,000 agents last year. Still, the union representing the rank and file has long argued that they don't get enough support to do their jobs, and in 2012, a union member started "The Green Line" podcast to voice these frustrations. Now civil rights advocates are watching with alarm as the union feels it has a kindred spirit in Trump, who called into the show last year and said he was going to let agents "do their job the way they want to do it."
Berkeley as the National Theater of Protest
It was billed as a "free speech" rally by conservative activists and staged in Berkeley, one of America's most famously liberal cities. Before it even began, fists were flying, including those of a white supremacist now being investigated by his school, Cal State Stanislaus. The combatants generally weren't locals; they were extremists on the left and right who had traveled, some from as far away as Missouri, to make Berkeley their stage. Many freely admitted they were there simply to make trouble.
Why Turkey's Vote Could Hurt the West
Turkish President Recep Tayyip Erdogan is known to hold a grudge. After a coup attempt less than a year ago, he initiated a government purge of 170,000 people. Is the West, and more specifically Europe, his next target? Though Trump congratulated Erdogan about a vote that appeared to greatly expand Erdogan's authority and let him serve 15 more years in office, European election observers have added their voice to concerns about it being rigged. That, in turn has set the Turkish leader to bash Europe. While it plays well at home, it could mean more instability in the fight against Islamic State, dealing with the migrant crisis and even NATO.
Their Kids Are Dying, but They Say God Will Make It Right
In most states, failing to seek medical care for a child would be a crime. Not so if you live in Idaho and are a member of the Followers of Christ, a small Christian denomination that believes in faith healing. Idaho is one of a handful of states that give religious groups exemptions from criminal prosecution and civil liability for the deaths of children attributed to medical neglect. A sheriff is trying to get the law changed, but it's an uphill fight.
CALIFORNIA
-- Design flaws, construction shortcomings and maintenance errors caused the Oroville Dam spillway to break apart in February, according to an independent analysis.
-- L.A. County is looking to strengthen the safety net for its neediest residents with funding for the homeless, social workers and healthcare.
-- In an attempt to ease the burdens of student debt, the state is considering a role in helping to refinance private loans.
-- A new mural in San Diego's Chicano Park depicts the plight of migrant workers and denounces Trump's planned border wall, but some residents say it shouldn't be in a public park.
HOLLYWOOD AND THE ARTS
-- Court records show none of the pills found in several parts of Prince's Paisley Park estate had been prescribed to the late pop star.
-- The movie "Fate of the Furious" gave F. Gary Gray the highest-grossing opening by an African American director.
-- At Coachella, Kendrick Lamar cemented his status as hip-hop royalty, but his performance also demonstrated how he wears that crown uniquely.
-- Music? Eh. Here are all the amazing things to eat at Coachella, plus cocktails at the festival's new, "secret" tiki bar.
CLASSIC HOLLYWOOD
He was Pepper, J.W. Pepper — a swaggering, tobacco-spitting Louisiana sheriff in two James Bond films. But Clifton James was most proud of his work on stage. The actor has died at age 96.
NATION-WORLD
-- The U.S. Supreme Court spared the life of an Arkansas inmate minutes before his death warrant was set to expire, scuttling efforts to resume the death penalty in the state after nearly 12 years.
-- Las Vegas is preparing to be the first city in the U.S. with vending machines dispensing clean needles in an effort to combat the spread of hepatitis B, hepatitis C and HIV.
-- No love lost? Pope Francis' conservative opponents are fighting over his 2016 apostolic exhortation titled "The Joy of Love," fueling talk of a schism in the Catholic Church.
-- Syria has faced international condemnation for using chemical weapons, but Islamic State has them too.
-- Citing a "division" in Parliament with its exit from the EU underway, British Prime Minister Theresa May called for an early election.
-- Prince Harry has opened up about his struggles with mental health that stemmed, in part, from Princess Diana's unexpected death in 1997.
BUSINESS
-- Can virtual-reality technology help draw Chinese tourists to Los Angeles?
-- A flight attendant's take on the United mess: "Three decades of airline insanity had not prepared me."
SPORTS
-- Fifty years ago, the first woman to officially take part in the Boston marathon was told, "Get the hell out of my race." She ran it again Monday, and this time her number is being retired.
-- The Anaheim Ducks made their biggest playoff comeback in franchise history and won in overtime. They now lead their playoff series against the Calgary Flames, 3-0.
OPINION
-- He hasn't hit 100 days in office yet, but Trump is already acting like a lame-duck president.
-- Tax day is a nightmare for freelancers. Why not update the tax system for the gig economy?
WHAT OUR EDITORS ARE READING
-- In a child custody case, Alex Jones' lawyer argues that the Infowars host is a performance artist, so it would be unfair to judge him as a father based on his on-air persona. (Austin American-Statesman)
-- Amazon has become a power player in translating literary works, but not everyone has the warm fuzzies about it. (Seattle Times)
-- Why are there farms on Tokyo's Narita Airport? It's the result of a real estate holdout, and here are some of the most stubborn ones. (CityLab)
ONLY IN CALIFORNIA
Though cellphone reception at Coachella over the years has been notoriously bad, it wouldn't be a concert without a handheld device these days, just as lighters were de rigueur in years past. So imagine the feeling when several Coachella fans noticed their phones were missing. No problem, there's an app for that. And police say the pinging led them to a New York man who had more than 100 cellphones in his backpack.
Please send comments and ideas to Davan Maharaj.
If you like this newsletter, please share it with friends.
---