Newsletter: Today: The Protests in Iran Become Deadlier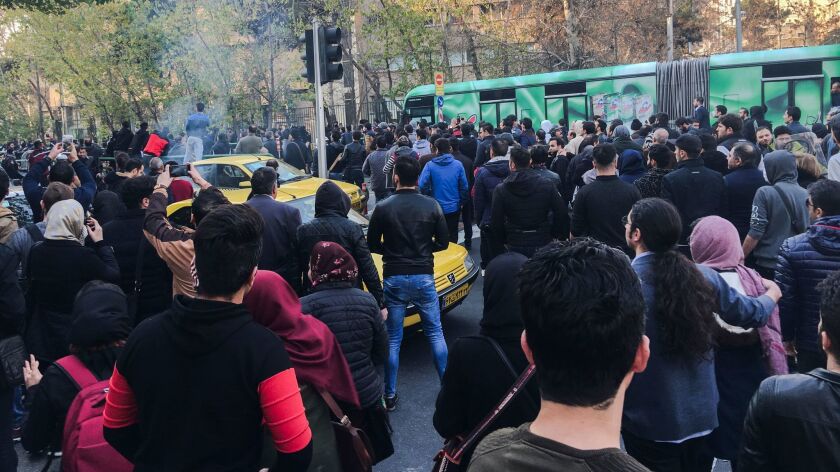 As Iranians take to the streets to protest the government, the death toll has risen.
TOP STORIES
The Protests in Iran Become Deadlier
At least 20 people have been killed, according to the Associated Press. Hundreds have been arrested. Protesters in Iran are voicing their anger at the government, as President Hassan Rouhani appeals for calm. Rouhani told Iranian lawmakers that his forces would take action against "a small minority" of demonstrators who he said had insulted the sanctity of the Islamic Revolution and damaged property, but added that some were suffering economically and should be heard. How the government will address the protesters' demands isn't clear. More from Iran.
The Unfinished Business of Congress
The halls of power in Washington have been blissfully quiet over the holidays, but that will end this week, as the House and Senate convene Wednesday. Among the first order of business will be swearing in Doug Jones, the newly elected Democratic senator from Alabama, and Minnesota's Tina Smith to replace the resigning Sen. Al Franken. Then it's off to the races on avoiding a government shutdown (again), addressing the so-called Dreamers and working on all the other issues it put off in 2017. With one fewer senator, the GOP will probably have an even harder time pushing President Trump's agenda before campaigning for the midterm election begins.
More Politics
-- Pakistan lashed out after Trump accused its leaders of "lies & deceit" on Twitter and suggested the U.S. would withdraw financial assistance to the nuclear-armed nation.
-- What will it take to flip the House in the Democrats' favor? Have a look at some of the key races coming up in California.
For Once, Everything Comes Up Roses
Tired of the "new normal"? For one day at least, there was a bit of the "old normal" to enjoy in Pasadena. The Rose Parade's floats dazzled. The Rose Bowl game was one for the ages, a double-overtime thriller that sent Georgia to the national championship. And the discussion mostly steered clear of the culture wars. Instead, people commented on the kindness of strangers. "Everyone is so nice," said Diana Camacho, 16, of Costa Mesa. "You don't usually have people crossing the street to just say hi."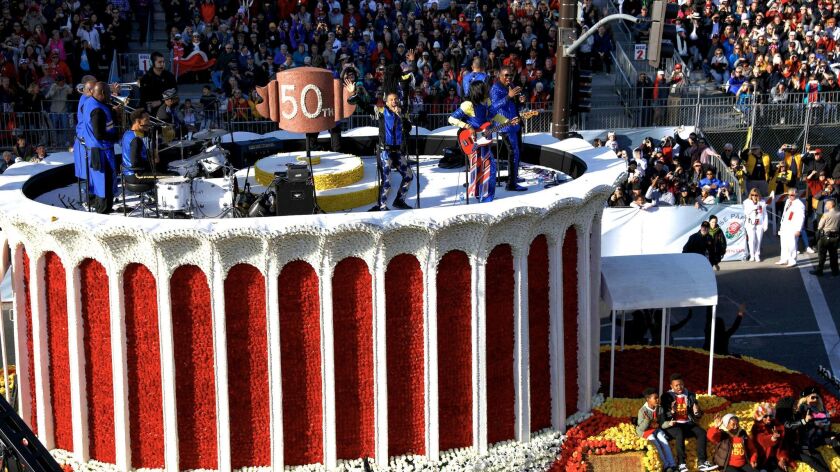 The Day Pot Stores Got Lit
There aren't many marijuana retailers in California yet, but on New Year's Day, the first day of legal pot sales in the state, a festive spirit (if nothing else) hung in the air at stores in Santa Ana in the south and Berkeley in the north. Despite the new law, some customers were still skittish. At the 420 Central dispensary, one man wore his sunglasses inside and, when approached by a reporter, said: "Oh my God! … No, I'm not here."
MUST-WATCH VIDEO
-- The University of Oklahoma's mascots, two ponies named Boomer and Sooner, made the trek to Pasadena for the Rose Bowl.
-- Rollin' round the bases: A softball league in South L.A. unites once-rival gangs.
CALIFORNIA
-- Where's the transparency? L.A. may make many nonprofit organizations exempt from revealing their lobbying activities in the city.
-- Southern California hospitals are trying to address the so-called secondary trauma some healthcare workers experience as they deal with patients.
-- He created hotels that aspired to be a city within a city: John C. Portman, who designed the Westin Bonaventure hotel in L.A., among many other buildings, has died at age 93.
-- Officials say a stingray injury record at Huntington Beach was set when 73 people reported injuries in a single day.
HOLLYWOOD AND THE ARTS
-- The truth is still out there: "The X-Files" is back again, and Gillian Anderson says this is her final run, even though David Duchovny is skeptical.
-- How Molly Bloom went from "poker princess" to "honest-to-God movie heroine" in the awards-contending film "Molly's Game."
-- "Star Wars: The Last Jedi" led the long holiday weekend and finished as the No. 1 movie of the year. Globally, it's taken in more than $1 billion.
-- What to make of the new Fox sitcom "L.A. to Vegas," about people who fly that route every weekend? At least it doesn't crash, our TV critic says.
CLASSIC HOLLYWOOD
Anne Francis achieved cult status when she co-starred in the 1956 film "Forbidden Planet." She attained another degree of stardom among baby boomers when she played a private detective with a pet ocelot in the mid-1960s TV series "Honey West." She died on this date in 2011 at age 80.
NATION-WORLD
-- Authorities say a 16-year-old New Jersey boy armed with a semiautomatic rifle shot and killed his parents, sister and a family friend on New Year's Eve.
-- Amid all the gun violence in the United States, the number of accidental shooting deaths has steadily declined.
-- Guadalupe "Lupe" Valdez, the first openly gay and first Latina sheriff in Texas, is running for governor and could change Lone Star State politics.
-- From black holes to the insides of cells, here are 11 science stories we're looking forward to this year.
BUSINESS
-- California has hundreds of new laws for the new year. Columnist David Lazarus looks at five big ones affecting consumers.
-- Ratings for Fox News, MSNBC and CNN climbed in 2017. Care to take a guess why?
SPORTS
-- Olympic leaders are breathing a sigh of relief after North Korea publicly wished the Games "will be held with good results" in February; there had been fears of Pyongyang trying to disrupt them.
-- Ouch: The Lakers lost their seventh game in a row, 114-96 to Minnesota, and it took them 4 minutes and 14 seconds to score.
OPINION
-- A "moral exemption" for employers from offering birth control coverage? More like immoral, The Times' Editorial Board writes.
-- Kids don't need a cellphone; for their own good, they need a digital diet.
WHAT OUR EDITORS ARE READING
-- An investigation finds that port trucking companies around Los Angeles put fatigued truckers on the road who pose a safety threat. (USA Today)
-- Give this one a listen: "I have launched an entire new career out of mere homicidal rage," said mystery novelist Sue Grafton, who died last week. (NPR)
-- How did a Viking penny end up in Maine? (Atlas Obscura)
ONLY IN L.A.
Do you believe in miracles? Al Michaels has called the NFL's No. 1 prime-time game for 32 years, but he's never worked on a game in L.A. That will change Saturday night, when the Rams host the Atlanta Falcons at the Coliseum — just an 11-mile drive from Michaels' house. "I'm going to have to call my boss tomorrow," he said, "and find out what I get for mileage."
If you like this newsletter, please share it with friends. Comments or ideas? Email us at headlines@latimes.com.
---