Newsletter: Today: The Koreas May Talk Amid Much Button Rattling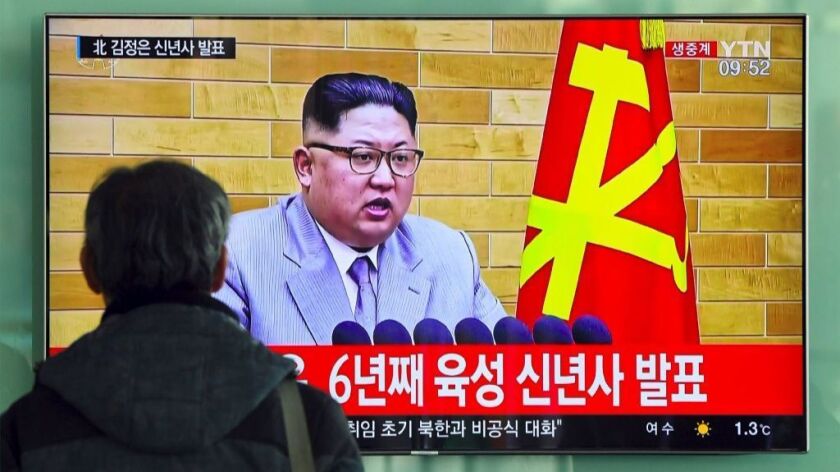 With the prospect of talks between North and South Korea, the U.S. would be on the sidelines. And then there are President Trump's tweets.
TOP STORIES
The Koreas May Talk Amid Much Button Rattling
After North Korean leader Kim Jong Un's recent speech proclaiming he has a "nuclear button" and extending an apparent olive branch to South Korea, officials from both sides could meet Jan. 9 at a border village to discuss next month's Winter Olympics and how to improve relations overall. Not invited: the United States or, for that matter, China, Japan and Russia. The Trump administration has publicly questioned Kim's sincerity and motives, and some analysts say Kim may be trying to take advantage of strains between Washington and Seoul. But it was the president himself who drew much attention for tweeting that "I too have a Nuclear Button, but it is a much bigger & more powerful one than his, and my Button works!"
More From Trump
-- Speaking of Trump's tweeting, the president did so 16 times Tuesday, including a morning salvo of attacks on political foes and media, provocations of foreign leaders and self-praise for events with which he had nothing to do.
-- Trump threatened to cut off U.S. aid to Palestinians as punishment for what he called their failure to show "appreciation or respect" to the United States. Yes, on Twitter.
-- Trump declared that a natural disaster exists in California and ordered federal assistance to help local agencies in recovery efforts in areas affected by the Thomas fire. No, not on Twitter.
The Return of Romney, Maybe
Mitt Romney was born in Michigan, served as governor of Massachusetts and made two unsuccessful presidential bids, but in Utah he's a favorite son. Romney moved there after losing to President Obama in 2012, and with his deep Mormon roots, he seems a natural to succeed Sen. Orrin Hatch, who announced he's retiring at age 83 despite Trump urging him to run again. Given Romney's often harsh criticism of Trump, a potential run for Senate by him would add another equation to the Republican Party's already complicated political calculus.
Even Organ Transplants Are Rooted in Regional Politics
If you or someone you know ever needs an organ transplant, how quickly you get one – or whether you get one at all – depends largely on where you're treated. The principle used by the national transplant system for decades has been "local first." In areas like California and New York, it could be a long time; in a place like New Orleans, it could be fast. But a recent decision by a federal judge in a lung transplant case may change that and force areas with an abundance of organs to share more of them.
Beyond the Banana Slug
Hear the words "UC Santa Cruz," and the first thing that pops to mind might be "banana slug," the school's mascot. Or perhaps its designation as "the stonedest place on earth" by Rolling Stone magazine. That image is one reason why the university has had trouble attracting transfer students, something state officials have required it to do. How to lure more? A new campaign is emphasizing UC Santa Cruz's pioneering work on the human genome project and research in marine science, astronomy and astrophysics.
L.A.: Caught in a Vicious Recycle?
L.A.'s new recycling program was supposed to reduce waste, get rid of heavily polluting trucks and pay employees at least a living wage of $12.73 an hour. Customers say it's given them nothing but grief, in the form of missed pickups and doubled or tripled bills. Columnist Steve Lopez ventured — where else? — to the underground trash room of a Van Nuys condo building to see the mess for himself.
MUST-WATCH VIDEO
-- California's marijuana regulations: A guide to what you should know.
-- The Rams lost their final regular season game to the 49ers, but they're looking ahead to the playoffs against the Atlanta Falcons.
CALIFORNIA
-- Beverly Hills police submitted two Harvey Weinstein sex-crime cases to Los Angeles County prosecutors, who are looking at the evidence. Prosecutors also said they are reviewing five investigations into director James Toback.
-- The L.A. Police Department is outlining how it will handle enforcement of the city's new rules for recreational marijuana. Here's one tip: Don't drive stoned.
-- San Diego County health officials have turned their focus to fighting the flu, as an outbreak of hepatitis A slows.
-- A San Diego man has been banned from flying on Alaska Airlines after an allegation that he harassed a flight attendant, an accusation he denies. In unrelated news, one of the company's jets was grounded in Oakland after a rat boarded it.
HOLLYWOOD AND THE ARTS
-- R&B singer the Weeknd, pop diva Beyoncé and rapper Eminem will headline the Coachella Music and Arts Festival. It's the first time a rock act won't get top billing.
-- In two L.A.-area art shows, the political is personal and takes on new meaning after last year's Women's March, as art critic Christopher Knight explains.
-- Another TV drama about first-responders? Critic Lorraine Ali says "9-1-1," or at least the pilot episode, goes beyond the tropes thanks to actors Connie Britton, Angela Bassett and Peter Krause.
-- Carrie Underwood says she is "not quite looking the same" after a freak accident in November that included an injury to her face requiring 40 to 50 stitches.
CLASSIC HOLLYWOOD
Don't you forget about it. The 1985 John Hughes movie "The Breakfast Club" is being released this week as a Criterion Collection Blu-ray, a distinction usually reserved for the highest of the highbrow cinema. Here's why that should not come as a surprise.
NATION-WORLD
-- Young, working-class and fed up: Iran's deadly protests are being driven by a new crop of dissenters.
-- Video blogger Logan Paul apologized after facing criticism for sharing a video that showed a body hanging from a tree in a Japanese forest known as a location for suicides.
-- Three months after the mass shooting in Las Vegas, the city's visitors authority has revived its "What happens here, stays here" campaign.
-- A deep freeze has hit the Deep South, with parts of Georgia hitting 13 degrees.
-- The prevalence of autism spectrum disorders among U.S. children and teens appears to have stabilized.
BUSINESS
-- The Trump effect? More workers in California say their bosses are threatening to have them deported.
-- The "Today" show is getting its first all-female team with the appointment of Hoda Kotb as co-anchor, replacing the fired Matt Lauer.
SPORTS
-- The U.S. Figure Skating championships are getting underway in San Jose, and columnist Helene Elliott writes that a chance to go to the Olympics is hanging in the balance.
-- The Clippers won their fourth straight game, defeating a nemesis in the Memphis Grizzlies.
OPINION
-- No, California isn't "done," writes Gustavo Arellano, in his first regular column for the Opinion section.
-- On Iran, The Times' Editorial Board has some advice: Don't make promises you can't keep, Mr. President.
WHAT OUR EDITORS ARE READING
-- Trump has been shaking up the diplomatic world, and more than a few foreign officials say his approach is dangerous. (Politico)
-- Are these the 100 greatest nonfiction books, written in English, of all time? Discuss. (The Guardian)
-- A football fan explains why he thinks the NFL is in a downward spiral. (The Baffler)
ONLY IN CALIFORNIA
Last year, the old mining town of Nipton, population 20, was bought by a company that cultivates and sells marijuana. Now that recreational pot is legal in California, Nipton is promoting itself as a 420-friendly tourist destination. It even has a vending machine that may sell weed products in the future. The hitch: In this bud-and-breakfast town, marijuana can be consumed, but not bought or sold.
If you like this newsletter, please share it with friends. Comments or ideas? Email us at headlines@latimes.com.
---