Recreational marijuana is legal. But smoking in public and driving stoned are not, LAPD warns
As Los Angeles moves toward allowing the sale of recreational marijuana, joining cities across the state in the newly legal enterprise, police here offered a stern word of caution.
Yes, recreational pot will be legal to sell (and buy, and consume, and cultivate). But there are limits. And the Los Angeles Police Department will help enforce them.
"Let me be clear," Assistant Chief Michel Moore said Tuesday. "The use of marijuana needs to be done in a responsible manner that's consistent with the law."
What isn't allowed? Driving under the influence of marijuana. Consuming pot in public. Purchasing or consuming recreational cannabis by someone under the age of 21.
"Those are all illegal actions," Moore said. "And the department will take aggressive action in enforcing the law."
Moore's comments came a day after the sale of recreational marijuana became legal in California, a voter-approved endeavor that has presented challenges for police and city leaders across the state as they decide how to handle the hotly anticipated retail sector.
Most cities in California have yet to sign off on the commercial sale of cannabis. Others that have — including L.A. — scrambled to get policies and procedures in place before the January deadline.
Los Angeles, the state's biggest city, decided it would permit the sale of recreational pot, but it has yet to start approving marijuana businesses for those transactions after the City Council backed a set of complicated new regulations in December.
As long lines of customers snaked outside pot shops from Sacramento to San Diego on Monday, and again Tuesday in West Hollywood, L.A.'s dispensaries had to wait.
"We are going to do this the Los Angeles way," said Cat Packer, the head of the city's Department of Cannabis Regulation. "That means that we're going to have to do this responsibly. And if that means that we start this process a few days late, I'm perfectly fine with that."
Existing L.A. medical marijuana dispensaries that have been following city rules should be able to start applying Wednesday and are expected to get some form of temporary approval from the city quickly — some could have them by Monday, Packer said.
Raring to buy recreational pot in Los Angeles? Not so fast »
Under city regulations, they are supposed to be protected from local prosecution while they seek licenses.
But the lack of local authorization has left some medical marijuana dispensaries nervous about whether they could be at risk before that approval is granted. And it is unclear when the city will start approving other kinds of pot businesses, including existing marijuana growers and manufacturers that supply dispensaries.
Alex Traverso, a spokesman for the state Bureau of Cannabis Control, said Tuesday that the agency is prepared to take enforcement action against shops that are not properly licensed. The bureau, he said, was ready to investigate complaints and conduct compliance checks "at any time."
Moore said the LAPD's approach to medical marijuana shops would not necessarily change, even if shops do not yet have the local approval required under the new rules.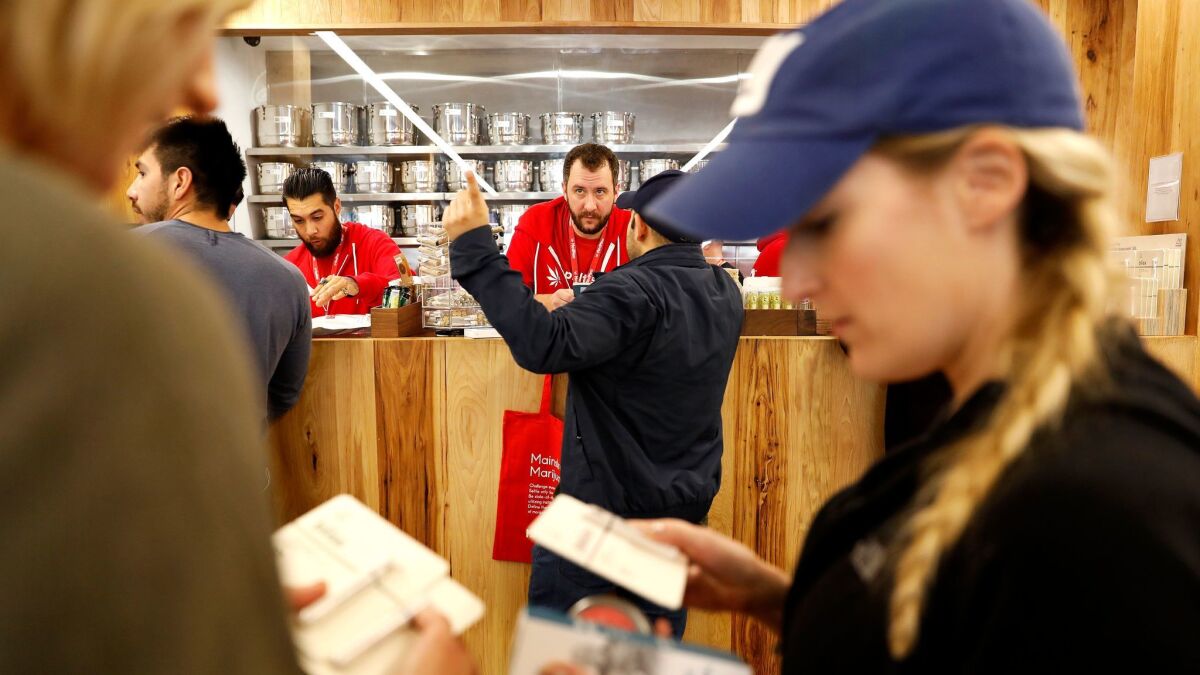 Otherwise law-abiding shops could continue to sell medical marijuana, Moore said. If the state's cannabis bureau were to ask the LAPD to take enforcement action against them, he said, the department would decide if it was an "appropriate use of our resources" given the circumstances.
Both Moore and Packer acknowledged the adjustment period ahead, as residents, businesses and police become accustomed to the new rules. Some elements of those laws are nuanced, Moore said.
For marijuana users, it's high times as California makes recreational use legal »
For example, people can grow marijuana, but no more than six plants at a time, and only in locked spaces out of public view. And drivers can have marijuana in their vehicles, but must keep it in a container in the trunk.
The LAPD is working to educate officers through written bulletins and during roll-call meetings. The department is also working with the county's Health Department and other agencies to determine the "intended and unintended consequences" the legal use of recreational marijuana might have on public safety, Moore said.
"This is a new day for us as well," he said.
It was also a new day in West Hollywood on Tuesday, the first day recreational pot could legally be sold in the city. Outside the MedMen store on Santa Monica Boulevard, the mood was celebratory and the line was long.
Wearing shirts that read "It's legal," MedMen employees checked IDs at the door and stamped red marijuana plants onto customers' hands. Guards kept the shop from getting too crowded, letting in only five customers at a time. Customers took selfies as they waited their turn.
"I'm overwhelmed by the products," said Becky Filer as she looked over weed-infused lip balm, honey and teas. Filer, a New York resident, happened to be on vacation in California when recreational sales became legal.
It was "perfect timing," she said.
Times staff writers Michael Livingston, Emily Alpert Reyes and Patrick McGreevy contributed to this report.
For more LAPD news, follow me on Twitter: @katemather
---
The stories shaping California
Get up to speed with our Essential California newsletter, sent six days a week.
You may occasionally receive promotional content from the Los Angeles Times.